February 1, 2009 05:58 - What's Crazier? Sellin' nuts and bolts... in Thoreaus' quiet desperation... or Winter Motorcycle Riding?

Two more days sellin' nuts an' bolts at the ranch store and we pull out... I'm Riding Slick this morning... It's 30 degrees or so... and it might snow... they're talkin' 10%...

... but...

Slick is gettin' left home this trip south... too much goin' on this time ... It's lookin' more like a 'working' vacation than most times... and I'm certain sure I'd not be able to ride much, if at all... and him just sittin' back there ... would only be an irritiation best done without! ...

So... This morning I ride!... 'cause we'll be apart for two weeks or so... sniff.. sniff.. sniff..

We've had a good winter so far... I remember missin' most of December and January last year... More snowy days then I think... And I'm riding a lot colder this season... The new gear I've added has made up for my thinning blood I guess!

I've got where the cold, especially with that new gear, isn't much of an issue... Snow and ice on the road how-some-ever... is quite another deal!

There's nothin like leanin' over to take a turn... and have both wheels start goin' 90 degrees away from the direction you were planning on goin'.

It's one of those wiggly quivers I've mentioned before. :-)

Truth is though... sand on the road is maybe worse than snow... If you get caught by a little snow... you're generally right on top of it... :-) ... I mean... you're tuned up and payin' close attention to what you're doin'...

But...

When the road is dry... and you're just rollin' along, singin' in your helmet... giggling 'cause you're so dang happy with yourself about bein' smart enough to put your behind back on a fine motorcycle... and you come around a blind bend... and there... right in front of you... no way to avoid it... is...

THE DREADED SAND! eeeeeeiiiiiiiiiikes! :-) That stuff is slicker than a bankers palaver!

You tense up, you wiggle, you quiver, you say; "aw @%&T!" and then you DO what you gotta DO!

If you're like me... a genuine western hero...

Hey!...I heard that... quit that snickerin'!... Why can't you just leave a geezer to his fantasies huh? He weren't hurtin' you none!

anyway... You gotta thread a needle...

You have to get the bike out of the lean... which stops you from turning... cross the sand... get back into a lean and back into your turn... before you convert man and machine to a hood ornament on that '57 Buick Roadmaster that's comin' the other way!

and folks... let me tell you... when you do it... without screwing the paint up on that Roadmaster... It's pretty much the same sensation as when you make a fine ride on a thousand pound bareback bronc...

OH Baby! You are on top of the world...

'Course... after you screw up and cause yourself to have to climb up on top of the world like that once or twice... you learn to make some changes so you quit doin' that!... assuming that you in fact DID IT... and survived to tell the tale... :-)

Me?... These days... I'm purty good at threadin' that bit of track between the center of the road and the side of the lane... the two places that the sand stacks up... and keepin' to a speed that lets me stay in that space... without having to do any 'climbing'...

And stayin' healthy... keeps me an Slick Ridin' through the winter... which I am pompously, arrogantly, egotistically, proud to say, a small minority of Motorcycle Riders do...

Oh Lord it's Hard to be Humble! :-)

So I'm off to look for Buicks!
Take Good Care
Brian

"Most men are so occupied with the fractious cares and superfluously course labors of life that its finer fruits cannot be plucked by them."
-Thoreau

Come on Guys... I know you've got a story or two in you...
Check out one of these pages for an opportunity to share one of YOUR stories with your friends here!
Your RV Destinations...
Your Custom RV...
Reader's RVing Tips...
Your RV Recreation Activities




February 2, 2009 05:31 - RV Wizardry and Amazing RV Tricks

Once upon a time, long long ago, in a fantasy RV World... far, far from the one I live in... Lived An RV Wizard.

He traveled around the country polishing his skills... and after a time, developed amazing powers. His powers often lead him to believe, and think, amazing things that no one else had ever thought before.

This wondrous RV Wizard would often display his amazing powers for the entertainment of the local peasants.

He would frequently astound and amaze his neighbors, and anonymous people passing by, with amazing magic. His tricks seemed impossible to the lesser peasants, and even defied the laws of physics.

This amazing RV Wizard even thought this rig would work!

What can I say... I am, simply, amazed!

As they say down in Arkansas... Heeeeres Your Sign!

... I guess it does... work... if your goal is to collect on an insurance claim so you can go out and buy a new and proper rig! :-)

... Though, with my recent insurance company experience, I think you might have juuuuust a mite of trouble... trying to make that collection!

These folks could be elected as the RV Poster children for overloaded tow vehicles!

Just 'cause you can hitch up your tow vehicle and make a trailer move ... don't make it a sensible tow rig... You've still got to be able to stop it!

... or even keep it from moving in the first place. :-)

Now... some might argue that this Phillipino Biker should win the 'Overloaded Vehicle' Champion Title instead... He does gain points... since he doesn't fall over... but still...

...maybe the "Darwin Awards" would be a better fit?

Though I wonder if they couldn't find employment with Barnum and Bailey? Seems like an exceptional sense of balance!

Thoreau is quoted as saying; "I believe that all of us can learn to live more efficiently, clearing enough space in our lives to follow our dreams."

These here might be considered examples of the problems you can get in to... when you take a good idea... and push 'efficiency' ... a liiiiitle bit too far! :-)

Yes sir... There is definitely a need for an International Treaty... to restrict access to brain damaging chemicals...

With a renewed confidence that I'm not quite as dumb as I thought...
This is B.K. Gore
From Right Here!

Check out one of these pages if you'd like an opportunity to share one of YOUR stories with readers...
Your RV Destinations...
Your Custom RV...
Reader's RVing Tips...
Your RV Recreation Activities

February 3, 2009 12:24 - Sweet! Rollin' South

On the Road Again.

Got out last night 'bout 6:30 made good time and layed up at the rest area on the north side of Trinidad. Put on my jammies and crashed till morning.

We're stopped in Las Lunas, New Mexico for supplies... so I thought I'd take a moment to make a post while the Boss Lady does her shoppin'.

Beautiful Blue Clear sky, cool temps and little wind... mostly light traffic and the Hitch Itch receding...

We'll make Tucson this afternoon/evening... always in defiance of MY desire to take it slower... This trip every year is always stuffed into a time frame... and the first pair of days always seem a lil' rushed... but then it rolls back to slow an' easy...

I already stuffed my keep-me-from-freezin'-on-the-motorcycle jacket in the closet and pulled out the make-me-look-even-purtier barn coat... which from what I'm hearin' won't even be used much in the southlands... Sweeter!

I always seem to forget just how much 'easier' I breathe... livin' in this 5er... It's taken shorter and shorter periods of time to cause the rememberin' to happen. :-)

Used to take me a week to 'unwind'... now... I'm only about a tank down the road and I'm gettin' into pretty good shape.... Sweetest!

Time to Roll
Take Good Care
Brian

*** 9 pm. The Eagle Has landed... one more time... at Justins Diamond J, in Tucson... Not Boondockin'... but with all the 'business' herself has to do the next 10 days or so... and the kids comin' in Friday... it'll work...

... and now... I'm for bed!... see you in the mornin'

February 5, 2009 07:14 - One of those do nothing... get a lot done days...

Heidi hit the Gem show... and did her 'Take care of business' thing... I... the chauffer... mostly went back to the rig and 'waited'... and did all sorts of small jobs that have been needing doing... but either hadn't climbed the priority list... or it was too dang cold outside to allow my ambition to get warmed up to the idea. :-)

Replaced a faulty marker light on the Eagle... replaced the screen door latch... wasn't much need for it at 7 below up north... near 80 here yesterday... Oh Yeah!... I'd like the screen door working right!

... and a few other small tasks just puttering around and 'chillin'... even got Big Red 'mostly' cleaned up...

More of the same on the schedule for today... I drop Heidi at the Gem show... and I gather my tools and some materials and head up to my Mothers house to give my brothers a lesson on replacing/repairing a faulty water heater...

Sunny skies, warm temps... and plumbing! What more could a fella ask for? :-)

It's pretty sad... No spectacular Arizona sunsets... just a blue clear sky. :-) and shirt sleeves exposed to the sun! It's tough on an 'older' gentleman to endure such tribulations... but I'll persevere.

A lil' thing... several days ago I did a project I've been needin' to get done... to deal with the lousy 2X8 wooden RV leveling blocks I and about 6 million other RVers use... You know what I'm talkin' 'bout... they slip slide and split...

The answer for some lucky ones... are electric or hydraulic levelers... but for a lot of us... the weight of that solution measured in $$$ just keeps us from gettin' it done... I believe I've come up with a good solution at a price of around $40... and a couple hours of work...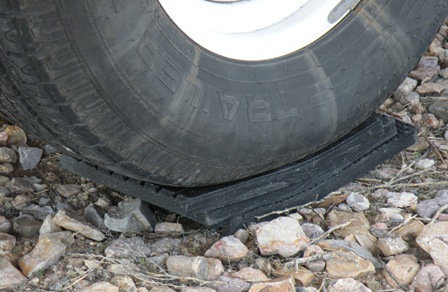 Wow... The excitement never ends does it? :-)
You may have already seen the page... if not, and you'd like a better working outfit, I wrote this page about my new RV Leveling Blocks
The Kids are flyin' in tomorrow evening... and I'm told my chaufferin' duties are to include a whistle stop tour of some sort around some of southern Arizona. Aw geeze.... and I just wanted to sit in camp and scratch myself! :-) .... "Ohhhh K.... if you insist.... I'll go wanderin' 'round the desert with you...." :-)
It'd be nice to have Slick in this kind of weather... but it's also... exactly... why I had to leave him safe in the shop.... So many things goin' on this year that I figgered to not be able to ride much... if at all... so it'd just be like havin' one of those lil' stickers in your sock? The ones that keep makin' you jump an' squeal?... but when you pull your sock off to hunt down the lil' aggravator, you can't find the miserable lil' thing? :-)
So... it'll wait 'till next time...
Well... I gotta hurry up and get to work... verrrry.... verrry... slowly.... :-)
Take Good Care
Brian
Check out one of these pages if you'd like an opportunity to share one of YOUR stories with readers...
Your RV Destinations...
Your Custom RV...
Reader's RVing Tips...
Your RV Recreation Activities
February 6, 2009 20:05 - The Healing Powers of the Sonoran Desert
I'm a bit out of sync... but I don't know that it matters a lot... :-) ... don't know that there's much I can do about it anyhoo!
Heidi does good at the shows... and it takes care of our store... but me? Not so much! Those crowds and confusion, folks pushin' and hustlin' just ain't a world I do well in...
... So... when I got back to the rig this afternoon... I was in need of some open air and the freedom of a bit of far country...
I'm not much for RV Parks... but as far as they go... Justins in Tucson gives a person some decent access to some awful pretty Sonoran Desert for a bit of Soul Keeping.
... and if you're ambitious... You can pick cactus fruits... and boil up some tasty jams and jellies... but watch out for those hooked parts! If those things get a hold of you they don't let go! :-)
This is a view looking east... from a spot on a trail ust north of the park... I believe that's Mt. Wrightson... and if our eyes were good enough... we might could see Mark and Bobbie tucked in just beneath it...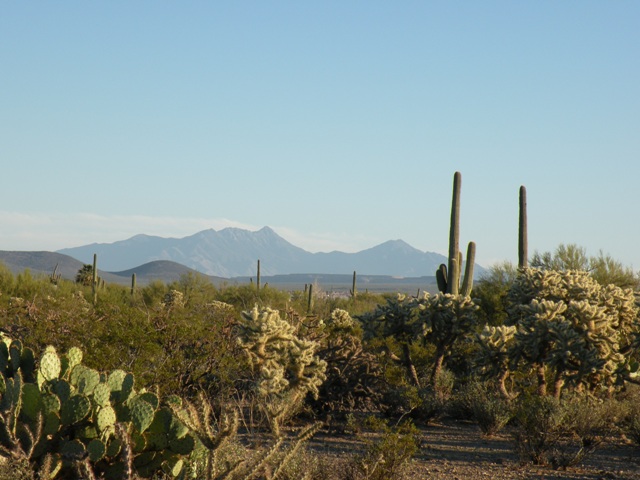 Have you ever looked at Saguaro Cactus and wondered what had made all those holes? Sometimes it's just idiots that have nothing better to shoot at... However... the 'Natural' cause of the holes... is a fella called the Gila Woodpecker...
If you look for the red circle on the left side of this big cactus you'll see the home of...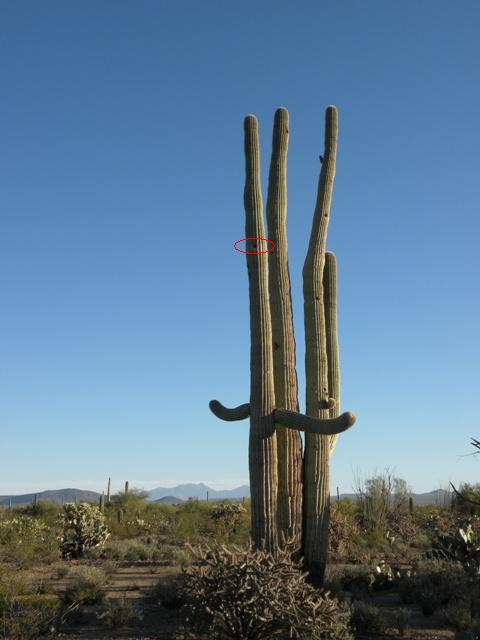 ... this fella... or fellerette... I'm not sure which. :-)
We saw this 'parent' feedin' the kids in this hole this morning... I came back this afternoon... trying to catch the kids too... but all I managed to capture was Momma... or Dad... whichever it is...
All through that area of trails are fine Sonoran Desert views... and the ability to take a full breath without the constriction that crowds and traffic create.
But... ya gotta be careful... If you go off wanderin' through the Sonoran Desert... gawkin' off at the far views... without payin' close attention to where you're feet are takin' you...
They just might take you to find out that much of what lives in the desert either bites or sticks!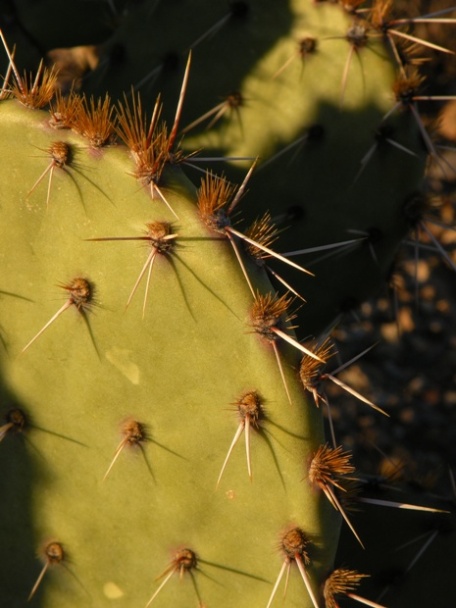 As the sun sinks lower in the west... the shadows start to lengthen on the mountains...
... and the Saguaros are silhoutted by the setting sun...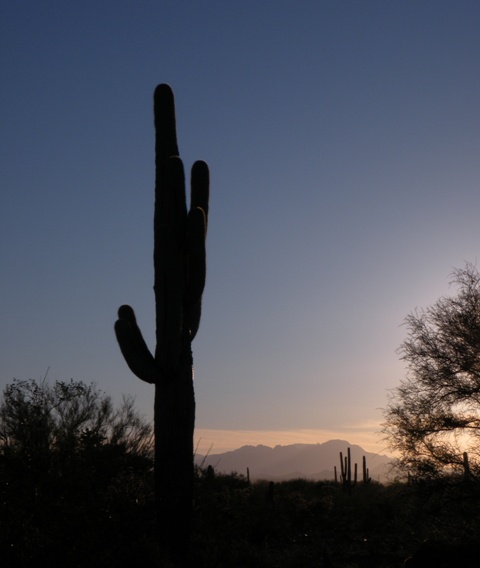 When you need it... the Desert will come through for you and spread out a pretty peacful place where you can catch your breath... but then... a lot like Colorado... it'll give you some snow!... which is what they're predicting in the next few days! ... :-)
That's OK... snow on Cactus in this High Desert makes for some pretty nice photography opportunities.
Take Good Care
Brian
February 9, 2009 07:31 - Arizona-Sonora Desert Museum
Josh has never been to Arizona before... and I don't believe Keriann had ever been to the Arizona-Sonora Desert Museum... so we thought a rainy day in the Desert, was the proper time to take 'em to explore it! :-)
It was a little chilly, even for a mountain kid... with a cold breeze comin' off the Desert... but with enough 'inside' exhibits to escape the breeze or the light rain... it was good enough.
Heidi and I hadn't been to the Musuem in over 30 years... so it was pretty much all new to us too.
They've got all sorts of Desert Critters there for you to see... up close... from scaly, biting, nasties... crawling around in the sand...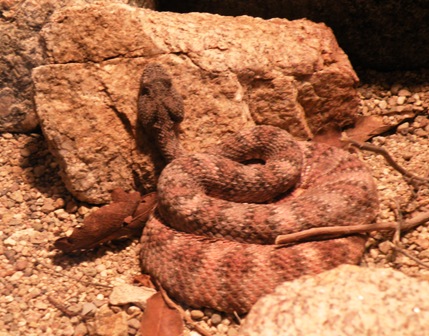 To Graceful Feathered Hunters made for soaring the skies...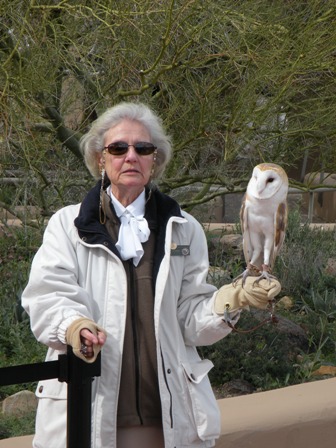 I'm really taken by the birds... Owls, Hawks, Falcons... Flyin' and bein' Horseback... or on a fine motorcycle all live in the same world for me... except for my airplane phobia of course... :-) They're all different ways of spellin' FREEDOM!
This little guy doesn't look too fearsome... except for the critters it hunts I suppose...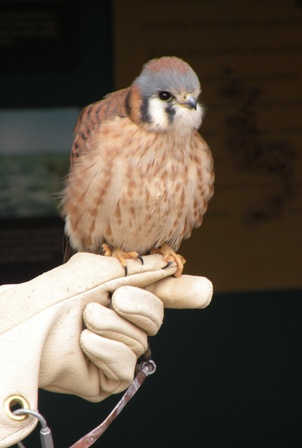 They put on a 'Free Flight' exhibition in the afternoon... that we timed our visit just perfect... accidentally... to see... They've got a herd of Harris Hawks that they fly for everyone to see.... Four of 'em zoomin' around... pretty awsome... one stooped down over Heidi and Keriann so close they almost hit the ground... :-)
Pretty awsome birds... and too fast for me to capture any good pics of... I got some dark, blurry snapshots as they zipped around but nothing to post here... bummer... 'cause they are beautiful feathered warriors!
If you prefer four footed critters they've got Lions and coyotes and bears! ... except the bear is currently 'retired'... and they're apparently waiting on a replacement... hmmmm.... if what you're doin' is settin' around doin' nothin' much... what do you do when you 'retire'?
Do you like BIG kitties?... They've got this lil' guy... and ocelots... and bobcats.... pretty exciting too... you can see all sorts of curled up kitties... violently... sleeping... :-)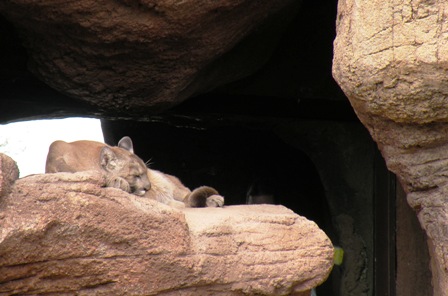 There's pools with Beavers and Otters...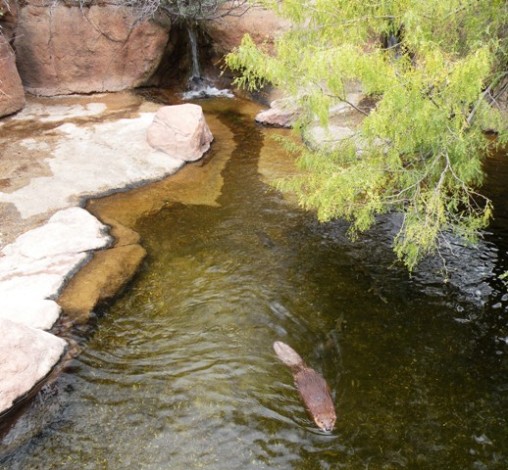 The Otters are the ones havin' the most fun... but they move around so quick... my iffy photo skills couldn't keep up with him! :-)
I do better with things like the Desert itself... it sits in one place long enough for me to capture its portrait... Like a storm approaching across the valley...
There's a lil' bit for everybody... Humingbirds, Jewelry in the gift shops, geology, art, and flowers...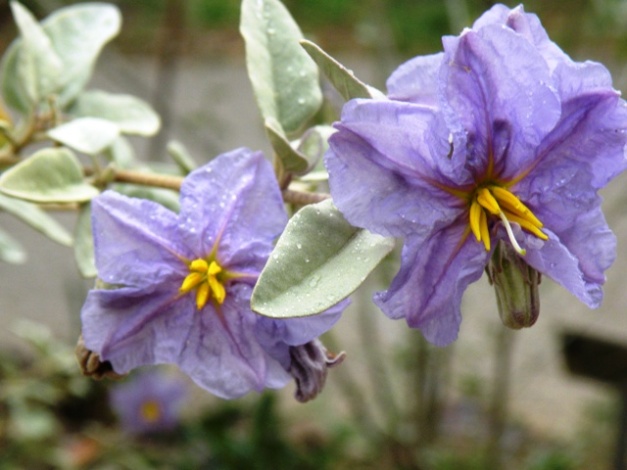 I'd not go out with just a short time to take the place in... make sure you've got a few hours to take it in s-l-o-w-l-y... There's benches and places to sit in the shade... which is more common than the rain... :-) ... and it's a pretty place.... to just sit and soak in the desert...
At just $13 bucks entrance fee... it's a pretty reasonable thing I think... compared to what they hit you up for at 'other' tourist places... Heidi thought it was worth the price for the Harris Hawk demonstration flight alone...
Then... last night we had an interesting experience... Ghosts!
We took a short drive out by the San Xavier Mission... Heidi and Keriann saw it all lit up sometime... and wanted to see if they did that every night.... which they don't... but we sat in the parking lot for a few minutes talking... about spirits and ghosts and such... and then went to leave...
Heidi was driving... the Jeep we rented while Josh and Keriann are here... She went to raise her window back up.... and it went all the way to the top... then she'd let go the button and start to drive... and eeeeeeeeeeerrrrrrp! The window would go back down half way...
... she'd hit the button and raise it back up... and each time.... eeeeeeeerrrrrrrp!.... right back down it would go....
Until... finally... when we got a ways away from the mission... it stopped doin' that... :-) Kind of freaked 'em all out... considering what we'd been discussin'... :-)
Today... we're headin' for the ghosts in Tombstone... Josh wants to see the Town 'To Tough to Die'...
So... off we go!
Take Good Care
Brian
February 10, 2009 08:11 - San Xavier and points south
Started out our 'tourista'' day at San Xavier.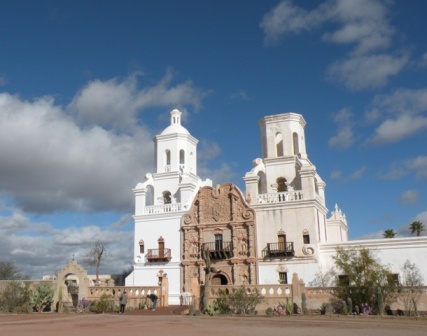 This may be one of the most photographed places in Tucson... Knowin' it's been standing here for something over 225 years (the present church)... while the mission itself is over 300... has weathered earthquakes and such... and all the history that's gone on around the place... makes a fella stop and think a mite...
... and then... as he's standin' there... thinkin' 'bout things... and contemplatin' the history and the work that went on around the area... he gets to experience 'modern day' ... 'enlightened' folks...
I fail to understand the ~ rudeness~ of a lot of the visitors. How can anyone NOT know that yakkin' on their stinkin' cell phone... as they stumble around in someone else's ~ Church ~ is rude?...
... or ridin' their bicycles around the courtyard in front? ... Geeze!... Makes an Ol' buster wanna shake out a loop and do a lil' ropin', ear notchin', an' brandin'!... my guess is the callous, wastes-of-space, would still... NOT HAVE A CLUE.
Was a chill wind blowin' across the desert, so we loaded up in our rented Jeep commander and headed south east... Josh had an interest in inspecting the stompin' grounds of one Wyatt Earp and family...
The grassland that starts back up, not too far south of Tucson runs on down through Sonoita. Some of the sweetest country around... Filmed a few John Wayne movies in the area... This country, from the Santa Ritas, to the New Mexico border warms up my imagination and always feels like 'Home'... I bucked off a lot of horses in Rodeos all over this territory! :-)
Since I hadn't been there... since I was gettin' tossed out of the bars on Allen street, back in the mid seventies... I thought it might could be a bit of fun.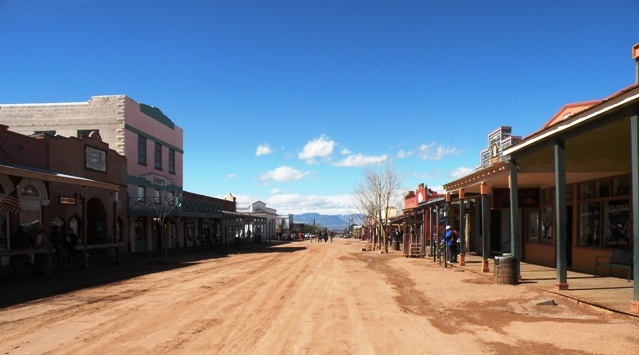 Back when I was one of the 'Cow-boys', given' 'em difficulties, this street was paved... with pickups and Buicks parked in front of the storefronts. Seems they wanted to regain some of the 'Western Atmosphere' ... so sometime in the intervening years... they returned it to a dirt street... Kind of cool actually...
Another place with a bit of 'history'... To know that... Morgan Earp was shot in the back... leanin' over a pool table... in the spot where you now stand to peer into a glass case of tourist trinkets is kind of an 'odd' feeling... or maybe... the Ol' Geezeer 'havin' feelings' ... is the ODD! :-)
Most people don't know that the 'Fight at the OK corral', actually went on for months and years after that 30 second opening volley... a whole lot more than three men got 'planted' in that lil' bit of Gang warfare... It seems... the Earps were kind of vindictive about the whole deal...
I must be gettin' soft in my old age... we even layed down the coin for the 'show' at the OK corral... Now... it ain't... Oscar winnin' performances... but, truth be known... it was entertaining... and there was at least one, 'Diamond in the Rough'.
This fella... I have no idea of his 'real' name... gave an excellent performance as 'Doc Holliday'. He has the whole thing down sweet! The southern drawl, the swagger, the expressions... He alone, was worth the price of admission.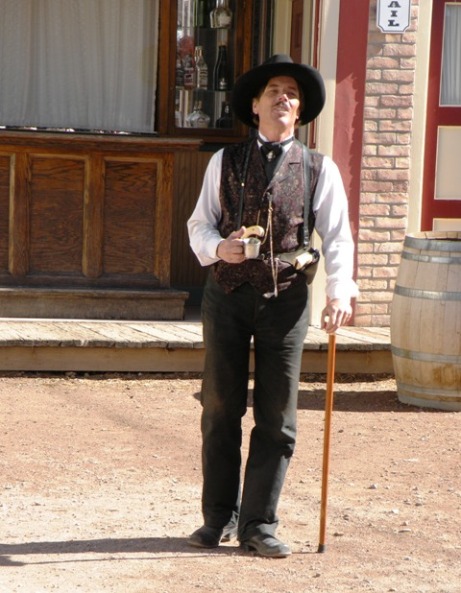 The old buildings have been rebuilt a time or two... from the remains of a couple fires... but you can still see the Oriental Saloon... Hatch's, where Morgan was shot... You can stand in the spot, when you cross the street at Allen and 5th, where Virgil was ambushed a couple months after the OK fight... It's sort of strange to not be lookin' at pictures of historical events... but actually stand... on the spot, where those things happened...
You can almost hear the shouts, smell the gunsmoke... feel the fear... though I'm sure a lot of folks consider it all just a bunch of 'Hollywood'...
This is, as I understand it... THE press that printed the stories of those days for the people of Tombstone... who could read anyway. :-)
It can get a lil' foo foo... if you're not careful... but can't you see the man, leaning over this machine... setting type... hollering to his assistant to get him something or other... in all the excitement of those days?...
... now a puss gutted, bald headed, Ol' buster, bangs away on a computer keyboard... a few miles away... spinnin' his yarns... wonderin' about those very same days... :-)
This is one of the BIG things I like about our way of travelin'... to stop... and just look at a place. To think about the History that has gone on all through this country... and realize... The greatest Icons... all down through those times... were mostly just regular folks... doin' what they had to do... to just live....
And, in the end, realizing that it's an unfinished story...
Take Good Care
Brian
February 12, 2009 08:14 - Airlines... Work... and Motorcycles!
The kids flew out Tuesday night... and got the second leg of their flight cancelled in Dallas... The airline claimed 'weather'... except... the 'other' airlines were flying out... at the same time... to the same place... and there was reported by the kids... no wind, no rain, no snow... No 'Weather'... hmmm.... since they don't have to 'pay'... if the cause is weather... it sounds to me like a bit of dishonesty...
Like... we don't have enough functioning aircraft... so let's say it's bad weather and we won't have to pay up... Poor customer service is pretty much the norm now-a-days ain't it? ...
... which is one of the reasons this child don't get on 47 ton critters that get 30,000 feet off the ground!... I don't like havin' folks in control... when I've found those folks to be, beyond bein' trustworthy...
Kinda sounds like politics don't it? :-)
Well they got home OK yesterday... but... for me it's just one more brick in the foundation supporting the sensibility of Traveling by way of wheels, in a fine RV!
Heidi had to get back to 'work' yesterday, and get her buyin' for the store completed... which she mostly did... and while she was doin' that... I went across the highway to a place I'd seen... and fell in Love!...
... I didn't expect to get entangled like that when I walked in the door... but it happened just the same...
This Ol' Buster is in Love... all over again!
Her Name is Vegas... Vegas Low... and her Daddy is Victory!
For those of you who ain't informed on what any of that means... 'She' is maybe the most awsomely beautiful Motorcycle I have ever seen! :-) I've been contemplatin' and dreamin' of a new ride this year... Don't know when it might happen... but I can tell you... if and or when it does... the bike under my behind is gonna be a Victory!
I'd been thinkin' I'd be stayin' with V Star... and I still like their bikes... but... When you take in the whole picture... Made in the U.S.A. , Custom Design Lines... in a production motorcycle... top quality... and did I say they are absolutely, shining, beautiful?... I've made the 'mental' change to Victory... 'course... some folks 'll say that's 'cause you're 'mental'... :-) ... which ain't real far off!
They are American Made! and gorgeous... one more time... our folks have risen to the challenge and got it done... Sweet!
... and goin' back to customer service... I couldn't be happier with the way those folks at the Tucson Victory Dealership behaved... neither of my arms are bruised from any sort of 'twisting'... 'cause they didn't twist 'em... just answered my questions... showed me everything and made sure I knew they'd be there when I was ready... a nice experience...
... but... the unpleasant part was goin' out the door... and leavin' Vegas behind! :-)... now.. time to get to work and get 'er done! :-)
Well... I gotta go haul Heidi back to a couple more shows today... and then tomorrow we'll move up to the Agility Trial on the other side of town...
... and get to schemin' how I can work out the details of putting a Sweet Victory Motorcycle in my future. :-)
Take Good Care
Brian
February 12, 2009 09:08 - Sadness has struck WagonTeamster
Disaster struck Bob Skelding of WagonTeamster.
I've been following his progress... and wondering at times... this worry for him in the back of my mind... in my experience... Horses and cars/trucks don't mix well on the highway... Auto drivers don't seem willing to tolerate horses... or horse drawn vehicles... their 'right of way' is far to important to allow a few seconds delay... and it ultimately ends in sadness... for somebody...
This story is really pretty common. Too common. Other people on the road, pushing and shoving... This is where it ends up... if you keep yourself in a hurry...
... and an increasingly common problem with 18 wheelers... Most of those guys are decent and responsible... but others should not be pushing that weight down the road... 'course... probably as many in 'smaller' rigs need to adjust their behaviour too...
Sad... Two fine horses lost... the dream of a lifetime shattered...
Take Good Care... and gain a mite of patience
Brian
February 13, 2009 07:49 - Time to Move...
We'll move up to the school, where the Dog Agility Trial is held, this afternoon...
Only problem is... we're not allowed to pull in till after 4... but we're supposed to be out of here at 11 a.m.
What-da-ya-think? If I sniffle a lil', with my hat in my hand, and a pathetic, hangdog, look on my face... when I ask if we can leave a lil' late... will Justin's let us dawdle a mite?... :-) It only takes a half hour or so to pull up there from here... unless you hit traffic... so I've got to use up some time... somewhere...
This place, Justin's, is a LOT busier than it was when we were down for the gem show, last year... I suppose it's a combination of it being brand new then... and the differrence in fuel cost this year... that 4.50 a gallon last year rattled the cages of a lot of people... No shortage of travelers this season... leastways around here...
Bought diesel yesterday @ 2.19... Remember last year? When if you saw a sign for $4 you drove over the top of two volkswagens, a volvo and a dairy queen, to beat the others racin' in there for such a deal? :-)
Just lollin' around mostly the last day or two... and I've got a lil' of Marks 'Brain Lock'... 'course, unlike Mark... it's tough to get a Lock secured to something that lil'...
On the one hand I'm anxious to get started with a few 'projects' that have been rattlin' around in all the space NOT occupied by grey matter :-) ... and I've been spending a lot of cogitatin' time huntin' through the fog, on a bit of a vision quest thing that's been rattlin' aournd in there too... but then I look across the desert... and say... aw... it'll all still be there, to worry about, tomorrow! :-)
Some folks get hung up with the idea that; "I've spent too much on 'this'... I can't afford to change direction now." ... Me... I can't afford NOT to... How much I've spent on what ~ Was ~ is of no importance to me... I'm not anchored to past decisions... that's just history and experience... the future is all new... I don't let the past dictate the future... except where I manage to learn from past mistakes...
I remember my daughter askin' me years ago... what should she do?... Everyone was tellin' her she HAD to do this or HAD to do that... and "What do you think I should do Dad?"...
My answer?... " I ain't got the slightest idea!... and neither does anybody else! just do something... anything... DON'T, be static... DON'T, do nothing. Just take a shot at something...anything you do is going to teach you... something."
"But... what if I don't like it?" she wondered. "Hmmm... seems like you can scratch one thing off your list don't it?" is how I replied.
Everything... eventually fits together, somehow... If you arbitrarily exclude something... that actually tweaks your interest a mite... just because you can't see how it 'fits'... you're gonna lose a lot... and maybe... what you 'really' want looks totally differrent from what you started off to do...
Where am I goin' with this? ... I'm not totally sure! :-) ... But the last year or so a fog has collected on my Horizon... but I'm startin' to see through that misty haze... looks kind of like a wheel... :-)
It seems... returning to riding Motorycycles a couple years ago... is havin' a bigger affect on me then I ever expected... The drive to lean one through the mountains and split the wind down the center line on some western road... is swellin' up and pushing for changes in my RVing... It's giving a fresh boost to gettin' out there... but also makin' some pretty noisy demands for 'modifications' to our rig and/or our way of goin'...
... and that there's most of the 'fog' I'm searchin' for the way through...
... Hmmm... appears that 'brain lock' got 'picked' don't it? :-)
Well... I got chores to get done... while I'm waitin' for the fog to burn off... better get to it...
Go do 'something' today... just because it's caught your interest... you may be surprised.
Take Good Care
Brian
February 14, 2009 08:30 - Uh Oh... the Broken Down Ol' Cowboy is Pokin' the Badger Again
yup... and feelin' windy again as usual!
Boy-o-boy... there's a bunch goin' on inside my brain pan... just wish somebody knew how to organize all that noise!
Looks like I hit some fertile schemin' ground! ... anybody that's known me for any amount of time, knows, I'm always schemin'... Apparently, I'm only 'satisfied' if I'm tinkerin' with things... I've never been one to leave - anything - well enough alone...
... I advise folks to do just that... "If it ain't broke... don't fix it"... but this fella has had little success... followin' his own advice! :-)... It's sort of a "Do as I say ~ NOT ~ as I do" situation. :-)
I can sit and leave things alone for a lil' while... but then I start seein' how if I tightened this... loosened that, and cut the other do-hickey clean out, it would hum like a two dollar hoo.... oops... that's not for this audience is it? :-)
... well... if you were expectin' a Saint... you've been lookin' in the wrong place friend! This here... is me... cowboy speech-a-fyin', warts and all!
... anyhoo.... I just can't resist it... and bottlin' up all that schemin' energy is a dangerous thing to do... you build up all sorts of pressures, which cause short circuits... and pretty dang quick you got a lot of smoke and sparks...
... where smoke and sparks are not exactly productive... so I just let the schemin' take me where ever it leads.
Makes the Boss Lady a little crazy... she's more of the 'go along to get along' sort... while I'm the "Let's poke that Badger and see how loud he squeals" sort. :-) ... and pretty much a "So what if we go broke? I didn't have a nickel when I started and I'm still 5 lbs overweight!" type.
So... what's got me to schemin' again... or... still?
The past two years... that's what!
I've never been any sort of a quitter... on a few occasions I have managed to realize that whatever I was tryin' to do just wasn't in the cards... and took off in a differrent direction... and I'm real willing to modify plans, when unexpected opportunities present... but Quit?
Naw... ain't gonna happen... That's sure not how I've managed to stay married up for 30 years... and NOBODY is gonna tell me that those 30 years have been an easy ride... and I'd guess if you told Heidi they were... she'd be in danger of passin' out from laughin'!
But... now comes the last two years... We started out goin' a certain way... and things rolled along just fine... until they didn't... We've worked hard... sat tight and waited.. and waited... and waited....
We... I... still want to do the RV Boondocking we set out to do... that hasn't changed... but a lot of other things have...
If a boat captain looks on the radar and sees a God Awful storm up ahead... but a way to steer around the sucker, he'd be pretty much a fool to not steer a new course, and go around wouldn't he?
I've chewed on this, a few different ways, over the past months... and years... and a 'New Course' is slowly takin' shape... it's out there in that 'fog' I mentioned... yesterday I think... it's kind of foggy... :-)
In the last two years... goin on three!... Heidi's Dog Agility has really taken hold of her!... I found a Motorycycle Revival :-) and now we're expectin' our first Grand Kid, for me to lead down the wide trail to Juvenile Delinquency!...
... Salted in there, was stumbling into the totally unexpected Joy/opportunity that my websites have become!
... Then, On top of all that... My Lust for, goin' down the road, continues to burn as Hot as ever...
Things aren't the way they were... They're good... and I'd have to say... all things considered, gettin' better! But they're different. Sooo... I gotta adjust.
I'm workin' out the 'Numbers' and the 'Trail Map', to adjust to the requirements of that changing country we're travelin' through... and as soon as they're figured out... I'll share my 'answers' here...
The point of all this 'Wind' ? ... Don't get ~ SET ~ too hard, in your 'plans'. When it gets cold... you put on a coat don't you? ... a rain coat when the clouds open up? ... You turn the steering wheel when the road turns don't you?
It's pretty plain ain't it? If you don't... and the road cuts right... and you insist on borin' right straight ahead 'cause; "By God that's where I set out for, and that's where I'm going!"... I'll tell you friend... the next thing you hear is gonna be a loud 'crunching' sound!
If you're too hung up on what you 'Wanted' to do... you'll likely miss a lot of what you 'Could have done!'... and I'll say it here... It's real possible, I've missed some opportunities the past year or two... 'cause I was too focused on the 'prize'...
But I did keep my mind 'open' enough to re-find the sheer joy I get in twistin' the throttle on a fine Motorcycle... and it's something that fits pretty well into RV Boondocking ... Wandering in general... and Heidi's Dog Agility... so alls well! :-)
and fact is... I believe I enjoy it now... more than I ever did years ago when I was still a 'kid'... I just didn't know enough then... what I had.
Maybe I've learned something on this ride!
Enough wind for now...
Go Ahead... give that ol' Badger a poke... :-)
and...
...Keep Your Nose to the Wind!
Brian
Life is a Daring Adventure... or nothing
~ Helen Keller
February 15, 2009 07:35 - We'll be scratchin' the 'Itch' a bit more today...
Heidi and Buck are runnin' twice more this morning... while I tinker 'round gettin' the rig ready to roll again...
As soon as they're finished up here, we hitch up and roll east for Las Cruces... and the next trial...
That should make haulin' 'Home' a better deal this time around... a few more... shorter... runs... finally looks like I'm able to follow my own advice a mite! :-) ... makes for a more harmonious outcome!
Already have hopes for circles in April... a long one in June... major 'changes' simmering between my ears... It just may work out that I've learned a bit from settin' my thoughts down here on 'paper'...
Somehow, seein' your words in print, I think, can have a heavier impact on your thinkin' parts... Considerin' how deaf my thinkin' parts can be, that's not a bad thing!... a good whack with a board ever' now an' again... seems to clear out some of the cobwebs. :-)
It's been decided... until I change my mind :-) .... that I've been bangin' my head against a wall that's way too thick for even my cast iron skull to punch a hole through... but... if I'd just stopped whackin' on it, long enough for my eyes to clear... I might have noticed that thin, little trail, runnin' around the side...
Though I set out to go Full-Time... The way things have worked out... Timing, money, family, interests.... yadda, yadda, yadda... that just might not be the way for us... least ways not full-time, full-time... :-) ... How-some-ever... what about Part-time-full-time? :-)
Heidi and I are ALWAYS... much happier and more content... when we're livin' in the rig... than we are in a house... besides the cost bein' considerable less... the amount of work required to maintain this lil' house is so much less time and energy consuming... it leaves a lot more time for playin'... and what other good use is there for life? !! :-)
So... we're goin' in that direction... (Part-Time Full-Time!) ... I've wrote 'bout it before... but I've allowed the swirlin' fog of just livin' to cornfuzzle me a bit and it's taking a bit of time to sort out the trail we need to follow... I believe... some of that 'cornfuzzlement' is receding... and a clearer trail is stretching out in front of us...
... and that's all a person has to do... set out a 'bitesize' goal... get to that spot... look up ahead... find another reachable 'landmark'... and keep moving... It's remarkable, when you stop to catch your breath, and look back... to see just how far you've come... It's a fine feeling.
Some of the same obstructions remain, for sure and for certain... but... with a fresh view... I believe we can find our way around... and the future looks pretty bright... even brighter than the 'Dream' that was concieved a couple years ago... It's not been abandoned... just refined... It's kind of like cutting into a piece of burl wood...
... It looks interesting on the outside... but the deeper you dig into it... the more layers you find and reveal. It gets ever more interesting the deeper you go. You find unexpected things... that take you in directions you never even contemplated...
... and when you look back... you just smile...
How could a fella improve on that?... The only way I know, is to have done it sooner! :-)
Hmmm... if I do it now... that'd be sooner than next week... wouldn't it?
Take Good Care
Brian
February 16, 2009 07:46 - The Eagle has landed in Mesquite New Mexico... for a day
If I get myself in gear... I may get out and capture a picture of our dry camp at this lil' trial... (OK... I did... so quit hollerin' at me!) ... a fitting place for a broken down Ol' buster... We're sitting in a corral... with road apples out my window! :-) I feel right at home... can you find the road apples? :-)
It's quiet though... and after a few hours on I-10... appreciated!
I constantly advise it... and I constantly refresh my knowledge of WHY I advise it... Avoid the interstates at every opportunity!
Yuck!... Semis and Semis and Semis Oh My!... people who don't know how to merge off an on ramp... the only saving grace on I-10... between Tucson and Mesquite...
... was the M&M Blizzard, at the Dairy Queen, at Butterfield Station near Deming! :-)
But... I'll bet... a fella could find one of those... somewhere in some quiet lil' place on the two lane... and enjoy the run more... gettin' there!

Don't know where we'll roll from here... we've got a couple days... maybe even three, to make the roll back to the north side of Colorado... we'll just have to see where our noses lead us...
... and there's still a Mountain View... always a Mountain View!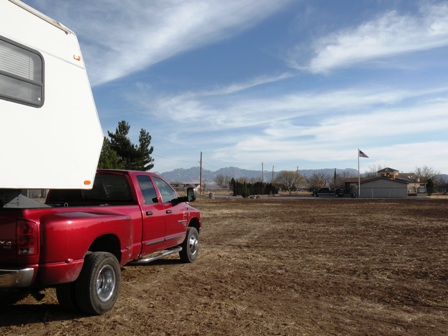 Ted and Marilyn asked a question in yesterdays comments... I thought it'd make for a decent post... and since I was sitting here lookin' at the road apples out the window...drawing a complete blank... :-) the question was timed well... Thanks! :-)
I'm thinkin'... a goodly number of folks... who are "Thinkin' 'bout goin' RVing"... find this site and others... Lookin' for information...
I'm gonna do a quick (yea right... like any talkin' I ever did was quick!) review here... but... if you found this site... look over to the left side... to the NAV bar... I've got lot's and lot's of pages... of mostly good stuff! :-)...
Now... on to my 'quick review'...
I expect a lot of people get hit with that same.... "Whoa! Theres's so much to do, so much to learn... where do I start?... I'm lost!" initial 'sensory overload' ... How can I deal with this? almost a panic attack sort of a situation! :-) ...
... Not to worry...
Just STOP!... Close your eyes... Take a deep breath.... Let it out slowly... It's gonna be OK! :-)
Where you start... is at the beginning! :-)
If you don't have an RV... but think it would be an awful fine way to live... you're right!... but don't just jump in... Load yourself up too fast... with too many physical and financial and emotional burdens and you'll likely burn up what would otherwise be... a FINE way of going...
Start off easy and slow... Read, read, read... and go to RV shows... walk through lots of rigs... walk around RV dealerships... but IGNORE the sales fella tryin' to twist your arm... JUST LOOK for a bit.
Rent a few different sorts of rigs... go to campgrounds... learn the systems... talk to other RVers... get a good solid feel for the life... Break yourself in easy... and I'm confident it will become Shining Times for you...
If your dinero is, like mine, and NOT unending... consider, very strongly... a USED rig... you can save a HUGE amount and still get a pristine rig... maybe even better than pristine... since the previous owner likely worked the Kinks out of the RV before they traded it in. :-)
Now... on to the main question that Ted and Marilyn asked... Working and Seasonal Jobs on the road... where to find out about it... I wrote a page... over on the Nav bar "Work Kamping"...
... and here's the rest of the story... Your imagination and boldness is 'bout the only limitation... There's actually, a lot of opportunity out there, even in these times... I saw one a couple of weeks ago... with the National Forrest Service for a camp host this coming summer up in southern Alaska... If I remember correctly it way near Ketchikan... How sweet would that be?
If you want to camp host with the National Forest Service... Google up the particular Forest you want to stay in... make contact with them and see if they've got any camp host postions open... and if any of them recieve a 'stipend'... usually, that stipend is in the vicinity of $24 per day... for each person working... it adds up pretty quick, for payin' expenses... especially if you live as cheap as I can... :-)
If you're going to be in an area for a while... sign up with 'Manpower'... the part time/temporary outfit... I'll bet they can find good people the temporary work they want...
and then there's these outfits;
Go to Coolworks
Read... Read... Read... explore, visit with folks... Try what you've not tried before... You have got to find some failures... To find for sure and for certain... What you DON'T like... so don't worry 'bout that... in fact embrace it! You're makin' progress! Keep an Open Mind! ... and most of all RELAX! Enjoy the trip... 'cause that's what it's all about... The TRIP... NOT the Destination!
Take Good Care
Brian
How's this for a 'Thoreau as an RVer' quote? :-)
Let the night overtake you everywhere at home.
- Thoreau
February 17, 2009 05:50 - White Sands National Monument and Beyond...
It was a short stay in Mesquite... a real small Trial... and they were only entered in a couple of classes... so we pulled out early... and rolled on.
It's been better than 40 years since I was in White Sands National Monument... back in the middle sixties... been past it on the south, rolled back and forth east of it a couple dozen times... north of it a few... but hadn't been - in - the place for a long time... Heidi hadn't ever been... seemed like a likely place to do some lookin' don't you think?
No worries gettin' in or out... with a sizeable rig... gal at the gate claimed semis have pulled back in for a look... and I believe her... there's no lack of space... and as busy as it seemed... there didn't seem to be any crowding... the pullouts are all a couple of acres! :-) and no issues...
Only place a mite tight was the front parking lot by the visitor center... not sure why they crowded that like they did... but you'll need to pay attention pullin' in... and out... with a 'big' rig... lil' toads and such not a problem...
White Sands National Monument offers no shortage of things to do either... The, apparently, almost constant breeze makes it a pretty good place for Kite lovers... They sell snow sleds for slidin' down the dunes... and seemed to be doin' a pretty brisk business with 'em... and then there was a pair crossin' the dunes a horseback... a couple of girls playin' football... I wasn't allowed to photograph them... and photographers lookin' ever' which-a-way...
There's plenty to photograph... long vistas across the dunes, of the purple mountains north and west... and close up abstract pieces of the wind rippled sand... It may be a stark place... but it's a beautiful place just the same... I'd have liked to have been able to spend a lot more time... just sitting and looking...
... maybe put Lonesome Dove... or Monty Walsh on my Ipod... and just watch the shadows move... Would be an even sweeter day...
Coming back to the rig from one short walk... I almost lost it... If it hadn't been for the Big Red Truck... Kind of like hunting a polar bear in a blizzard! :-)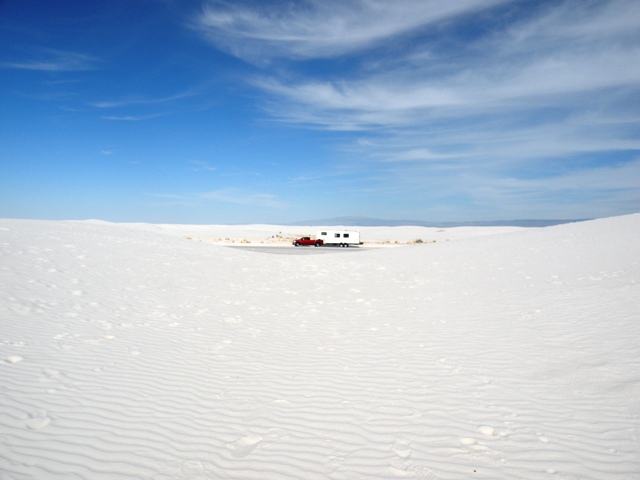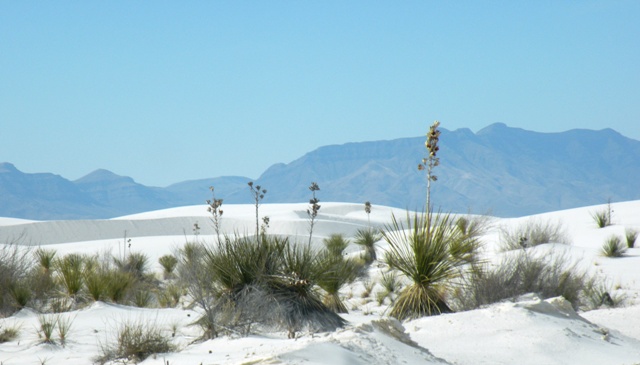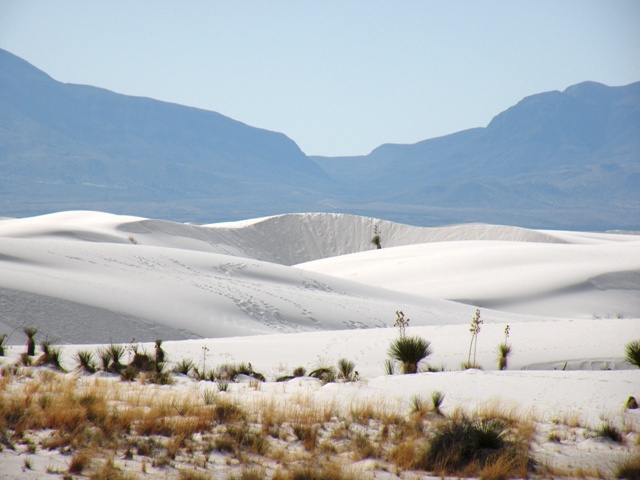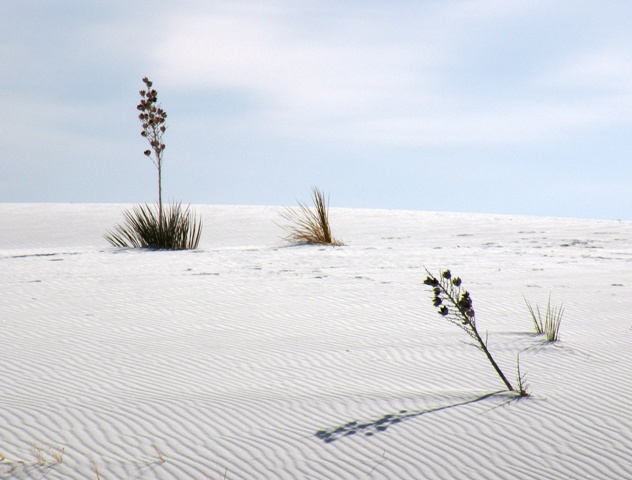 Eventually... we had to pull out and go huntin' a camp for the night... we'd dawdled a mite too long... and ended up rollin' on through New Mexico... through the lengthening shadows... and into the night... to get to where we'd planned... :-)



But... we found it and settled in... a bit over 7000 feet, in a NM state park campground west of Mountainaire... where the sun is just now crackin' the dark with the first grey light of dawn... and the start of a new day...
Take Good Care
Brian
February 18, 2009 06:55 - Dang... We'll be 'home' today...
Got up yesterday and walked a couple miles through the timber at our semi-boondock camp...
It's just semi if you've got a lil' table shelter and a plug in... right? :-) ... what the heck... for $14 bucks... it'll do on a cold night...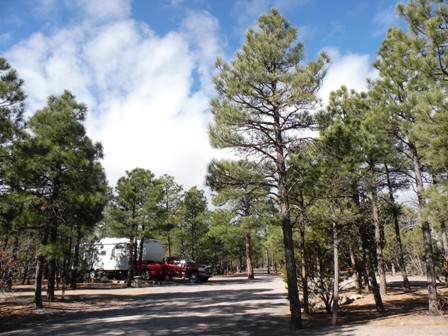 Manzano (sp?) Mountains State park just west of Mountainaire New Mexico... not sure of the spelling... and I can't find my durn map! Nice lil' place... and we were the ONLY rig in the place... with something over 30 spots available...
They've got a goodly number of marked out trails... for 'kids' who aren't too sure of their Dan'l Boone skills... :-)
Real nice strollin' through the trees... Will be nice to come back here some time... and spend some time... but... as usual lately :-( ... we've got to bring this circle to a close and roll on back to that 'other' world for a while...
So we packed up and started rollin' ... right into a whole bunch of wind...
Luckily... for a good chunk of the miles it was quartering out of the south west or pushin' north... so the tailwind carried us along... and up over 14.5 mpg... but then... when it turned a bit... knocked the tally right back down to 13... Still, pretty good for a 3500 and a 5er I'd say!
Stopped in a roadside to build sandwiches 'bout 2pm... and noticed... the passenger side window beside the bed had blown out! arrrgggh!
Not the whole window... just the lower opening 'flap' part... but it still makes a 8" X 30" or so hole in the side of the rig on a cold day! at least it weren't snowin'.
Nothing I could do, on the road... since my duct tape had dissappeared! ... so we rolled on to Wally World in Trinidad... where I was planning on brushin' up for the night anyhoo... got some duct tape... and a piece of foam board... and plugged that breach in the hull. I believe it'll hold the few hundred miles we've got left...
... and then I guess I put in a new window! :-) ... 'course... I could just leave 'er the way it is... tie the door shut with baling twine, put some bandaids on the tires and do a rendition of genuine 'trailer trash'! :-)
...Naw... I'll try to keep it all together a bit longer...
Time to roll
Take Good Care
Brian
February 21, 2009 06:36 - Hmmm.... I wonder... does REAL chilly... and V Star Motorcycles mix?
9 degrees just now when I checked Weather Underground...
I've got to get back to my 'day job' today...
Slick is sitting over in the shop... I already told herself, that I'm riding today... It snowed last night, just a skiff, and I figure the roads are clear... but I wonder... will Slick even start to make the run?... the last time I tried at 11 degrees that Yamaha said Uh Uh... but he was parked outside... maybe bein' inside this time he'll be feeling more athletic?
I'm really wanting to get him out for the day... It's supposed to climb clean up into the high forties! That's good enough for me...
I ain't been astride the bike since something like the first, and that's too dang long... If I can't get out full-time... I better be able to roll my scooter!
Guess I better trot over to the shop and see if he's gonna fire up... If he's willin'... it'll be the coldest ride of the winter... and makes me the biggest macho fool this side of Toledo! :-)
... if that V Star Motorcycle ain't willing... I got to get herself moving so we can 'truck pool'...
... so no time to rattle on here...
Take Good Care
Brian
February 22, 2009 06:37 - Well, they do!
Really Chilly and Motorcycles do mix. :-)
Though it had warmed up to 13 degrees according to the trucks thermometer when I checked there... just before I rode out.
That Carhartt jacket... and those $25 ski pants I got were the best money I've spent in a while! ... I climb on in a sour mood... and I swear, 1/2 mile down the road I'm hummin' in my helmet.
I never expected returning to Motorcycles to have the shine it's proven to have for me... but that also seems to fit into a lot of the way I'm thinkin' now-a-days. My priorities seem a lot clearer now, then they were even two years ago when I started off this thing.
I remember a few times in past years when things came pretty clear... but then got lost again in the fog of livin'... and ain't that a sad thing?... That, holdin' on to a dream is made to be such a struggling ordeal?
I'm not allowin' those priorities and Dreams to get lost in the fog this time around... they may get buried by an avalanche of reality... but this, now Motorcycling', Ol' buster 'll be hangin' tight to 'em... as we get buried up together! :-)
I'll be like one of them Ol' warriors where they used to bury 'em... with their horses... Just plant me... sittin' on my bike... but make sure it's got a full tank... OK?
I was talkin' to a fella yesterday for a bit... he was complainin' 'bout this an' that... the thought crossed my mind that when I'm not carefull... I can sound too close to him...
When he griped about the price of oil is fallin'... yet the cost of fuel was risin', I told him: "Ya know... $5 diesel is a lot cheaper when you have a job... than it is at $2... when you don't!"
It's tough times for a lot of folks... the pin heads in the ivory towers love it too!... makes them the great shining saviors...
Well... they are... if, you BELIEVE Grimms fairy tales... Ain't no politician ever saved a dang thing... but maybe his own job...
The only CHANGE you're gonna get from those parasites is the tiny lil' bit of 'change' you'll get back, from your own money... when they give you a tiny lil' tax cut...
Naw the person that can take you where you want to ride is that good looking wanderer that smiles at you in the mirror of a morning. He or she is the 'creator' for your future... you've only got to accept the reality that politicos LIE... ever' time they make a sound... and the responsibility for your Dreams resides right in your own heart.
There's no reason I see for people to be in a panic... even if you lose ever'thing... you've only got a lighter load to carry... This guy's never been happier than when he had the least... possesions have always been a burden to me...
I ain't sayin' live in poverty... I'm saying... like wandrin' Lloyd says over on his blog... Enjoying life is a matter of balance...
Hunt for it. Find it... and then... Keep the balance... and what the damned economy is doin'... or isn't... ain't gonna matter to you... not one lil' bit... Just don't get trapped in that 'place'... that they are... For Sure and for Certain... tryin' so hard to trap you in... That place where they've buffaloed you into believin' that THEY are gonna save you... If you allow 'em just a Lil' bigger piece of whatever life you've got left...
There's nothin' needing 'saving'... if they'd just let go and quit causin' all the difficulties in the first place... don't allow 'em a handhold. Ever time they get a grip... smack 'em loose! :-) ... and then...
... Go out and Chase Your Dreams!...
Take Good Care
Brian
"I count the cost of a thing not in dollars and cents, but in how much of my life I must give up to own it."
-Thoreau
February 26, 2009 08:17 - Nothing... and Everything...
I'm on a trip where I can't find the trail... and yet I can see it clearly... don't know if that's reality... or I'm just a shining example of what should be confined in a home... wearin' pajamas all day and makin' purty pictures with my crayolas! :-)
I've been going through a period, as Mark, over on Artful RV Adventures recently had, where I come in and sit in front of this vision of electronic lovliness... and I got... NUTHIN!
But... at the same time... I've got this hummin' in my head, and things are swirlin' around like a herd of cows caught in a swarm of stingin' flies.
The only problem is, things have been swrlin' so fast, and so cornfuzzled, I've not been able to collect enough pieces that fit together, to put 'em down on electronic paper, in any sort of a way that would make any sense at all, to an off center, bald headed, puss gutted, word butcher... like myself...
...let alone the folks that come here to see what new torturing of the language I've been committing.
So... I go do some chores... fiddle here, diddle there... cogitate, and even try a bit of mind clearin' walkabout... huntin' for inspiration... I'd settle for just a mite of stabilization and clarification... but for the last three days or so... Nuthin!
... There's been a flicker of understanding, here an' there, of what's been rattlin' 'round... but ever' time it started to come clear... something would distract me... and ppppfffftttt!... the idea was gone.., arrrggghhh!
So... I just quit tryin'... and just let it ride... Funny, how that can do the trick sometimes...
This morning... I was clicking though 'Stumbleupon' ., just passin' the time, and stumbled on a blog, that to my mind was sayin' just what I was tryin' to think.
A lot of what I want, and what I write about is just, LIVING, without bein' the slave of a pile of possessions. I, on occassion have used the monikers of frugal RVing, and Minimalism... but I tend to shy away from 'em, 'cause typically, they're burdened heavy with a bad reputation.
If you tell somebody you're chasing frugal ways, that you want to live a minimalist lifestyle... let's face it... They instantly picture a beared, grubby, mumbling, drifter, with a torn army blanket from the Salvation Army, pushing a shopping cart from Albertsons and living under a bridge.
I'm sorry for that too... 'cause that's not how I see 'em... and I've not got one lil' bit of a wish, to live under a bridge.
It's not about HAVING less... or doing without... it's... about, LIVING!
It's about what your focus is. It's about using what you have to its' maximum... It's NOT about less... It IS ,simply, about fully exploring and using the things you DO HAVE... before you move on to others... and simply discarding, without fretting on it... those things which quite simply... don't serve you any more.
It's squeezing every bit of juice out of the fruit... before you throw away the used up rind... It's about tasting every last drop of Life... you can squeeze out of THIS mortal existence.
For instance... How many people buy new shoes... really just because they were 'On Sale' and they couldn't afford to pass up the bargain?... Yet they have a closet full of shoes and boots they haven't worn out yet... Seems like not being able to 'afford' to pass up the 'Bargain' cost 'em... 50% off!
... how about 100% off... and you use that money... to put enough fuel in your old truck... with 160,000 miles on it... to haul your RV up into the hills for a week of hiking the high country?
I think of the folks that race down the road, rackin' up miles... to make sure they see it ALL... and damnation... they're passin' lifetimes of Shinin' Times all the dang way... I know they do it... 'cause this fool gets caught up in doin' that way too often his own self.
As for myself, I continue pursuin' a 'reorganization' of my priorities... one bit of Thoreau's wisdom keeps rattlin' through my head..."Things are more easily gotten than gotten rid of."
I'm the voluntary 'posterboy' for that idea... as testified to by the, lack of ease, with which we are divesting this here house and property... but... long before Mr. Obama came to it... I was no quitter... so I keep on keepin' on... huntin' the ways to make all the pieces fall into place.
I want a minimalist RV Lifestyle... and I consider... a 5er or a Diesel Pusher Motorhome... to be minimalism... both enforce a minimum of possessions... there's plain and simple, little space to put 'em... and let's be honest... living in a 'home' of say, 272 to maybe 320 square feet or so... is a lot more efficient and 'minimalist'... than even the small, 900 square foot apartments that some folks who ridicule RVers as being guilty of 'consumptive ostentation' abide in!
... and for transportation, I consider my Motorcycle to be a lot more frugal, and minimalist, than the overpriced, underperforming, hidden-cost-of operation, Hybrids that are being touted these days... and my guess is... rollin' down the road in a Prius... or even a 'smart car'... don't hang that grin on your face, from runnin' with your nose in the wind, that a Yamaha... or a Victory... or, a Harley does.
... Now there, is a bit of property that serves me well! Nothing I have, shines up my days with as much Sheer Joy of Living, as those two wheels and a motor!... well... except maybe for the simplicity and minimalism of my RV!
My efforts will continue... I anticipate swapping things around... a lot... so that our 'things' serve US better... rather than Us serving them... I have no intention of doing without... My goal is to DO BETTER... with whatever comes my way. To get back to squeezing the last drop of juice out of THIS life.
Take Good Care
Brian
"I should not talk so much about myself if there were anyone else I knew as well."
- Thoreau