Do You Want to Build Your Own Unique RV and Only Need a Little Inspiration?
Everyone has seen a Unique RV in their travels, and had that trigger a spasm in their "What If?" Muscle?
How many have wished, like me, to find the time and the inspiration to start from the ground up and build their own rig?
How many folks, sippin' a beer of an evening, sitting under the awning in camp, have daydreamed about what their personal, Unique RV would look like?
I know I've worn out a few reams of graph paper doodling out my own perfect outfit. I've swung from one end of the RV spectrum to the other. I've gone from Hybrid Vehicle/tent rigs to tiny cargo boxes to Motorhome behemoths.
From tiny to huge... each tickles my imagination... my problem is, when it comes to me, I'm kinda fickle when it comes to RV's. If I had the money and the storage space, I'd like to have six! One for each of the many ways of traveling I admire... and would like to pursue from time to time!
There's a clear and simple reason I think so many daydream about rigs like I do. No matter how well a gypsy traveler's wagon is laid out by a creative and imaginative manufacturer, a mass produced vehicle just can't fit every personality.
Though most of us tend to use a factory built rig, I think it's simply because we get intimidated by the size of the task of building our own rather than the rigs actually fit us well... It's my belief that deep down a large chunk of, especially full time Travelers wish they could change this... redesign that... modify those... install one of these, take out one of them... You get the idea.
As I write this page I'm in the middle of an intended redesign, reconstruction, re-fit, reworking of how we travel and go down the road. I don't respond well to intimidation! ;)
After a few decades of wearin' out and making modifications to a variety of rigs... and now two plus years of full-time, on-the-road Boondocking (the heavy % of the time) I'm wanting a rig that is tee total tailored to me and my way of going... Now... to defeat that Intimidation thing! :)
The rigs I've gathered here ( and I hope to add more as I run across good ones) are not so much the way I want to go but hung on here as inspiration for my own design work and yours.
The hope is these rigs and ways of going will tickle some idea in you... or ME! and help you to break out of the "Accepted" box, shake things up, and come up with a Unique RV that is something clever, imaginative, and more reflective of who You are.
Keep a watch on this site. If I do manage to pony up the guts to start the construction of our own, built just for us rig, you'll see that job chronicled in its own section here on my site!
---
Be sure to click on the thumbnail pics in the gallery of rigs below... that will bring up a larger picture for you to see.
---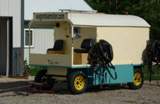 This guy has been pulling a rig similar to this for a few years. He's traveled several thousand miles by genuine Horse Power!
This rig will be pulled by three horses in a unicorn hitch... go to his website and check out what he's done, and what he's doin!
---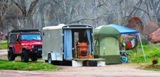 We met the guy living in this lil' rig a year ago in Zion National Park. He pulls the Cargo trailer with his jeep. He's got a bunk in it, a desk, and a cooler. The green tent beside the trailer is his shower, he's got outside cover/shelter under the blue easy up... and most often sat on the deck formed by the ramp to have his breakfast and morning coffee... as he enjoyed the views of the world around him. Pretty austere for a lot of folks... but he was as happy as a gopher in a lush garden!
---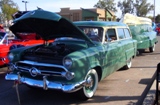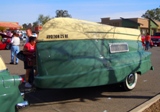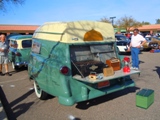 We saw this sweet lil' rig at a small, local car show in Phoenix.
It sure qualifies as a Unique RV!
I'd call it a variation of the "Tear Drop" type trailer. It was a well restored rig where the camper was built to match the car it hauled... as well as carry a row boat turned over on the roof! How Sweet is that?

---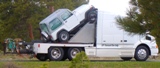 Here's a way to carry, rather than pull, a 4x4 Toad... and Have a Tow Vehicle Heavy enough for a large Fifth Wheel. No worries about overloading your Tow Vehicle with this rig! ;)
I suppose, a clever guy could even swap out the Bicycle Rack for a motorcycle carrier if your "toys" were a lil' different than what these folks carry.
This is the unique RV rig for you if Toy Hauler Trailers and Toy Hauler Fifth Wheels aren't your cup-O-Tea!
---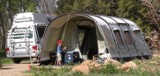 This is a Hybrid outfit we saw in Zion. Shipped all the way from Europe for their travels; And a Young couple too!
They had a VW Bus/Camper and then the Outwell brand Tent set up beside the rig for Auxiliary Living Space.
I researched those Outwell tents. They're only available in Europe, however they will/can ship stateside. You could do the same thing, only better! With an American Made Hunting camp type wall tent with a Camp Woodstove for those Cooler High Mountain days!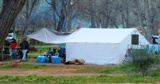 This is an idea I've toyed with for a long time. Expand the living space of a smaller RV with the comfort of a "Hunting Camp" type wall tent.
Most of the Tent Makers will make "custom" changes to your order. Was it me I'd add a few screened windows on each side wall, and have the tent made with a screened door on each end.
Erect it like this one, with a prefab internal frame and you've got a huge increase in livable, all weather space for Long Camps!
---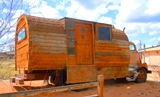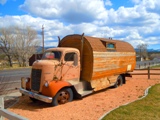 Spotted this Old Dodge Rig riding our Yamaha to Bryce Canyon.
I don't know that it would qualify for the class of weird RV's but it could probably fit into the odd RV's category don't you think? No matter how you look at it, it is unique!
It's not been on the road in a bit, but it still has it's Utah License Plate in place!
Looking through the window of this truly unique RV we could see a full kitchen and double bed in the tail end...
The "Porch" hinges up from under the door. A little TLC by a guy or guy-ette who likes mechanicin', and this Old rig could be back running the roads again. ;)
---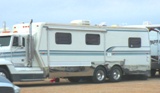 The builders of this unique RV took a Class 8 Tractor and married it up with what appears to be a Holiday Rambler Travel trailer for what some call a "Super C" type outfit.
I've seen several versions of this idea. This one caught with a "Drive by" at the NASCAR Races at PIR.
---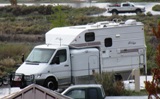 This rig seems to be an example of "Go with what you've got".
Looks like a sprinter van, cab and chassis to start with. Then, they added a semi sleeper with a standard cabover Camper married up to that.
This one fits for sure into the Odd RV's category.
For the folks who just have a hunger to Live "outside the box"! :)
---
Keep coming back... I'll keep adding weird RV's, Odd RV's... and the Unique RV that just might be that perfect bit of inspiration for your own "Next" rig.




Return from Unique RV to Goin' RV Boondocking