June 2, 2009 07:31 - The World doesn't wait on much... and apparently, it ain't gonna wait on me... at all...

It's June already?... Time flies, even if you ain't havin' fun.

Sitting here watching my Robins out the window... The little buggers are growing like weeds! They weren't nothing but little, blind, pink, and ugly, but a week and a half ago. Now they're featherin' out and crowding the nest... but something ain't right...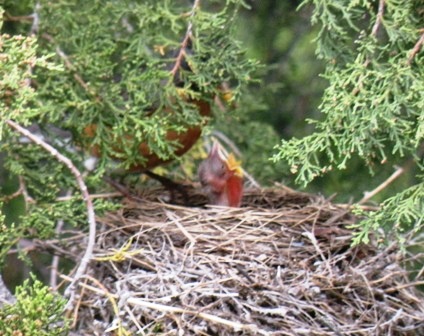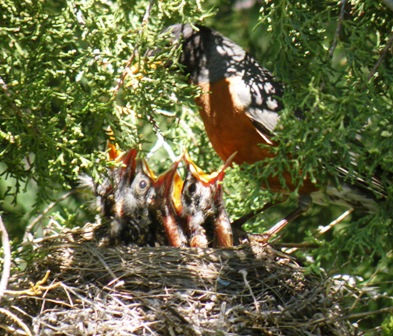 Sat here for a while, tryin' to figure out what was wrong... I was lookin' at the nest... and realized, one of the chicks was missing!... One of the Parents, Mom or Dad... came flying in with a worm... and landed above the nest... Only three heads popped up... but instead of feeding the three remaining chicks in the nest... He/she flew deeper into the windbreak... and fed the fourth chick who's now roosted 15 or 20 feet away on the other side of one of the trees... I could just spot the lil' bunch quitter through the limbs... that little guy apparently moved out while I was gone today... too damn crowded for him.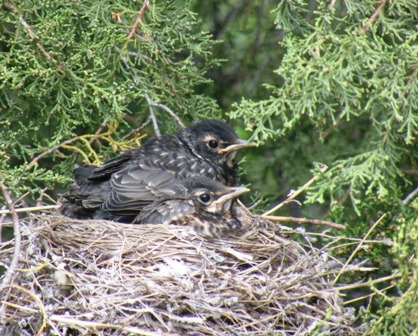 Kind of ambitious for a partly feathered, half grown worm killer if you ask me...
Seems that although I was of the opinion the world was circling the drain... the world is gonna go on without me...
I guess it's gonna give me the option... "come along or stay behind... your choice"... If a runty lil' chick can do it... I suppose a broken down, heart sore, lonesome cowboy had better make a run at it...
I'm not sure where I'm gonna find the energy... or the will to keep movin'... weary don't begin to describe it... but this layin' here feeling sorry for myself ain't tasting very good...
...A man and his Dad came and looked at the Truck this morning... I think they may buy it... which deals with a pretty heavy debt, even if it is a costly loss... and lightens the load... creates another problem of course, in the short term... Which is moving and hauling the Eagle... but that can be dealt with too... it's called suckin' in my gut an' tightening up my belt... in 'Cowboy' the term is "Cowboy Up."
I'll have a good while this summer to worry 'bout that... makes a fella regret the 'missed judgement' of tradin' off that good ol', paid off '98 for sure... but drives home the truth of some of the 'philosophizin' I've done... learning my own lessons, all over again...
Somebody said sometime... that wisdom is the collection of lessons you got from making mistakes... The past few years... I must be studyin' for some sort of PHD.
Hope my 'schoolin' is near done... I can't afford much more wisdom...
Take Good Care
Brian
June 5, 2009 10:03 - The Robins have all moved on...
Well... the rest of the 'kids' have gone out into the world... They started piling out soon after that first little adventurer left...
It's kind of lonesome now :-) ... looking out at the empty nest... but it does lead a person, in some small way to see hope for the future don't it?
The rain of the past few days looks to be finally letting up... maybe I can flush some of the mud off of Slick now... he sure ain't no trailer queen... and actually, I think he may not be a he! I'm starting to believe he may be one of those Tomboy types! :-) ... yep... Slick might just be a Gurl!
Got the truck and hauled over to dump the black tank yesterday... filled up the propane bottles... yadda yadda yadda... That should give me something better than a month before I have to deal with it again... especially now that 'heat' ain't much required... just fridge and hot water...
... and considering that the black tank wasn't completely full... it's kind of a testament that I'm not TOTALLY full of @%&T ! :-)
There's a fella looking pretty hard at the truck... waiting to hear his decision... Then we'll get to looking at some less costly RV tow vehicle options...
Have to be at the ranch store shortly... so a short post...
... but the sun is shining... the blood is still inside my hide... and those that are taking shots... aren't hitting much... :-)
Take Good Care
Brian
June 8, 2009 05:08 - The Ol' Boy is Tired
Off to the east the clouds are hangin' low to the ground in a fog... as the sky is lighting up for the day. Overhead... maybe clear sky? Heavy storms yesterday... got ever'thing all soggy again... after maybe a single day of sun... I'm about ready for a string of days with all the water around me... in a glass!
So much has happened in the past three months... in the world beyond... and in the world right here tight around me... I'm wore out. About the time I think I'm catchin' my balance and my breath... whack... another hit.
I'm not the only one takin' a whuppin'... but that don't really matter does it? To the fella takin' the hits... does it hurt any less 'cause he's not the only one? What might seem like a 'small fight' lookin' in from the outside... appears to be Armageddon to the solitary soldier in an ambush.
People will tell you to 'get real'... 'forget all those silly dreams', 'get a real job' ... do what you're 'supposed' to do... forget all that 'stuff' in your head... that was 'so long ago...'
???
If you abandon your dreams... what's the use in Livin'? ...
Demanding that you Do what you're 'supposed' to do? ... Who gets to decide what 'Supposed to do' ... IS? ... ain't that just a different way of spelling... slavery?
Forget all that 'Stuff' in your head, 'cause it was so long ago?... well... I'll just leave the stupidity of that common remark where it belongs... layin' out in the yard with the rest of the dog crap.
What's the answer? Hell, I don't know... wouldn't be fightin' my way through the maze after all these years if... I ... was the guy that had found that lil' key.
Only thing I can think to do is keep on keepin' on, Remembering all that stuff (and people) that's brought me to who and where I am... hangin' tightly, as I've got the strength to do, to the dreams I've got... chasin' 'em as hard as I can... building foundations under those 'castles in the sky.'
... and goin' Against the Grain... doing what ... I ... decide I'm supposed to do... and droppin' bowling balls on the toes of those who have the arrogance to try and tell me what 'supposed to do' ... is! :-)
What are those dreams? Yondering through Wild country, rolling a fine motorcycle down Freedom Road... writing my stories... carving some leather... and a small piece of quiet... somewhere...
Take Good Care
Brian
June 10, 2009 06:11 - One More Time...
It's in the works... too early to have much confidence... and for the most part, too little, too late... but we've got another contract on that house... Financing issues to deal with... so it's another long closing... so we shall see what happens...
Considering it's a drop in value of nearly 25% from three years ago, and way below construction cost... it's only benefit is that it will eliminate the financial drain that the place has become... It's pretty hard for us to keep pouring so many dollars into a hole that only gets deeper each month... those numbers just don't add up!
Better to just cut the loss and move along...
This deal won't allow any sort of a return, in the near term, to what we'd started after... but the opportunity to regain some stability, some firm footing is a blessing.
I've had a couple conversations about the truck as well... nothing happening there yet... The turmoil with the auto makers makes selling a higher end truck a bit difficult too... but, once those two, huge drains are plugged... we can start looking forward... 'stead of back... and THAT will be one welcome change!
A 'regrouping' with older, more 'seasoned' (spelled - less costly) equipment is the likely outcome... and one of the 'lessons re-learned' from this trail...
It will be nice to have the 'Wind' drop off a mite... The only wind I'm wantin' just now is that wind that I split... settin' on the saddle of a Yamaha V Star! :-)
... Now, THAT wind, is a joy! I wish I could find the words to properly paint the picture of a mans mind... or a woman's for that matter... when they're rolling a fine Motorcycle through the Freedom you find, on an open road...
Somehow, that machine... and the open space, the far view of the road, stretching out in front, and fading into the future... erases the worries and sorrows behind you... your mind clears... and the day is pure and hopeful. It's a sense of peace and calm I've found nowhere else... Odd... that a simple machine can have such a deep affect on a persons very soul.
I won't question it... or take it for granted... Only be damn grateful that it is... and savor it every mile... The Freedom of the Open Road... It's a pure and simple Joy.
Now that summer is close... all this rain will stop... eventually... won't it? :-) ... I'm planning on making quite a few three and four day, Motorcycle Touring runs... Running the tires off of Slick... or her 'big brother', Yamaha Replacement... :-) ... if that happens...
Hmmm.... considering that I've discovered that Slick is likely a girl... I wonder... is that replacement a girl too? are all Motorcycles? Like Boats? maybe that big Raider I have an eye for is one of those Rubenesque beauties? :-)
Take Good Care
Brian
June 14, 2009 06:32 - Night Riding on a V Star Motorcycle...
Boondocked here on the Feit Farm... just workin' and sleepin... and considerin' all the 'other stuff' goin' on, I was feeling real restless and uneasy last night... so what better than to just fire up that V Star and go ride the mountains in the moonlight... 'cept of course... it being overcast, there weren't much moonlight.
I ran out my favorite road around here last night, Poudre Canyon... cruised on up in the dark... past all the campgrounds filled with RV's and tents of every sort... Nice thing on a bike... you can smell the pines, and the river... and the campfires... see folks movin' about in their camps as you rumble by anonymous...
Raining when I pulled out, but cleared as I got to the bottom and started in... eventually the sky cleared and the stars started to light up as I rolled deeper into the canyon...
I don't know how they can stand it... but the band playing at Mishawaka had the whole bike vibrating from the 'bass' as I ran by that lil' bar... That's pretty loud ain't it? When you can't hear a - Motorcycle - or feel it... over the thumping of a band as you roll by on the road? :-)
The Canyon has a whole different feel at night... a lot closer... You can see the silhouette of the rim against the sky... but otherwise the trees close down into that lil' tunnel built by your headlight... The cool wind whistles through your helmet as you stare ahead... looking for deer... or rocks! :-) and you just lean back and forth as you bend through all those twisties... dancing on the asphalt, in the dark...
... ever' once in a while you wonder if that car comin' the other way... pushin' the centerline... is gonna cross it...
But here and there, when the angle is right... the tunnel vision opens up... you come around a bend and the sky is reflecting off the river, as it tumbles down between the dark trees lining the banks... it's a peaceful, pretty place...
Rode a couple hundred miles into the night... pulled back in under the hitch of the Jayco 'bout midnight or so... ready finally, for some sleep...
"The Healing Power of the Open Road" may sound like some sort of a cliche', but it's no less true... don't know how to describe how it works... just that I know it does... when your pulse is racing... your head is about to bust open with the thoughts racin' through it... and you think you're gonna choke... Having a Motorcycle that I can roll... and an open road to roll on... is a medicine that calms the craziness around me... for a little while...
Now, it's another day... soon be back at that store... pushin' nuts and bolts... The Dream simmerin' in the back of my head... and often... gurgling in the front... to the point I have to look up at people and say... "Huh?" :-)
Take Good Care
Brian
June 16, 2009 07:55 - Another Canyon...
Last night I was feeling pretty poorly... so just laid up... but Sunday evening... like Saturday... layin' up just wasn't gonna fit... too restless and uneasy... the rain had let off for a bit so I rolled out into the dark... one more time... Needing some open road...
Only got hit with rain, once or twice... just enough to let me clean the bugs off my visor... and get that fresh scent you get. Nothing sweeter than that just rained on scent of mountain pines...
Had to run through the city traffic to get to Hwy 34 that runs though Loveland... and into Thompson Canyon... which runs up to Estes Park... and Rocky Mountain National Park. Same as the Poudre... it's got a different personality at night... Traffic is lighter... it seems quieter and more 'private'...
The 'twisties' are different than Poudre Canyon too... Running Thompson Canyon, the corners are faster... more sweepers than the tight twisties on the Poudre... You have a few more spots you can twist on the throttle and slide on by the 'cages' when you need to... In the daytime, you have those mountain views... and often, here and there, Bighorns somewhere along the river...
...and, like on the Poudre, Fly Fishermen flipping their lines in some quiet eddy... or standing out in the current...
But at night... that twisting asphalt bending back and forth in your headlight as you sweep through those mountain curves, the rain clicking on your visor once in a while... the crisp, rain scented air clearing your lungs and your head... It's a spiritual medicine with an amazing power... gettin' kinda 'whoo hoo'... for a bald headed puss gut huh? :-)
I love it... I can't explain the feeling as I'd like too... but I love it...
Stopped in Estes for a short while... It's a simple pleasure to sit on the bike... sippin' a 'fresh' cup of coffee, and warmin' my hands... while I watch the other 'travelers' rollin' by... goin' who knows where... or for what... it's a few quiet moments, just soakin' in the mountains, in the dark... and then climb back on that Yamaha... to run back down the Canyon... and pull the bike back under the protection of the Eagle just before midnight...
... relaxed, soothed... ready for a few hours of rack time... till it's time to go 'make the donuts' again...
Sometime... maybe I can figure out how to do some night time photography of 'Night Riding'... I'll have to 'study up' on that!
Each day comes and goes... small tasks get completed... small comments, from people many miles away strike sweet notes in a fella's head... and the fella keeps on movin'...
Take Good Care
Brian
June 19, 2009 07:02 - The Continuing Soap Opera of the Puss Gut Cowboy Born Out of Season...
Yep... it just keeps on keepin' on... two steps forward... three steps back...
Got a call two days ago... from my sister... to let me know, a condition she's had has turned worse fairly quickly, and will require an open heart surgery... Now, it ain't me that's gotta go through that... but I know what it's like to stand on the edge... so I know what kind of thoughts are goin' through her head... and it hurts me to know a person so close to you is goin' through that... and there ain't one damn thing you can do to ease those fears... 'cept hold on and tell 'em... one way or the other... it will work out right...
... I keep tellin' myself that... then duck my head in, waitin' for the next 'Hit'...
... and yesterday morning... that HIT... landed...
Was climbing on Slick to go do some errands... and take a 'cooling' ride... the ride from the night before, after talkin' with my sister not having been sufficient... and my cell went off...
... one of my 'Angels'... One of those few Close friends that appeared and have carried me though the last month or two... was on the line... and had just been fired from the Ranch store we both work at... Not even a 'clean' layoff... but done in an insulting, demeaning way... as many corporations do... so I rolled over there to see if there was anything I could do...
... as I walked up on the porch... the cell went off again... Angel # 2, had just been 'Fired' from the same place! This gal, even more critical and valuable to the store... non replaceable... and I mean that as straight up as I can be... WHAT THE HELL?
So... me being the quiet, diplomatic, individual I am... I climbed back on that Yamaha... and rolled right straight to the front door of that PLACE... to enquire about what in the hell did they think they were doing?!!...
Now, you have to understand that this place has been poorly managed for a long time... and the two individuals they fired were not 'poor workers'... they were in fact... Maybe the two best employees in the whole damn store... Their problem was... they were paid a mite too much... Jax Farm and Ranch, in reality, punishes those who perform... pathetic... but true.... Jim Quinlan, the owner of Jax Farm and Ranch... is terrified when folks are superior in ability to himself... so he cuts those performers loose... and surrounds himself with incompetance... so he can look around and feel superior... what a fool.
Ya see... the problem for me is this; you can throw bricks at me... call me names... put dirt in my coffee... and I'll just likely duck and look at you... but... you start hurtin' those who are closest to me... hurtin' those who - Have my Back... and I get down right unpleasant.
The Upshot? Well... after I questioned the 'Sanity' of their actions... and I guess, the legality of their 'lineage'... they basically told me... "Your A%% is gone too Cowboy!"... so... now I'm not just Bald, Puss Gut and Purty.... I'm an unemployed puss gut! :-) aint this ride a joy?
... and then... the real 'bloodbath' began... several more folks... on hearing the 'news' dumped the place... the Bozo had no idea the storm he was startin'... or how tight the 'core' bunch of us is... It felt truly fine to see a group of folks holdin' each other up so fine! I'm proud to have them all consider me one of the bunch.
In the end... You know what? I was lookin' for work when I walked into that dump... and I still am! -)
Sometimes it takes a real thump to get some folks attention... This hyar may just be the whack I needed to get off the dime... There's a wild idea/dream I've had, since I was a little boy... and I mean little... maybe 7 or 8...
Sat here this morning cogitatin' on it... it's nuts... it's crazy... it'll have everyone pullin' their hair... jumpin' up and down and hollerin' that he can't do that! ... but you know what? It makes me smile... it gets me excited... and it puts me "Out There"... LIVIN'! :-)
What's gonna happen?... No way of knowin'...
What's the Wild Idea? ... :-) ... You're gonna have to keep readin' over the comin' days and months to find that one out! :-) hee hee hee....
Only thing I know for sure is... the sun comes up in the East... Good Friends are the sweetest thing the Boss ever made.... and Fine Motorcycles are a close second!
Take Good Care
Brian
***EDIT*** a couple of days ago... a gal wrote and asked for the dimensions of the drawers I built for the pantry rebuild... I got those and went to email them to her... and POOF! I can't find her emai! ... I'm not sure what I did... but somehow I zapped it out and don't have that address to send her back the info she wanted... SO .. if you/she are reading this... send me another 'contact form' note and I'll send those dimensions along! :-)***
June 20, 2009 19:18 - A sunny day in between the rain...
Needful of a clear day... some miles... and fresh air... and seein' sun in the morning I broke loose for a run up into Rocky Mountain National Park on Friday... Truly hopin' to clear out my head a lil'.
I hadn't yet rode there this year... it bein' so cold and rainy... and so much other junk goin on... The closest I made it was ridin' through the scattered showers the other night, on a night run up the Thompson Canyon... as far as Estes Park...
This time I rode it in the sunshine... and of course, the mid summer traffic...
Twas warm and nice through the lower end...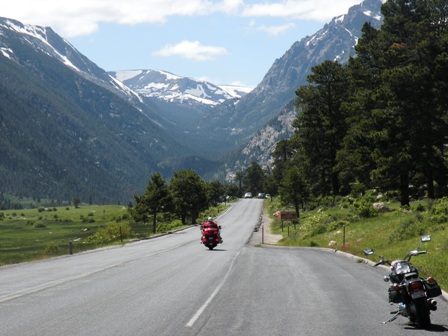 ... and I wasn't even close to bein' the onliest biker on the road... I swear... there were pretty darn near as many motorcycles as there were cars... :-) and I saw more sidecar outfits than I think I've seen in a year... they must be gainin' in popularity...
Up on top, the snow banks are still four foot deep along the road... though they've cleared off most of the slopes...
... and though it was mid June... that wind had a cold spring bite to it... I gave in and put my vest under my jacket at the visitor center/gift shop up on top...
It was comin' out of the high dollar cafe they have up on top I spotted the 'disconcerting' evidence of maybe pushin' things a little hard...
I'd stopped in the Yamaha dealer first thing Friday morning... to inquire about a tire... as I knew the back rubber on Slick had seen better days... some might say... it was finished... but they were out of stock... and had to order one in...
... so I said fine... see you later!... fueled the bike... cranked on the throttle... and rolled for the High up and Lonesome!
Well.... OOPS... as I walked up to the bike, coming out of that cafe, I happened to notice 'something' on the tire... or maybe it was something NOT on the tire... something like Rubber? :-)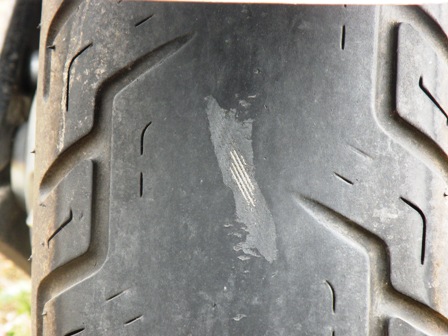 .... Soooooo.... I rode down the mountain a mite more sedately then I did goin' up ... :-) ....
... and today... been sittin' around the 5er piddlin' around most all day... only took a reeeeal short ride to Wally World for groceries.... Can't get a new tire 'till Tuesday... so I'm kind of out of commision for a few days... and it's raining again... yuck...
... I need to be a little quicker on the trigger... when it comes to buying tires... don't ya think? :-)
Take Good Care
Brian
June 23, 2009 07:05 - and one more time....
Whhhooooooeeee!
Norman left a comment yesterday about "Playing in the Rain"...
Had an opportunity for that last night! Heidi and I had got together to do some talkin'... and were on the way back when the, just about most spectacular lightning display I've ever seen came roaring into the front range...
I swear... it was one continuous roll... and it just went on and on... it was like driving through an hour long, giant short circuit. At times, it was almost difficult to see from all the 'Strobes'... and then we drove into the rain... the hail had already landed... and just the rain remained as we drove in to the storm...
Someone else thought maybe we should stop... and let it move on... but me?
Naaaaaa! :-) ... Me? Stop? ... Not real likely... :-)
Went to the Eagle first... 'cause I'd left the vents all open... it having been a clear day... first in a while... Not so clear now... with a large wet spot right under the vent... OOPS... mostly just in the blankets though... so no major deal... and the vent in the bathroom only put a puddle on the vinyl floor... I do that ever' day anyway! :-) ...moral of this part is: if you're leaving your RV for the day... in the summer... close your roof vents down! :-) ...
Got back in the truck to take Heidi back to the house and get Slick... and Lordy... hadn't seen the worst of it yet...
Rolling along the frontage road at 50 or so... and out of the dark... came a swimming pool... Big Red hit that stuff and everything dissappeared in a roaring, flailing spray of water from all four wheels... :-) ... you should have heard the squealing! I swear that weren't me! ... :-) big pool of water must have been nearly a foot deep... It's kind of amazing the impact that can have on a nearly 9000 lb truck runnin' along... and what a noise! :-)
For a moment, I thought I'd drownded that diesel... but it kept runnin' and came out the other side... though it seemed to want to keep it's speed down a bit more after that... :-)
I don't know how much it tallied up to... but where we were the drops were 'bout the size of watermellons and maybe a 1/4 of an inch apart... and it went on a goodly while... guess we can avoid watering the grass another day...
Needless to say... I left Slick up there... and rode Big Red back to the Eagle... enough "Playin' in the rain"...
Looks to be another sunny day... think I'll go close the roof vents back down...
Take Good Care
Brian

June 24, 2009 08:45 - A step or two forward... and another Whack... Surprised aren't ya?
Yup... Murphy is still on the job... Geeze... makes a fella wonder... just a lil' bit... This is gettin' to be one genuine endurance test...
Big Red sold yesterday... a good and bad thing... Good, 'cause in the 'state' of things, that's one big debt off our backs... bad, 'cause I really liked that good truck... and the bike ain't quite up to hauling that Jayco Eagle very far. :-)
So... I settled up at the bank... Picked up the check... climbed back on Slick to ride over to Yamaha... to get the second new tire on her... Put the Front on last month... was gonna put the rear on yesterday afternoon...
Slight Delay...
Was waiting in the showroom for the tire installation when the service rep walked up to tell me... "Uh... we found something I need to SHOW you..."
THOSE... are words you never want to hear a service guy tell you! :-) ... yeah... Slick is lame... and they're tryin' to find some salvage parts to save a few bucks... but I'll likely have to just tell 'em... get the new stuff in and get her runnin' again! The gear at the wheel end of the driveshaft pretty much fell apart when they took the wheel off to swap the rubber... arrrrgggghhhh!
You might want to keep your distance if you see me walkin' down the road... walkin' cause I'm on foot now! :-) .... That way... whenever, whatever, is gonna fall out of the sky... does... that 'distance' will keep you from gettin' splattered! :-)
Nothin' like splattered cowboy to stain your best shirt! :-)
So... I get up today... to start workin' on what comes next... plugged in the Mr. Coffee... can you see what's comin'? ... Bingo...
Mr. Coffee died... :-) ... so... I'm sittin' here giggling like an idiot... on foot... no coffee... wondering what time the meteor is due :-) good thing I've got no horses these days... I'd hate to lose a good horse to a rock falling out of the sky!
It's become one of those comedy stories where the guy can't walk down a sidewalk without tripping over a bus!... I'm becoming a bit like one of those masochist fellers... Startin' to run around... just lookin'... all excited, wantin' to see what the hell is gonna happen next! :-)
So... onward to other things right?... the realtor called this morning... the inspections went by with no requests/demands... so we're a couple of hurdles closer to gettin' out from under the house... but shhhh... don't tell no one... there'd likely be a tornado! :-)
Sometime after the house deal is complete... I'll start lookin' for the 'rat ride' truck replacement... something mechanically sound... I can work at shining things up a mite... my mileage is likely to be reduced anyhoo... and much of it will be on a two wheeler as well... Onliest thing I can say is... It's well past time for a bit of laughin' and shinin' times....
... just watch out for meteors... and splattered cowboys...
Take Good Care
Brian

June 25, 2009 08:08 - Headin' for Denver...
My Daughter is pickin' up her old man, sometime this morning, and haulin' me back to Denver with her...
Since I'm down, without a bike, for the next several days, figured it to be a good time to spend a bit of a while down there workin' with her on some website work she'll be doing for the store... so whenever she gets here... I'll be goin' there...
Be a nice change for a bit...
... and yes... I'm planning to close a roof vent or two before I leave :-)
Other than that... not a lot goin' on... we remain in the 'waiting' mode on the place... things looking squared away on that... keeping fingers quietly crossed... :-)
... as I've been doin'... on a whole pack of 'other' things... pencilin' out possibilities and wishes... dreams and ambitions... sortin' through it all, huntin' the trail that makes the most sense to follow... and maybe trails that make no sense at all... to most people...
The thing is... makin' sense ain't one of my big ambitions... LIVING... is my big ambition...
"Devil on the seat of a Bad motorcycle goin' 90 miles an hour down a dead end street"... captures my imagination a lot more...
One more person tells me; "You got to be responsible, you got to be reasonable, you got to be sensible"... and I think I'm gonna pull out the last four hairs I got and put 'em in their cereal of a morning!
A fella is born... he lives as long and as best as he can... and then he dies... and that last part is gonna happen, no matter what he did in between that and the birthing part... or how 'responsible' he was along the way... 'course... most outfits spell responsible... o-b-e-d-i-a-n-t ...
Sounds kinda grumpy don't it? :-) ... nawww... not really... just accepting the reality of this world...
I've been... (and most folks along with me)... used by corporations... and institutions... and pure and simple, other people, for their own purposes... most of my life... and I can't squall too much, except at myself... 'cause I was there... I let 'em do it... pure and simple.
Now... I don't know that I'm 'good people'... but that's what 'GOOD People' do... they obey the 'commands' of Society to be responsible - reasonable - sensible ... and many years down the road look back and think... geeze... what a con! I got took!
But now? I see it all real clear... I see the cost... I know how they did it... how they DO it...
So... if it continues... I got only myself to blame...
I don't have any intention of gettin' nasty 'bout much of anything... actually the opposite... I've got no use for angry... truth is, contrary to what some folks might think... I absolutely HATE, bein' angry... puts my guts in knots... my great preference is laughing, joking and enjoying LIFE...
I figure to have something between 6 weeks and 30 years left on this planet... I have no intention of allowing any of that time to be used up by outfits seeking to herd me around like some ol' steer...
Nope... I'm intending to be one of those 'Bunch Quitters' I've chased a good part of my life :-) .... followin' my own trail and my own dreams... and just like you... I've got little more idea where I'm gonna end up than you do!
Each day is a fresh opportunity... I may not be able to capitalize on all of 'em I come across... but it won't be because I didn't see 'em... only 'cause I either couldn't afford all of 'em or just had to stop and catch my breath once in a while!
RV Boondocking, Splittin' the Wind in the Twisties on a Fine Motorcycle, Threadin' the trails in the High Up and Lonesome... Carvin' some Leather... maybe startin' another Colt or two some day... Huntin' up places and things I've not yet thought of... Yes sir... it ain't over till it's over...
I'm not BACK... but... I'm gettin' there!
Take Good Care
Brian
June 28, 2009 08:51 - Not a Whole lot new to report!
Spent the better part of two days in Denver with my Daughter... built two new pages with her, for the Bead Store website, showing her how that all works...
... had to wait out a big thunderstorm for her to haul me back north Friday evening...
... Spent the day yesterday killing weeds and mowing grass... to keep the house in condition to turn it over when the time comes... today will be spent largely piddling around here, at the 5er... waiting for Slick to get repaired and returned to the road...
... so, now it's kind of like the Army... a whole lot of "Hurry up and wait..."... :-)
Bummer too... it's a bright and sunny day... perfect weather to be pushin' that two wheeler down the road...
... Broke Heidis' 'new' car yesterday... :-( ... snakebit don't begin to describe the feeling I have... The idiot lights came on... and all I can find wrong is the brake system leaking up in the engine compartment... everything seems to be operating normally... except for that leak that -wasn't- there before... and a fairly significant leak...
(***edit 4:06pm ... yep I was right... took the lil' subaru back to her this morning... put brake fluid in the reservoir... which had gone failry low... yet still above minimum... and all the idiot lights turned off... brake fluid all over the inner fender... but do you think I can find the leak point? not a chance...)
... so it has to go in the shop Monday or Tuesday... as soon as they can get to it... and just be careful with it 'till then... it's the only operating vehicle for the two of us... at this point... arrrrrgggghhhhh! ....
one more deep breath to 'calm down'... and I'm gonna pass out from Oxygen Intoxication! :-)
... Guess I'll go... hurry up and wait!
Take Good Care
Brian
June 29, 2009 09:40 - Get on Down the Road....
Waiting on a Friend to come pick me up... to transport me over to pick up a 'borrowed' car... It'll give me wheels for the next 2 or 3 days while I wait on Slicks' repair...
... then it's hit the bricks I suppose, hunting a new 'situation' to make a living... while I wait on the house to close... while I wait on the ideas in my head, for what happens after that, to come clear...
... I've got some pretty good ideas for the first 60 days or so... then it goes all foggy again...
It's looking pretty strong that me and a two wheeler are gonna make a fairly wide circle for at least, several weeks... with the arrival of a grand kid salted in there in early September... then... what happens for the winter... I've got not a sliver of a clue...
... I'm at a point where worryin' 'bout such things has got my head hurtin' so much... my feet are sore!!
But there are some fun things goin' on... I've got a 'work of western fiction' being edited right now... hoping to find a way to put it on the market to supplement the income this little enterprise right here makes from its google advertising... I'm leaning strongly in the Self-publishing direction... since it's so miserably difficult to get into 'traditional publishing'...
... So, I might just have to start yet another website to hawk all my stories! :-) ... actually have book two well started! ...Would be a hell of a publishing company wouldn't it? A Wild West, two book, wonder! :-)
Yes Sir! Genuine, high powered, unadulterated, Un-Published, yarn spinnin', puss gut, geezer!
Ya know... if I get enough 'side-lines' goin'... I might just start makin' enough of a living... I'll stop losin' weight! :-)
... I think maybe my ride is pullin' in... so I'll let you know later... how 'borrowed rides' work out...
Take Good Care
Brian