September 2, 2009 06:19 - There's a New RV Boondocker on the Rise!

Long about 8:05 yesterday mornin', Jillian Kendall Thompson, hit the ground a sleepin'! :-)

At 8 lbs 1 oz and 20 1/2" she kinda dwarfed the 'other' lil ones in the nursery.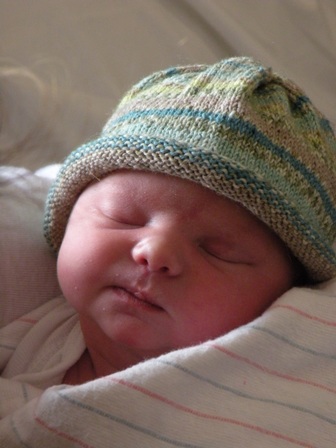 Ever'body was a little surprised when the baby came along 'Jillian' instead of Jasper... as everyone was of the 'gut' opinion that the kid would be a boy rather than a girl... though Keriann and Josh had long since decided to NOT be told what was comin'....
One time the 'gut' was wrong!
Got a message from one of my 'Angels' after I sent her the announcement... "Doesn't sound much like a lil' bronc rider Grandpa"... I replied; " Sure it does... haven't you ever heard of the GRA?" ... (Girls Rodeo Association!) :-)
Mom and Kid doin' well...
... and we had to take a look at the new dog house Josh had built for their Aussies...
Uhhhh.... Dog House? ... Don't think so... Leastways not like any Dog House I've ever seen... add a bit of wiring and a beer cooler, I could live in the sucker my self!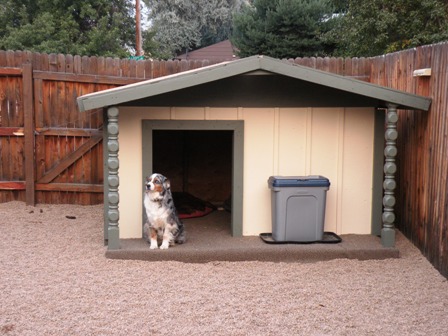 So whad-a-ya-think? ... Dog House? ... or ... Dog Mansion? :-)
... Today... it's back to work for me an' Josh... Bummer!
Take Good Care
Brian
September 5, 2009 08:55 - September... Where has this summer gone?
Folks laugh about how fast time gets to racin' when you get 'older'... but this is rediculous... It was just the other day I was watchin' my Robins raise their little ones... and now suddenly, my own lil' one has her own baby to watch over...
... and fall is comin' at me in a rushin' hurry... and one more time... my plans have splattered... :-) ... and life goes on...
For those that haven't figured it out... or sensed it comin'... Heidi and I have gone a long dang ways toward stitchin' the sheets back together... Last May... when asked, I saw little hope of that happenin'... and even on into June... but... about the time I think I've got things figured... WHACK!... I get clobbered with another unexpected turn...
We've a lot ahead of us yet... but, our eyes are open... and we're havin' conversations, we've Never had before... which was, juuuuust maybe, a goodly part of the problem? :-) ... and I'll take the bigger half of the responsibility for that...
Sometimes, when 'Things' happen, a fella builds a big thick wall to hold that stuff away... only problem is... it holds Everything away... It can't discriminate much...
Lucky for me... for us... I had some Guardian Angels come along who had the power to wreck that wall... not a comfortable thing to endure... but by God... once it's down... a dumb Ol' bald headed puss gut buster... gets hit right between the eyes with what he's been holdin' away...
So... all you tough nuts with your "Billy Bad Ass" Walls... you might be thinkin' they're a good thing that's protectin' ya... but I'll tell you true... You're only kidding yourself... and hurting yourself and everyone you treasure most... so a suggestion...
TEAR THAT SUCKER DOWN!
It's gonna hurt... It's scary as hell... but truth be told... That wall, is holdin' HELL... inside with you.
Enough of that...
A couple weeks ago... Heidi asked me; "When are you gonna take me for a ride on Slick?" !!! Huh? She'd never entertained much interest in that... So I says; "Let's go!" ... and took a short toot... maybe 10 or 12 miles...
So then... she studies up and goes out last Monday and got her Motorcycle Learner Permit!!!
Well, Thursday evening, at her request, I met her over to the out of business Mervyns store... so she could use their big, empty parking lot... to take her very first, only herself on the Bike... Motorcycle Ride...
Uhhhh.... I don't know who the hell you are... but what'd you do with my wife? :-)
Didn't do too bad... Slick was shakin' a might... She hadn't ever fell down, and didn't want to start with Heidi's first ride. Well, you can't always have what you want... :-) She didn't fall clean over... just down on to the foot peg and kick stand...
In that first five minutes on a motorcycle, there's a lot goin' on... you got to use both hands and both feet... in proper co-ordination... and when the adrenaline is pumpin' that can get a bit confusing! It's not like in a car... where you don't have to worry about your Buick falling over... if you stop wrong! :-)
Anyway... once she got past the first five minute jitters... things smoothed out and she got into the rhythm.
So... I guess I got to teach her to ride a bit... and as soon as she's fairly familiar, she's planning on taking a riding course in town... and see if she really wants to 'Ride her own'... wonders never cease...
Today, we're goin' to the Thunder in the Rockies Motorcycle Rally down at Thunder Mountain Harley Davidson and the County Fair Grounds... and then gonna roll on to Denver... to visit Pappys new torment... Jillian Kendall Thompson! :-)
So, since it's gettin' late... we better get with it!
Take Good Care
Brian
September 12, 2009 07:25 - Harleys, Biker Babes... and Rockin' Music!
Been busy guys!... and they're still makin' me work for a livin' too!
We did make it to Thunder in the Rockies... a Candy Store for Big Boys and their Toys! :-) ... You don't often see that many "teen age boys"... with wrinkles, scars, limps, gray beards and arthritis! :-)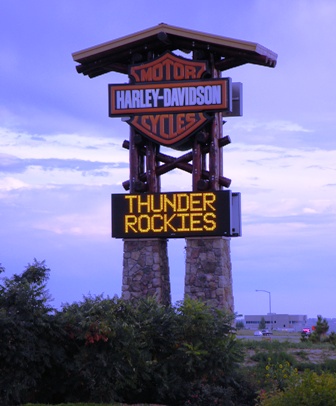 The biggest sponsor of the Rally is Thunder Mountain Harley Davidson... I guess the biggest Harley Dealer in the area...

Lots of folks like to line up to throw rocks at Harley... and I've been there too... but you know what? I've outgrown that gas... Fact is... they've gone past those 'Old Days'... still have to live down the poor reliability rep that AMC helped build for 'em... but they're workin' hard at it from what I can see.
Others say; " They're not selling Motorcycles... They're selling a lifestyle."... uh... Ok... Sounds Good to ME! :-) ... seems like that's a lot of what I do, don't it? I mean... If you think you've got a better way to hang a smile on somebody's face... or put some joy in their heart... and you can make an honest buck shinin' up their "Doin's" at the same time... what's the problem? :-)
Then, to top it off, the Harley Davidson Company is doin' Good things for the DAV... and since I am one :-) that kind of has my attention too...
Anyhoo... as Heidi moves along in her "Biker Education"... the options for My/Our next "Big" Motorcycle have opened WAAAAAY Up! :-) SaaaWeet!
So.... after checkin' out all the "Boys and Their Toys"... the Custom Bikes at the Rally Show....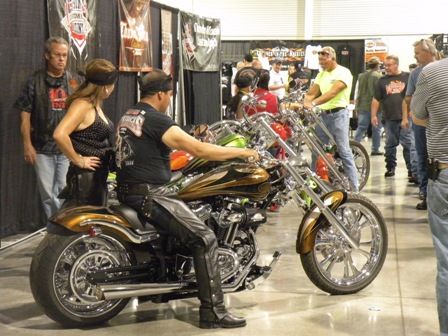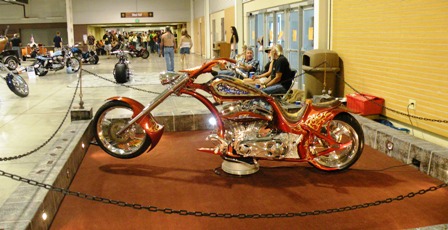 ... and the Rows of Harleys... over in the Thunder Mountain Harley Davidson Showroom...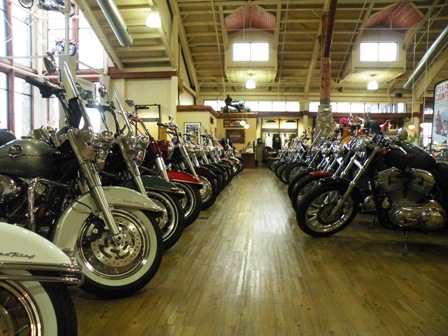 ... walking through all the Vendor tents... buying a couple t-shirts... and replacing my nearly wore out Helmet... Me, Heidi, and Terry, sat in the Grass Sunday night at the Thunder Mountain Amphatheater... to listen to "Mad Cow Posse"... a local Band that plays some really fine Rock... might even call it awsome... :-) ...
You know... I might grouse about this and that... but... Sunday night?... I had not one dang thing I could whine about... Shinin' Times!
Some time in there... Heidi and I made a run to Denver for some more Baby Bronc Rider time...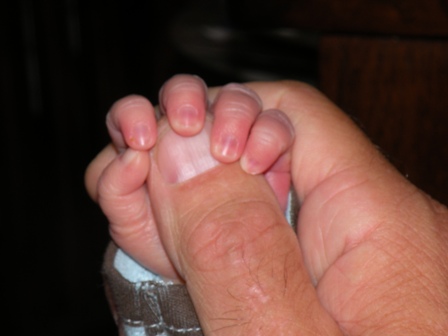 ... and that folks... is My Argument in support of a Creator... The Boss... and if I have to explain that, You just won't understand! :-)
... But, in all that, we got a bit confused... we're not quite sure, Baby Bronc Rider?... or Genuuuuine Biker Babe?
Hmmm... think I'll keep either! :-)
... Now... for the final bit of 'stuff' for this post... just Thursday... I hauled the Eagle back to the house... and me with it... Yup... We are OH-Fishally... back together... Everthing ain't fixed and 100%... maybe That never really is?... but we're workin' on it... and that's what counts I think... what you're reachin' for.
Been a tough and rocky few months... at times I wondered if I'd still be breathin' the next day... Lucky for me I had a crew of Guardian Angels that wouldn't permit otherwise... My Bank account might not show it... but this Ol' Buster is a wealthy man... one rich son-of-a-biscuit! :-)
Lot's else workin'... nothing stays the same for long... but that's for another story...
Take Good Care
Brian
September 16, 2009 06:26 - BBQ's, Clay Birds, Rock and Roll... and Remodeling to go RV Boondocking!
Hustling around here six ways to Sunday... Literally... 'cause Sunday afternoon, we're havin' a genuine, unadulterated, countryfied, red-neck wingding!
Heidi and I decided to throw a BBQ Bash to celebrate... and thank as many of the folks that have a part in us getting back together as we can...
It started out to be just a BBQ... but then I had the bright idea of throwin' in shotguns and clay birds... and it seems that caught a lot of imaginations... so... come noon on the twentieth... it's gonna get real noisy around here... real quick! ...
'bout 4 O'Clock... it'll get even louder... 'cause that's when the band fires up! :-) ... uh huh... a Band!
Heidi made a bit of a joke when we were at the Thunder in the Rockies rally that maybe we could have that band... riiiiight... but it kind of caught fire when Terry wandered across this group of kids a couple of days later... 13-17 years old and told us they play some old rock... pretty awsome... So... a band it is! :-)
Soon as I get off from the day job tonight I guess I go to work tryin' to get things something akin to ready for something like 4 times as many people as we had at our wedding... It's gonna be real deflating Sunday afternoon if'n nobody shows up and we're left settin' here by our lonesome! :-)
Leading off the weekend, Josh and Keriann are havin' a 'Baby Open House' on Saturday... so... if you hear a whole bunch of red-neck bawlin' comin' out of Colorado this weekend... you'll know where it's comin' from...
... on other fronts... We've, Heidi and me, been talkin' 'bout rigs of different sorts. After more than three years of struggle, false trails and such, tryin' to get loose from here to go scratch the itch off my Gypsy feet... We've decided it's past time to find another way.
We're workin' on several ideas to get to where we want to be, in a recognizable way... and in a way that don't require sellin' the house... especially since sellin' these days is just another way of sayin' "Give it away". It's lookin' kinda solid, like we're gonna pursue reworkin' the house a bit this winter, maybe as much as just about turning it into a duplex.
We'd then be able to rent a pair of pretty sweet 'Horse properties' come the spring... or as soon as it's ready to do that... and that, would actually make it one of those positive cash flow situations... better than the last couple years for sure!
I'm kinda hopin', if we can work out the obstacles that are sure to be, we can redirect things to where we can wait to sell it off, till some sanity returns to the real estate market... When we make this work for us... maybe it will light a way for some others?
The talk about Rigs comes in, 'cause we've both come to like the idea of a smaller, tighter outfit... don't know if we can work that part out as well, considering all the 'things' we want to do on the road, and fitting that into a more Frugal sort of outfit... but it's entertaining to say the least, to cogitate about it all.
It looks to be a real busy season comin' up...
So I better get movin' if I'm to be ready to play host come Sunday... and remodeling Ol' puss gut on Monday! :-)
Take Good Care
Brian
September 19, 2009 09:52 - Setting the Stage...
So... we've been busting hump for three years... and all there is to show for it is the hole I dug! :-) so... I think that means it's long past time to try another way.
Recently, reading on the Box Canyon Blog... Mark said that if you don't quit, you'll get there eventually... some get there earlier, some later... but only the ones that quit... don't get where they're goin...
I screw up a lot... but I don't never quit!...
We've pretty much decided to pull the house off the market shortly... at least until some sanity returns to the real estate market. I've finally got to the point where trying to 'sell' at somewhere around $80,000 below its cost of construction has become tee total unpalatable... So, I ain't gonna chew on that any more...
We're sortin' out different options; from remodeling a little to maximize possible rents... to alternative 'enterprises' to buy us the time we want... all sorts and ways of achieving the world we want to live in...
As it turns out... maybe this three year ordeal is exactly what this scarred up Ol' Buster needed... Yup that's right... I've come 'round to thinkin' it was a 'Tool' my angels needed to do their demolition work! :-) ... I'd been building the obstacles so long... they needed some real power to clean up the mess I'd built.
You see... a long, long time ago... 'cause of some really dark times... I built a big, tall, thick wall around myself... and didn't let anyone in. I put up a good damn facade... Lacee calls it my 'Billy Bad Ass' Act(That she sees right straight thru)... but mostly... I kept the 'real me' locked away where it couldn't get beat up any more...
Or so I thought... The problem with that is... though it might seem to keep the bad away... What it does keep away is the good... and truly, while keeping that good away, it's actually trapping the Hell inside with you (me), rather than guarding you from it.
... Walls, just don't work boys and girls... They just don't work...
The only thing that can protect you from the ugly in the world... are the good Friends that carry the light... Light sends the ugly scurryin' like cockroaches when you flip on the switch.
Well... My Angels... up and decided that they'd had enough of that crap... and when this house, and the loss of Lil' Laurie opened up a small lil' crack in the concrete... Those Angels went to work... With a crack to work on they got their fingers in there, got a solid hold and demolished that wall... a genuine wrecking crew. :-) ... lots of noise and rubble... tears and pain... but in the end..
... They let the sun in.
Lacee, Terry and Evin, reached into my Heart... and restored my soul... along with the help of a few others they drafted into their Demo Crew :-) ... all partnered up with the 'Internet Angels' here, working in combination, Ya'll put an unexpected shine on life.
Thanks to Those three, my Guardian Angels, and Everyone else, I'm lookin' on with a different outlook, a more weathered and calm way of going... and... I'm not rollin' on alone...
Hell, now I've not only got Heidi... We've both got all those Angels watchin'... even if we fell flat on our faces at this point... we're pretty dang rich when you consider all the folks cheerin' for us... and Us, pullin' for them.
... Never before in my life...
My wish in the whole thing is that each of you is blessed as we have been... It's a feeling even a bucket mouth like me can't describe. The sweetest I've ever known... The worst six months of my life... and the Best... all at the same time...
So... tomorrow Noon we start the Shin Dig ... To Celebrate The Guardian Angels and the 'US' they made possible...
First off we'll bust a few hundered clay birds... then, once the weapons are cleared and cased... I'll tap the keg... fire up the BBQ's... we'll have three!... and go to cookin'... while we wait for the Band! to crank up some good Ol' Rock-N-Roll at 4...
Should be Shinin' Times!... and then it will be on to workin' out the New Trail to RV Boondocking... the Cowboy Way!... Coming Soon! :-)
Take Good Care
Brian
September 22, 2009 06:39 - 20 September 2009 A Remembered day
The Day was a pretty good copy of how this Summer has played out. It started pretty rough... Just like back in May... and ended up as fine as I could
ask for... Just about like we seem to be moving.
.
Common on the High Plains is something they call Mariah... for the rest of you folks, most usually known as the WIND!
Have you ever tried to shotgun clay birds in a 30 mph plus wind? :-) You might still have some fun with it, but you sure don't hit many! :-)...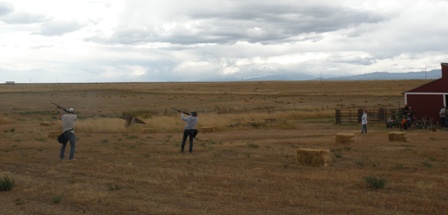 ... and that's how the day started... wasn't looking to good, but we went with it...
The guy bringing the electric thrower got hung up for a while, so we just started chucking clays with a hand thrower... When he finally did get there...
We were able to miss a lot faster! :-)
The wind? It just got stronger... so we had to move the BBQ's up onto the patio on the south side of the house.
The wind was blowin' too hard and coolin' 'em down to much for the things to cook... aaaaarrrrrrgghh! ... when the lil' band we'd lined up got here the wind got stronger yet... so we put 'em inside the basement/walkout... which was a mite 'close'.
... and it was lookin' a bit rough...
How-some-ever... the Boss smiled on us... the wind let down... the kids in the band scarmbled and moved their setup out to the South lawn...
... :-) Hey! It ain't just the White House has one of those... but I still ain't gettin' no Rose Garden!
... and then it happened... Folks had been kinda 'seperated' and things had been kind of awkward... with the music downstairs... the food upstairs... kind of disjointed...
When the kids moved their music outside, the scattered folks collected on the slope of grass on the south side... kind of a 'Mini Amphitheater' ... and it clicked.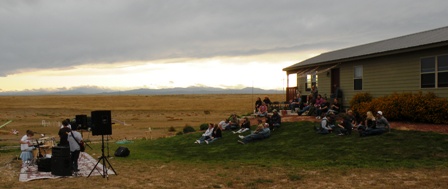 That pic was taken just after everything moved and doesn't do 'em justice... 'bout half of the people were still inside eating and hadn't collected yet... but... People started laughing ... They cheered for the music those kids were playin'... some of the "Angels" even started wrestling! :-)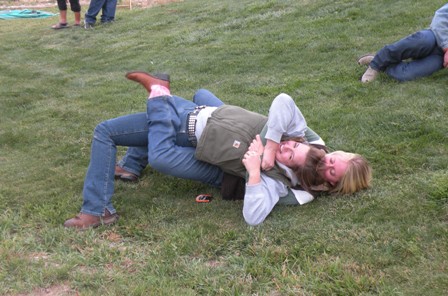 Jillian got a chance to try out Pappy's Saddle... Yup... Bronc Rider in the making...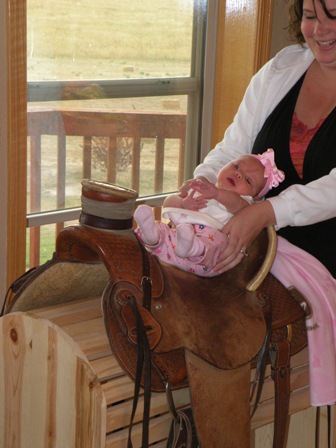 ... Hell, I even got the opportunity to remember most of what I wanted to say to them all, and Heidi... and it finished up SWEET!
Everyone seemed to have a fine time... and I know, for sure and for certain... seeing all those good people... here for us... brought on my allergies...
... all sorts of snifflin' and 'stuff ' in my eyes...
Shining Times... None Better.
Take Good Care
Brian
September 25, 2009 09:05 - OK... Now, Back to Work Re-organizing... One More Time! :-) Dealing with Houses, Motorcycles and What kind of an RV to Re-Organize To!
So... Here we are... Same folks... New Story? :-)
Been workin' at this deal for better'n three years now! Sheesh!... During the BBQ the other day, several people told us: "Wow, this house is beautiful! I can't believe you've had so much trouble selling it!"... Hmmm.... kinda sounds like bad Karma, don't it? :-)
Aw well... time to try something new... Lookin' at a lot of options, the most likely of which is to finish the 'walkout' with a kitchen... sort of a large mother-in-law apartment... and then either live in it (as a Home Base) ... and lease out the Top floor ... or ... just lease out the whole shebang... basically as a Duplex...
We still have a month or so left on the real estate sales contract... and we're thinking rather than just pull it... we'll let it run on out... you never know... maybe something could happen... in the meantime... we're thinking we should advertise that top floor for lease... If we found a GOOD tenant, we could pull it off the market and pursue that rental property trail...
At this point, just leaving all options open...
Likely we'll get the 5er set up to go through the winter if we do lease out the finished floor... I'd guess if we do that... the bathroom and bedroom would be the first work to complete in the walkout!... Colorado winters, up on the high plains can get a mite chilly in a 5er! Wouldn't be a bad thing to have those parts finished up and usable... :-) ... hard to keep a rig warm in a 30 mph wind at 15 below! :-O !!!
... Now, for down the road... Heidi just may be getting firmly contaminated with the Motorcycle Virus... that sucker can creep up on you. I don't guess she'll ever be a bug eatin', ride in the rain, split the wind at 10 degrees... Motorcycle Nut like... uh... somebody else I can think of :-) , but, she seems to be gettin' a little more comfortable and enjoyin' it, judging from the couple of rides she's made the past couple weeks.
So... we're investigatin' and researchin' and contemplating the ways to be able to carry TWO bikes... :-) I'd guess the majority of our rides for a bit will be two up on a Bigger scooter... but... she seems to be wantin' to pursue the Ride-my-Own a bit...
Another 'Thing' that complicates this juuuust a mite is that we're both more and more interested in Frugal/simplified/minimalism sort of ideals... kind of a paradox of sorts considering the desired addition of a second bike :-) ... but outside of that... for both of us... smaller is better...
We've looked at some small Toy Haulers... and some much smaller straight Pull type trailers... in the 20 foot range... NOT your normal rig for anyone contemplating anything akin to full time RV Boondocking... but then... Heidi and I have never been what a lot might consider, "Regular" or "Normal". :-)
The idea I've got is to sort of; "Go Back to the Future". I'm thinkin' of a Truck like our Old '98 Cummins. (trading it off was Goof Number 1!) Put a flatbed on it, with a pair of Wheel Dock Chocks to lock down our Motorcycles... move the winch over from the Eagle, set up a good quality folding ramp...
Roll the Bikes on, Hitch up the Pull, of whatever variety we decide on, behind it... fuel up the truck, and Wa La! A tight, sweet lil' outfit that can get into even snugger spots than I've squeezed the Eagle... (more on this as time goes by)
... and a fine Pair of Cruiser Motorcycles to do a lot of Wind Splittin' Day trips... or longer... Shinin' Times!
No idea on a time-line... Things could go slow... or they could click by in a rushin' hurry... time will tell...
Onliest thing I know is; We're steppin' off again... No chance of quittin'... I intend to get where we're headed! :-)
Take Good Care
Brian
September 27, 2009 08:08 - A Fine Day of Leather Carving, Dog Agility and Bon Fires!
Yup... I'm workin' at erasin' Goof #2... which was, closing down my Leather Shop... DOH!
I'll be doing things different this time around though... I won't be building anything that has to fit around any part, of anyone's Body! :-)
This evolution of my Leather is to be strictly Journals and Scrapbook Albums... High Grade Stuff for sure! :-) ... but it won't matter if you've lost weight, or gained it... you can still look at your writings and pictures! :-) I'll tell you, building those custom chaps, vests, pistol belts, etc. that have to fit folks, that have a real difficulty holding an even weight is a pure and total misery for a leather butcher... chased me away from it for sure... and only took 10 years or so!
Startin' up slow... and it will be 'bout a half time deal... but it should be a reasonably good thing to hide a few 'work boxes' in a compartment and haul along on RV Boondocking circles...
Gotta get a cover carved up today... the wedding it's for is next Saturday! ... and I'll be stitchin' 'er by hand...
Yesterday... and all this coming week Heidi and Buck are competing at the Australian Shepherd Nationals over in Greeley... They started off with a Bang. Six events and six Q's (That's short for Qualifying Run)... They're trying to get the last four 'special' Q's they need for Buck to earn his ATCH Title... and stand a good chance of gettin' 'em at this one...
Here's Buck takin' a jump and gaining one of those six Q's.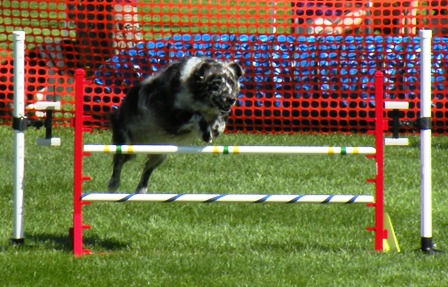 ... and Dog Agility is 'bout the only time you'll see Heidi running! :-)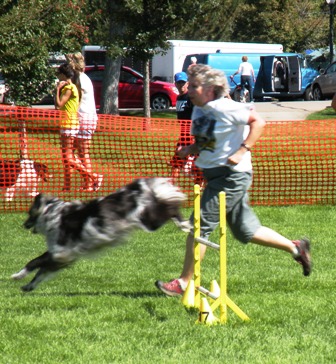 They ran all day and got home... just in time for us to climb on Slick and ride over to Evin's... for a BBQ and Bonfire... and play a dice game she put together... Now... I'm here to tell you... that losin' a Dice/Drinking game at a Red Neck BBQ, is not the best thing to do when you're takin' your Gal for a twenty mile Motorcycle ride... that's only her fourth time ever bein' on a bike! :-)
One way to feel your age a mite... is to kick it with a few 'twenty somethings'! ... :-) makes you either feel your age... or keeps ya young... not sure which.
... Uh.... and a good thing we (Heidi and me) were pretty good... and managed to lose quick! :-) still had to hang around eatin' burgers and chips... and sizzlin' smores on a Bon Fire that woulda burnt the crust off a Volcano!... you ever try to roast marshmallows on an eight foot wire?... 'cause the fire is so dang hot? :-)
Rode the ten miles home with a moonlight ride... Hmmm... if I was the romantic sort... it woulda been real sweet... :-)
Ol' Slick did us pretty good. She's built as a one up bike for sure... but I guess we're lil' enough for her to be able to do the job for a bit... but... I see sweet BIG bikes in our future! :-)
Workin' out the layout to finish that walkout. We'll likely start advertising the top floor fairly soon... and do the finish work below, through the winter. We'll be makin' that a cash money deal... so it will take most of the season I suppose... but then, we'll have two rentable levels... I think, a sweet deal, for us and the lucky renters who will get to live here! :-) ... too bad it took so long for a slow witted, geezer to hear what so many have been sayin'... :-)
We've also got two options layed out for workin' out a rig that'll accomodate two bikes (assuming she continues down the ride-my-own road). A few tasks to complete before we can move much on that though... so, I better go get to doin' 'em!
Take Good Care
Brian
September 28, 2009 05:51 - These Fine Days are gettin' to be a Habit!
A few days ago, Lloyd Treichel, architect of the Wandrin' Blog wrote me and suggested havin' a cup-O'-something and sharin' some time... sounded good to me!...
We met up yesterday morning, startin' off at the Cracker Barrel... The first Lloyd got to see of me was, Me, diggin' at my ear as I walked up; "Hey Lloyd!", and his reply,"I thought that was you, How are you?"... to which I replied; " Real good... right up to the point my Ipod parts came off in my ear!" :-)
I'd come rollin' down I-25, Slick whistlin' along 'bout 85... Bob Seeger singin' in my ears... SWEET!... until I got to the parkin' lot and the dang ear piece stayed right there in my ear! ... so there we are... two old geezers... standing in front of the Cracker Barrel... and he gets to spend the first couple minutes of our confab, pokin' 'round in the side of my head, trying to get the dang thing out...
Lloyd had these lil' tweezers that slid out of a pocket knife to use... but all that earbud would do was slide in farther... it had to wait until Heidi got home last night to fish it out of there with a pair of big forceps she uses in her Beading and Metal work artwork...
So, anyhoo... we decided that the Cracker Barrel, on a Sunday Morning was not one of my better ideas... more people waiting than we were willing to wait on :-) ... lookin' 'round there was a coffee shop right across the Interstate so we moved the Great Western Confab across the Highway...
Twas a superb time. Good Coffee, better conversation, and the confirmation that I've added another person to my steadily growing list of friends... I get enough good people collected and I just may be able to have enough people watchin' to keep me out of trouble! :-)
...and there I was grousin'... not that long ago... 'bout bein' alone... What a whiner! :-)
It kind of surprised me after a short time, when I looked up at the clock on the wall to see something over three and a half hours had slipped by... with not one of those 'uncomfortable silences' you hear about, sliding in there... by the end of the time, we'd solved pretty much all of the worlds problems, RVers problems, the relative merits of a variety of different sorts and sizes of RVs, and all those of the complicated, inter-personal relationship type! :-)
After the decision was made to get moving on down the road... we walked out into the parking lot... and continued the conversation for likely another half hour... :-) They hadn't seen that much wind around that place in months!
Then I look up his blog this morning... and it looks like we've got us a Mutual Admiration Society started. :-) ... this is one conversation that shall be continued... somewhere... some day.
... and Mark... better watch out... Lloyd has my 'Yarnin Parts' all warmed up now! :-) I might make you late for work some day!
While I was having that good time... Heidi was over to Greeley continuing on with her competition at the Australian Shepherd Club Nationals. They break the thing into a couple of different trials, all at the same 'show'... each put on by a different local club.
When she got there in the morning, she found out she and Buck, along with their six for six showing yesterday, had run fast enough, and well enough that they won the 'High in Trial' Ribbon. Rather than a silver trophy that does nothing but collect dust or fill an attic, the 'Trophy' is a great big, folding, Dog Crate... SWEET! ... 'cause Buck kind of damaged one of ours a while back and we were juuuuust about to buy a new one... How good is THAT timing!
Lordy... I could get used to these great days... comin' one after the other... I truly could.
Next thing you know I'm gonna get up one morning and there'll be a shiny new Big, Boomin' Harley sittin' in the Driveway! :-) ... probably better not happen... I'd be likely to fall over in an Ol' Timer Faint... and hit my head! :-)
Off to sell some hardware... and do some more schemin'!
Take Good Care
Brian