November 2, 2009 05:40 - Over one ... Under Two... Leather Braiding Ruminations...

... Uh... or us that under two... over one?

Don't sound like a lot to remember does it?... but guess who can have trouble doin' just that? :-) depends whether you're working on the front side... or the back... then of course... you might be workin' a pattern that's over three... under somethin' else! :-)

Things 'round here have gotten kind of scattered... bein' in the situation where we both want to be out somewhere... wearin' out some ashpalt... makes it a difficulty to 'get organized' - in place.

So... I've been hoppin' around all week trying to find bits and pieces of my stacked up leather shop... as I work to get it restarted. I'm working to rebuild it, as a decent part of our Road Income when our successful Escape finally occurs! ... and me bein' the stubborn son-of-a-biscuit that I am... and bein', thankfully, Still Married to the second most stubborn person in the world... we both know that WILL happen...

Anyhoo... finally located all the bits an' pieces I was lookin' for... drug the memories of how to do the pattern I was wantin'... out of the rusty crevices in a hollow head they'd got hid in... and started Braidin' on that Wedding Album I've been workin' on...

Whew! Wanna know a difficult thing?... return to a 'difficult' craft... after layin' off for a couple years... Oh Lordy... Ya feel like a fella with 12 fingers... and where'd them two extra come from... Clumsy don't describe it... It's comin' back quick... but I'll tell you... Ya feel fairly awkward for a bit... kinda like that Ol' Farm Boy Bachelor on his wedding night... Just not sure, what goes where!

That's when stubborn pays off... and ya figure things out...

First thing I did was re-arrange that Old Desk a bit. Repaired a bad drawer in it... organized a big compartment on the right side to hold some books, patterns, tracing film and such... and found some small, plastic drawer units at Wal Mart that I believe will do an admirable job of holding the majority of my Leather Craft Tools... see 'em sitting on the back corners of my 'new' Leather Working Desk?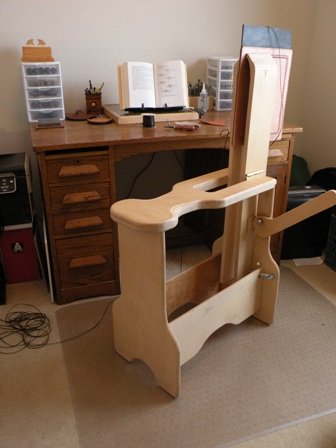 You have to do some little bit of conjuring to squeeze a 16 X 24 shop... down into a 30" X 48" Desk! ... But... I think I'm close to gettin' it done! :-) and when it comes to 'that time'... I'll hopefully have all the bugs worked out of this leather working setup... when I pick it up and install it when we get to that part of our upcoming RV Renovation... Hopefully, this evolution, might be 'The One'? :-) ...
Unlikely, :-) ... I'm always restless... tryin' different things... Oh well... I'll build a whole page about this setup... once I get it all worked out...
One of the tricks to 'downsizing' the shop was to whittle down what I intend to create in my 'new'... mobile RV Leather Shop... Hand Made Journals and Albums pretty much exclusively... That lets me eliminate the big stitcher machine... clickers... big benches... all sorts of 'stuff' in the big shop...
Here's an example... the Wedding Album I'm workin' on as my restart 'icebreaker'...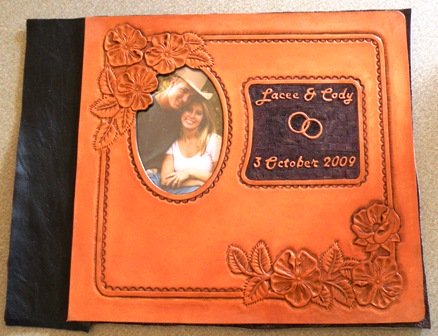 This is something ya'll can do too... in camp... Travel Albums, Personal Journals... I call it 'Functional Art', not just Leather Craft. Building something artistic... that you can actually use... does something good for me... and I can use all the 'Good' I can handle!
So... back to this week...
With the desk mostly organized I set to figuring out that Braiding...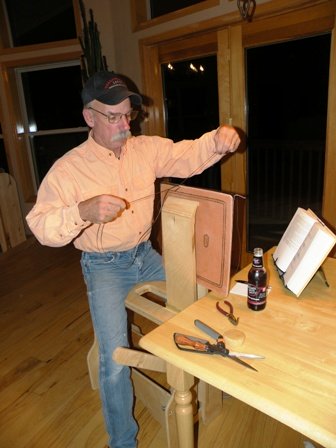 ... and ran right into an 'Issue'...
You can keep a 'clean' house... and then do something that demonstrates that it maybe ain't as shiny as you thought... You know what's layin' all over, when you live with dogs, know matter how much you clean?... HAIR! ... and that carpet in the 'office' where the desk is set up... holds it like a bank... until of course... you start Braiding!
... Then, that Leather Lace attracts it like a magnet... which causes juuuuuust a few problems when you're trying to Braid an Album... and you have 40 something feet of Leather Lace layin' all around you! aaaaarrrrrrrghhh!
... so... I went out in the Great Room... which has a hard floor... vacuumed for a half hour and went back to work!
One more time stubborn pays off... Here's what a bit of that Leather Braiding on the edge of a Wedding Album looks like...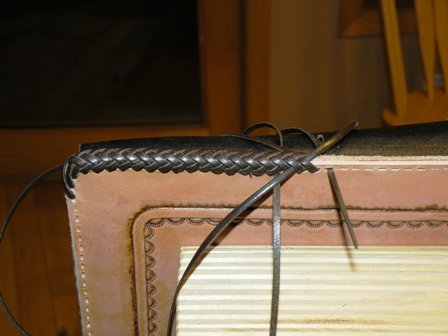 Keep watching... More to come! :-)
This is something you can easily do in camp as well... all you need is a Lacing Pony... or a Horse like what I built...
Can't you just see yourself? Sitting under the awning on your stitching horse... cup of coffee sittin' on a small table beside you... Bob Seeger singin' "Roll Me Away" on the Stereo... View of the Lake in front of you... Hummin' away as you Braid your Own Personal Hand Made Journal? ...
Enough for one morning... I got to get back at it...
Take Good Care
Brian
Have a hankering to tell your own story?... Great! tell it here!
...Your RV Destinations
... Your Custom RV
... Reader's RVing Tips
... Reader's RV Recreation Activities
November 5, 2009 06:49 - Sunny Days... much goin' on... and much to do!
Did you notice the 'Twitter' box on the Home Page?... I'm still figurin' out how to use it... and should get a cell phone that I could use for it... but... that's another way to keep up with goin' RV Boondocking... as well as Motorcycle Touring on Freedom Road!... it'll be getting used more as time goes on... and I learn just how to use it...
Heidi and Buck leave Monday for Scottsdale, AZ for the NADA Nationals... I've gone the past several years... and I'm bummed. This past year has been a keister whupper... leaving us in a sitchyation where I'll have to stay here... and of the two of us... I'M the itchy gypsy...
I'll just stay put this time and get some work done aimed at weakening the hold of the world I'm workin' hard to break loose from! :-)
So much we're workin' on it's sometimes hard to keep straight... as always... the house... we'er at another 'descision point' right now... one contract expiring... so what do we do? Values seem to be stiffening a tiny bit... but then... we still own it too...
We've been real close to leasing the place off... the deal there is... I'm a poster child for "Murphy's Law"... and I'm just knowin'... just like the sun comes up in the east... water's wet and ice is cold... the renters we'll get will be just, exactly like the last set of locusts we allowed that 'pre-closing' lease to... with the aborted sale...
I'm knowin' as well as I know the day is long that we'll have heavy repairs to do at the end of a lease period... and what landscaping those others left... will be mostly gone... so... can I deal with that? or not... I just don't know... and so I stew...
Bein' the stubborn son-of-a-biscuit that I am... honestly... I lean toward just keepin' on... until a sale is achieved... it's what we've struggled for and wanted all along. It's what we still want... and honestly, I'm still not prepared to let that ambition die... If I let my dreams fade out and die... I might as well lay down in a hole myself, and have somebody throw dirt in my face!
... So... that's something we'll do 'something' :-) about over the next very few days...
I've been tinkiering with the paint plan for our RV Renovation.... and have it polished up quite a bit more... I'm liking it.... though we've not succeeded in finding a place to actually do it... keep looking there...
We've started looking at trucks... since we have to replace our Tow Vehicle after this summers 'tribulations'... In doin' that I've come up with an out-of-the-box solution to my 'Carrying Two Motorcycles on a fifth Wheel' dilema...
Now... I'll say right off that several people and their second counsins are gonna say Ol' Brian has twisted a muscle and hurt himself this time... BUT... I've heard that before! :-)
I've doodled with all sorts of different things... MDT trucks... stretched frame pickups (expensive!)... even abandoning fivers and goin' to a Class A Motor Home pulling a trailer for toys... I've thought about a Class C doin' the same thing only smaller... I've thought about doin' it like Mark and Bobbie... with each of us driving a rig...
The second pulling a Motorcycle Trailer...
There's only about 749 possible solutions... and me bein' who I am, I'd really like to try out most of 'em! The onliest problem is... I've got a wallet thick enough to DO... maybe half of the cheapest answer. :-)
So... I've so far, evolved around to the idea I have... which I need to cogitate on some little bit more... but I truly can't see a tremendous 'issue' with it...
The Two Motorcycles on on Fifth Wheel rig solution I have is; #1 -Carry the V Star... as I already do... and have for nearly 10,000 miles of stable, problem free hauling... on the Cowboy engineered Motorcycle carrier I already have built on the tail of the Fiver...
#2 Bike... Likely to end up being a Yamaha/Star Raider... would be carried on the Truck itself...
How?... well... It will work for me, because our fiver is of moderate size... just 30 foot... so... I Don't Think it would work very well, on a larger rig.
...I add some Firestone suspension to a 3500 Cummins... to accomadate a small repositioning of the gooseneck ball that I prefer and use, rather than a fifth Wheel hitch....
That will allow me, on a flatbedded truck... to move the ball to the rear a small distance... about the same they do with the "Slider Hitches"....
I need that lil' bit of space... to allow the Motorcycle to load, cross ways, behind the Cab! Though the hitch weight will be going back some... it will be balanced by the bike going in behind the cab... and all, still well under capacities of the truck itself...
Now I'll hear 'Them' say; "You can't do that!"... and I've heard that all my life... and pretty much every time.... THEY... we're wrong! They we're wrong when I hung that V Star on the Eagle... and They we're wrong on several other occasions... when I just knew, the idea I had... would work, and work Sweet!
So...
I know my weights... I'm a half ton and more... under on everything so... unless I can come up with a 'real' issue... I think... that's likely the way I'll be goin'!
So... let'er fly! :-)
... Then... to keep the noise level high around here... I've got some major new writing projects comin' along... Our Leather Journal/scrapbook studio enterprise is comin' along... things are slowly comin' up to speed...
Now... I have to get to the day job for an 'extra' day this week... Yuck!
Take Good Care
Brian
Have a hankering to tell your own story?... Great! tell it here!
...Your RV Destinations
... Your Custom RV
... Reader's RVing Tips
... Reader's RV Recreation Activities
November 6, 2009 07:00 - Turning is the Issue!
Sharlotte asked 'bout it... and just so I'm bein' clear... Turning a Fiver... with close clearances at the cab, is the issue with carrying my 'hoped for' motorcycle there.
Lots of folks have made the mistake of hauling a fiver with a short bed pickup... to discover the problem, first hand. When you turn, with that fiver that much closer to the cab... something like 18 inches or so I guess, there's not enough room left for the width of the fiver when you jacknife... Which is why they need to invest in one of those slider hitches...
So... when I fill that space with a big Motorcycle, I'm dancin' on that same dangerous ground... Just not sure how tight it will actually be... The Bike, where that conflict will be, is a lot lower than a cab. It's possible the fiver might just go over the top of the rear wheel... and the front wheel without there even bein' a conflict.
But... me bein' who I am... Second cousin to the fella who invented Murphy's Law... having it go slidin' past without an issue, seems to me, a fanciful notion! :-)
I'm going to just have to 'experiment', when I get things to that point... to see if I'll truly need to relocate the hitch... and how far. I think whatever I'll need to do... and however it turns out, I'm still keepin' things within' even the parameters of 'Cowboy Engineering'! :-)
Now... having tinkered with the paint scheme for the RV Renovation I'm organizing for this winter... I thought I'd put the updated paint scheme out there for your perusal...
I know Fred didn't care for it much :-) What do the rest of you gypsy RVers think? :-)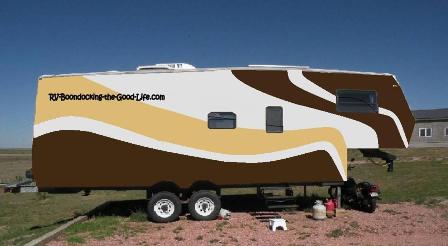 It may not be able to happen for some little while, haven't come up with an indoor place to set the rig for this job... and it'll take a few days... especially for a guy who's painted nothing but a wall before!... even with my Son in law's guidance...
and now... for the 'Delicate' stuff...
first... the senility issue... or 'aggressive Old Timers syndrome'... yesterday I posted that Heidi and Buck were to leave Monday for the NADA competition ... Hmmm ... the problem is, nobody 'round here even knows what that, NADA is!... outside of a place you can go to check on used car values! :-) ... How about they're goin' to the USDAA (U.S. Dog Agility Association) competition? :-)
Second... and this is the big one... THINGS...
They are for sure and for certain a difficult thing to resist. I'm finding out that they don't never quit in their effort to set their hooks in you. A fella needs to guard against their insidious ways, all day long!
Two things keep trippin' me up. One is this house... the second is the 'Rig' itself...
Struggling to deal with this house, and our desire to sell it... keeps a guy focused on a 'thing'.. and seems to make it real easy, to fall back into old ways. Kind of a paradox of sorts. Though we want to be rid of, and done with it... having to focus on it all the time is one of those dangerous traps that sneak up on you... If I'm not careful I start getting pulled back in to where I don't want to be doin' things I don't want to be doin'... Just something to keep in mind... So I deliberately focus, each and every day, on where I/we want to be... to counteract the drug of 'things'...
That second 'Thing' is the 'Rig' itself. I truly enjoy wandering and the Freedom that a good RV gives us... I won't say I love the thing... but I do deeply admire the Life it allows us... when we can break loose and go for a while... but, one more time... If a fella ain't careful, he can slip into a place where the 'Thing' wiggles itself to where it don't belong... and takes on an improper priority.
For me... the RV... the Fiver, the truck... the 'Rig'... is a means to an end... it can never, and should never be THE end... It's merely a tool for building the Dream... RV Boondocking is a lifestyle and a gol' dang good one! But it is the Life! Not the THINGS that makes it shine!
Sharlotte recently sent me some glorious pictures of fall in the South... THAT is what it's all about... The places... The people... The memories... Not the Vehicle that took you there... and THAT is something that I have to remind myself on frequent occasion... I'm as vulnerable to that temptation as anybody else...
... Besides, we all know that there's only one THING that sits on the Highest Pedestal anyhoo...
... A fine, gleaming... Motorcycle! :-)
Take Good Care
Brian
Have you got a story to tell?... Great! Share it here!
...Your RV Destinations
... Your Custom RV
... Reader's RVing Tips
... Reader's RV Recreation Activities

November 8, 2009 07:40 - Night Riding... Again!
Wasn't a long ride... Just forty miles or so... But it was dark, it was November and we were rolling Slick two up... so it qualifys as Night Riding! :-)
When Heidi got home 'bout 1/4 to six, and I handed her the insulated ski bibs... she thought; "It's not that cold is it?"... "Uh... yeah it is... at 65 miles an hour!" She put my ski bib on... and Her Good windbreaking, nylon shell coat... with a sweater under... I put on some fuzzy long johns...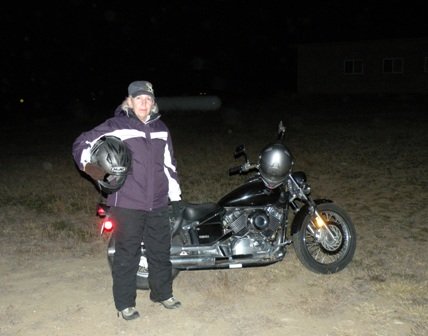 ... Climbed on Slick... and split the Night Wind!
We rolled from Nunn, down into Fort Collins to capture a mint blizzard at the Dairy Queen... Had a conversation with a couple there. They'd turned back from a ride to Estes Park, earlier in the day, "because it was too cold"... and then they commented that "She (Heidi) is sure all outfitted"...
It never stops amazing me how people will complain that it's too cold, too wet, or whatever... but when you ask 'em what rain gear they've got... or cold weather gear... "Oh, that's too bulky... I don't like that stuff... I don't like the way it looks"... Yadda Yadda Yadda...
So... on a gorgeous, nigh on to Indian Summer day... they turned back... 'cause they refused to wear the gear that would make it a day of Shining Times... Motorcycle Touring on Freedom Road! ... 'cause it was the wrong style... or some such booshwah...
I just don't get it...
I've talked to a half dozen riders in the last two weeks who quit riding when the temp drops much under 40... and 30 for sure... 'cause they won't wear the gear that will keep 'em toasty... While I ride down to 10 degrees... comfortable without any electric underwear, just good, winter motorcycle riding gear...
That gal 'bout went cross eyed when I commented "I'd rode home last week in the snow storm!"...
"You rode your Motorcycle in THAT?!" ... "Oh Yeah!" I replied... the look on her face was... "Priceless"... I love it! :-)
So... they don't ride when it gets cold...
That's OK... leaves more of the Open Road... Open... For ME! :-)
... Seems not too many people care much for my RV paint design... I've got a printout of it sitting on the desk... I may just let it set there a while... and see how it 'wears' on me... be an awful lot of work to find out... "On second thought... maybe I don't like it either!" :-) ... and maybe...
... I can come up with a design that is even more... 'Out of the Box'... my show off/Rodeo genes are stirring I think. :-)
WelI, I can hear a Wedding Album calling... "Braid me!... Braaaiiiiid Meeeeee"... so I better get back at it...
Take Good Care
Brian
November 11, 2009 06:33 - Veterans Day...
One more time... Always a melancholy day for me... too many long ago memories, now refreshed by each days news.
How I wish I could snap my fingers and create a world where no other Mother's son... or Daughter, would ever be sent into harms way again... to carry the scars and pain of their memories with them, each and every day... without exception, throughout their lives.
No one, who has never 'been there', has any comprehension of the person they are looking at, when they gaze upon a Veteran. That Vet, who is outwardly 'Normal'... That Veteran, that individual, who acts and looks just like everyone else... is possibly the one with more character than anyone else you have ever met. The burden they carry, without comment, is grief without description. What many of them have witnessed is unspeakable. That they did so, yet still walk through life as they do, is a testimony to the strength of their character.
If you know a Vet... you need not say anything... just give 'em a hug today... and carry in your Hearts the knowledge, that there is no sacrifice they would not make in defense of friend or family.
When you need someone at your back... They step up without question.
They ARE, and will always be, America's Elite.
Take Good Care
Brian
November 13, 2009 07:13 - Braiding Makes for a Sweet RV Boondocking Recreational Activity!
... If of course, you can remember how!
Been quite a few years since I did much Leather Braiding. In a for-making-your-living shop, it's tough to sell. Takes so much time, the Braidwork really adds to the price...
The thing is... it really adds to the piece as well. A nicely carved piece of Leather Art is really polished up fine, with some good Braiding.
But... the part I hate is how long it takes my crusty, rusty, brainbox to remember what it used to tell my hands to do. I've been pulling 40+ feet of braid... and talkin' to myself all along the way; "This ain't right... this don't make no sense at all... what am I doin' wrong?"
Doing the edge braid I'm doin' on this Carved Wedding Album, you pull a single strand through the piece, four times, for each 'link' in the Braid... so that's 160 feet of Leather Lace pulled, for each 1/2 inch or so of finished Braiding done. It ain't 'easy'... but I didn't remember it bein' that much work!
Well, if you keep at it long enough... talkin' to yourself... the Leather will finally break in... and start talkin' back!
Nearly 3/4 done with the back cover... and I ran out of lace... You need at least 7 times the length of your work in Lace... I pulled out better than 8... and still ran out...
Uh Oh...
... and the Leather started talkin'... "OK... SPLICE me ya durn Fool!"
:-)
Oh... Uh... DOH!
Ya see... Though you may need 7 or 8 or 9 times the length of the work... to do the Braiding... But... it DON'T HAVE TO BE... all in one piece!... I hope I heard that.
You can splice in a new work piece... invisibly... and keep on working... and rather than pulling all that 40 plus feet of Leather Lace through each time... you can work with a lot shorter piece of lace... which is a Whole Lot easier! :-)
Can you see the splice? :-)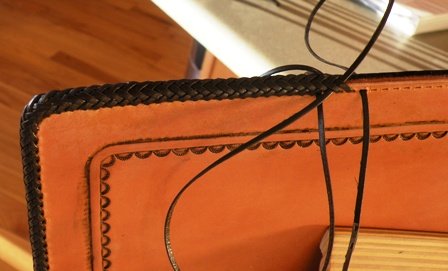 I'd sure like to say that I've learned so much about Leather Craft that I've had to discard some things... to make room for new lessons... but... the truth is... I'm thinkin' a goodly part of my head is filled with softening goo...
It's gotten to be almost as bad as a journeyman carpenter, lookin' at the hammer on his belt and wondering; "Hmm, wonder what that wierd shaped stick is for?" !!!
Now... as for Leather Craft making a Sweet RV Boondocking Recreational Activity... It really does. The tools just don't take up that much space... it's quiet... the cadence of Carving, Stitching and Braiding, for me are a truly fine 'Therapy' for a brain that often is trying to go fourteen different directions...
Leather Craft, to be done right, demands your concentration... its' slow pace... makes you slow down with it... and when you're done, you've got a functional piece of Art Work, built by your own hands... its' all good.
I can't think of a finer way to spend a rainy afternoon, boondocked in a High Country Meadow in the summer... or out on the Sonoran Desert in the winter... Settin' on the stitchin' horse, under the awning, rain softly falling, coffee steamin' in the cup, Bob Seeger singin' "Roll Me Away" or "Like a Rock!"... hummin' along... and the Braiding slowly growin' around the rim of that new Carved Leather Scrapbook I'm building for my Daughter... or somebody... Sweet!
If you're looking for something to fulfill your hunger for creativity, stretch and exercise that thing occupying your Brain pan... and won't add a lot of weight to or consume a huge amount of cargo space in your rig give a mite of thought to Leather Craft for your RV Boondocking Recreational Activity! :-)
Part of the RV Renovation we're working on is to redo... one more time... the desk area in the 5er... I'll be doing a lot more Leather Craft once we sneak out of here... I've found some flaws in my set up when it comes to that... and want a better organized, and more 'compacted' workspace... so keep checking back in to see how the new Leather Craft/Writing desk portion of the RV Renovation comes together!
Take Good Care
Brian
Have a hankering to tell your own story?... Great! tell it here!
...Your RV Destinations
... Your Custom RV
... Reader's RVing Tips
... Reader's RV Recreation Activities
November 14, 2009 20:38 - Warren Buffet and Mountain Cowboy's...
Huh?
What the hell do Warren Buffet and Bald Headed Mountain Cowboys have in common?
Well... they seem to agree on Monetary Policy! :-)
OK... better go use the restroom... I'm feelin' real windy... I'll wait...
... do dee dee dee do da do dum do do... Oh!... Ya Back?... Ok... here goes...
Folks thinking about RV Boondocking full time, worrying about their futures... Kids just starting out, and trying to get set up right... Those who are just unhappy and wanting to change their lives, just about ever'body, is told to SAVE YOUR MONEY... right?
That's what the 'experts' all say ain't it?
How come it always struck me as the slick talk of a sheister?
Have you ever noticed that just about every time the Big Boys get caught screwing around... and a few billion dollars gets 'evaporated'... they all start squalling that the problem is; "People aren't saving enough!" ?
You bet... they squandered everyone's CASH... and need more to play with!
I always thought saving CASH in a system that is built to inflate, made no sense at best, and stunk real bad if you looked very close at all...
When you watch the inflation rate, which they work real hard to conceal and obfuscate...
...How's that for a cowboy wranglin' big words? :-)
...and the common interest rates paid for savings... The savings have always seemed to me to be behind the curve in relation to inflation... and the other varieties of 'cash' type investments are not much better... and that's if you managed to not get swindled outright...
Now I know I was right!
I was watching Charlie Rose the other night... He was interviewing Warren Buffet.
Now... if anybody on the planet understands money/wealth and such matters... Ol' Buffet must be him... he's one of the richest fellers on earth... if not THE richest...
He talks about money... this Ol' Cowboy listens...
Anyway... He made a couple comments that flat jumped up and Hollered at me!
First; "I'd rather have a good business than a lot of cash... (Think about it!) Then, #2; "Cash will always be worth less... Not worthless... just, Worth - Less!"
... and the third thing I heard him say was something to the affect that; "Money has never produced anything... businesses produce."
Now... think about the last few years... especially the last couple...
How many people saw their CASH savings and 'paper' investment accounts shrink... or flat freaking dissappear? What with collapsing banks, squandered company retirement funds... straight out stolen by the likes of Maddof... yadda yadda yadda...
How many 'retirees' had to return to work... because their reliance on 'Paper' had been misplaced... "Money will always be worth... less!"
It's always seemed to me that some sort of ongoing income production was a safer, more solid, more reliable way to prepare for a future, rather than giving your few precious dollars to some Banker or other 'Manager' to play with... and do the things they have the bad habit of doing with money that ain't theirs...
Now I've heard Warren Buffet say virtually the same thing...
A business, given correct and proper care, keeps on keepin' on... and for the most part keepin' up with, factoring in, and dealing with the crooked monetary inflation scheme.
... Unlike cash, which just keeps on losing ground... if not dissappearing in some 'accounting gimmick' of one of the Big Box Crooks...
So... where am I goin' with this?
I've thought for a long time that for folks with a burning hunger for a Gypsy Living Lifestyle... saving cash and workin' for wages just wasn't the best road to follow.
Something they had better control of seemed to me to be a better option... but the concrete solutions have always been a bit of a puzzle for a mountain cowboy to work out...
Along the way, there have been false starts, a flat out failure or two, and a couple of nice successes; as we've sorted out the trail to get us where we wanted to go... There's even been one or two genuinely painful tribulations to overcome...
...but we've kept on going.
Well, twelve years ago... Heidi and I started her store... When we'd gotten sick of bein' at the total mercy of an employer...
If we do our work proper, and take care of business, that store continues to run at a profit... and takes care of us... we've seen a drop the past couple years... hell, who hasn't... but it's coming along and keeps on producing...
Three years ago... as we thought we were leaving... I started building my lil' publishing empire... :-) ... and it continues to grow and put income into our pockets each month... and can go along any where we go!
We're working now, to manage the store, more and more, to allow us to leave when we want.
Lately Heidi and I have started conspiring to add another leg to our business empire... the resurrection of my custom leather work... only with some intersting twists added from her own variety of art.
Once we finally get divested of this 'place' and it's connected liabilities... we plan to 'leave' pretty much permanently...
We've got little in the bank... but steady, reliable (more reliable than anything controlled by the bankers and stock brokers), sufficient, monthly income, from those businesses, that will, for the most part, carry us on into the future... (if we have to we can take a temp 'cash' job here and there to fill in)
It echos to me of what Warren Buffet said... "I'd rather have a good business... than a lot of cash!"
... and for the most part our income can't be stolen or devalued by the crooks we've been reading about almost daily for months... (assuming we're doing our part and taking care of business!)
Of course, if the world sinks into a Kevin Costner "Postman" catastrophe... we'll be in trouble... But... if that happens... it won't really matter, one way or the other... will it?
The point I'm making is this... Though you need to have some cash around, I think it's a lot more solid planning to put your efforts into building some sort of an ongoing business, for the purpose of financing going RVing full-time, Retiring, or simply making big changes in the way you live; which is what Heidi and I are really working to do.
That makes more sense to me than 'investing' in 'cash' markets of whatever variety, or working for wages... for some 'Boss' who will cut you loose just as soon as he finds a way to squeeze a nickle out of it.
According to what I heard him say to Charlie Rose... Warren Buffet thinks so too! :-)
The bottom line as I see it is this;
If you want a life, radically different than the one you've been living... you don't need to have thousands upon thousands sitting in the bank, to achieve it.
You need a marketable skill... that you can shape into a business... that you control, that goes where ever YOU GO... to produce your subsistence... pretty much when you need it...
Kind of like... "Just in time" Inventory Management!... or a Subsistence Hunter! :-)
Your own, Freedom Road, Business... Think about it... Brainstorm on it... and start working on it... today!... It's what we're doin'!
Take Good Care
Brian

Have a hankering to tell your own story?... Great! tell it here!
...Your RV Destinations
... Your Custom RV
... Reader's RVing Tips
... Reader's RV Recreation Activities
November 16, 2009 06:39 - Hopin' for Some Sunny Days
Heidi an' Buck come home tonight... been a lonesome week... the troubles of this past summer taught me one thing for sure... I miss 'em.
We've got a lot workin' this week... Starting to hunt up the replacement truck... that's a burning itch that has to be taken care of in the short term... and it's a case of goin' back to where I took the wrong fork back in '06... and - this time - goin' back to that intersection... and turning the right way...
... I'll be hunting up an older, properly seasoned, well cared for, used Cummins... my wallet don't match my eyes... the cost of a new rig is wishful thinkin' and just not in the cards for us right now... and that's plenty OK... all I need is a clean, solid, reliable toter, to haul the Eagle and our Bikes... which I plan on there bein' two of in the not so far off future! :-)
... Yup... I've discovered I might just have been married up to a genuine Biker Granny!
... and if that Ol' Dodge I find don't have on it, what I need to be on it... THAT... I can bolt on over time... I've done it before!
Then... we've got a couple of meetings to deal with our continuing struggle to escape the real estate box...
and...
I've worked my way through 'bout 75% or so of the Wedding Album... keep getting diverted... but it'll be done up this week... so I can get on to the next things on my list...
... like...
We've gotten all the RV Renovation pretty much figured out... I believe we'll start in to collecting all the materials this week... or real early next... and go to rippin' an' tearin'... to clear out all the old... so we can start "Hangin' paper!" :-) ...
Of course... I'll be picturin' and scribblin' 'bout ever'thing we do... maybe some of it will be of use to you... and make sense... some of it just might make you scratch your head and wonder; " When they gonna get that Ol' buster committed?... He's gone straight raving crazy!" :-)
It'll be fun... one way or 'tother!
Had a couple of pieces of mail... about the couple articles I added to the "Frugal Section".. Pretty much as always... and expected... some agree... some don't... but that's the only purpose here... get people to thinkin' 'bout things...
We ain't EVER gonna agree 'bout ever'thing... What a boring world that would be... but, as long as we can agree to be respectful and even have some fun, teasing and pokin' a lil' bit, in our dis-agreements... It'll be a fne ride! :-)
It's off across the Colorado High Plains for me... on over to Eaton... to make sure Ace Hardware sells enough plumbing parts to keep the doors open...
Take Good Care
Brian

Have a hankering to tell your own story?... Great! tell it here!
...Your RV Destinations
... Your Custom RV
... Reader's RVing Tips
... Reader's RV Recreation Activities

November 18, 2009 06:37 - "Standin' on a Corner in Winslow, Arizona..."
... Such a fine sight to see..."
That song tickles my hitch itch... makes my throttle hand twitch... and just makes me restless all 'round!
Heidi sent me this pic from their trip home... with a short lil' stop for her and Buck in Northern Arizona...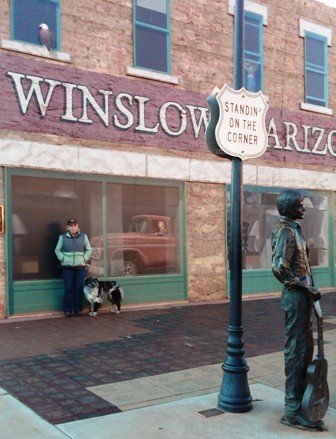 Did you noitice the 'Eagle' 'standing on the corner..." up on the window sill? :-)
Was a cool morning yesterday... Heidi got up, figurin' we'd need to carpool... we kind of thought Ol' Slick wouldn't start. I'm not sure how cool it was right here at the house... but she fired right up and it had warmed all the way to 21 degrees when I pulled into the parking lot at the hardware store...
Slick don't usually fire off if it's under 17... which I thought it was... Was nice though... folks still don't believe I'm keepin' warm, rippin' through the wind down hwy 85 at 70 mph on a frosty morning... Hmmm... wonder what the wind chill is at 20 degrees... and 70 mph?...
Got up 'bout 3 am, night before last. Had been advised there was to be a meteor shower 'display' between 1 and 6... I wonder who the prankster is that makes these claims... and what's in it for them... this makes maybe the 5th time I've done such a silly thing... only to be lookin' up at a dark, cold night sky... with not one thing up there but... the normal stars...
So I just went back to bed...
... with not a shooter to be seen... not north... not west... not south... and not lookin' back east neither! What's the story?
... uh ... wait a minute here... geeze... what a bozo...
... think about it... beautiful, clear, quiet night... Gazin' up at the wide open Colorado sky...just lookin' up at the stars... no body, and no thing... pokin', proddin', pushin' or agitatin'... just the clear cold air fillin' my lungs... the silence lettin' my head catch its' breath... a by God Shining Night... and here I am... grousin' 'cause there were no stars fallin out of it...
Do ya think maybe I shoulda just put "Dancin' with Wolves" on the stereo... made some fresh coffee...and counted my LUCKY STARS?! :-)
Sometimes a fella just can't see the firewood... 'cause it's hidden behind all the trees! :-)
... maybe next time... I'll do better...
Take Good Care
Brian
November 20, 2009 07:42 - Small Progress Toward the RV Renovation
Had our 'meeting' yesterday... and not a good way to start off a day... real estate values continue their decline 'round here and any 'recovery' seems to be years away (and ever more $$ down the tube)... guess my 'feeling' that things were starting to stabilize was a bit of premature, wishful thinking...
So... we continue just trying to get loose in a cutting our losses mode... we'll see what happens...
along that line I've been shaving on the 'budget' some more looking for fresh ways to make things work... tightening up where I can find some slack... Good thing I have a lot of experience at bein' poor... another benefit of havin' a Cowboy heritage! :-) ... but that Ol' budget is gettin' so thin... it's nigh on to transparent...
I sure can understand how folks feel that have been 'bailing' for a while, only, their ship is still sinking...
We're lucky on that score, ours remains dry... but it also remains, anchored in port... unable to set sail...
Now... that downer 'stuff' imposed on ya... can really stain a day... so whud-er-we-gonna do?
Try and overcome the continuing downer of the real estate con... by goin' to Home Depot, and ordering the hard flooring we're going to install during the renovation work we're going to do on the Eagle, our Jayco Fifth Wheel!... That's what!
Yep... Turn our minds away from the rubbish we can't seem to impose any control on... and put 'em on those things that we can... Like Shining up our Favorite Fifth Wheel... with some new flooring and other fixins'.
After juggling samples and pictures for a couple weeks... We settled on a version of Vinyl resilient tile flooring called Allure.
I'd found a couple of folks on the net who'd used it and were very happy with how it installed, looked, and how it's performed. The version we're goin' with is called Cordoba. The "tiles" come in 12" X 36" pieces with adhesive strips down one side and across one end. To install you just put 'em together on the floor. No Foam underlay, no other prep.
... well, other than rippin' out the existing carpet... and whatever furniture you're gonna put it under.
Once the thing is all layed, the only other install needed is a bit of 1/4 round to finish off the small space left around the edges, 1/8" or so... and the floor just 'floats' over the old floor...
In our Eagle, because of the way the slide is configured, I'm going to have to leave the carpet in the slide itself... that's OK, it ain't much and most of that is under... or will be under, furniture. But the rest, up in the bedroom, the main living area and likely back in the bathroom will be all fresh, easy to clean, hard floor.
From what I've read, the manufacturers... those still hangin' in there anyway... are starting to see the light, and a lot of 'em are moving toward hard floor rather than carpeting.
... a good thing back in the woods with muddy feet and two dogs.
Pulled out of Home Depot... Miss Heidi was gonna take me home... before she headed to Denver to see Miss Jillian... the new Queen of the roost at my Daughters house... I had plenty of work to do... but somehow... I was driving... and that Subaru just hooked a Ueeee.... and headed for Denver with me in it!
Ol' guy just up and decided... work can wait... gonna go see the kid! :-)
So... today... I better do the work that was waiting yesterday...
What a ride...
Take Good Care
Brian
November 21, 2009 09:06 - A GOOD RV Motorcycle Carrier Idea...
... was proven out... let's see... uhhhh.... .... times the 3... carry the 2... subtract the 9 .... uhhhhh... aw hell, something like 15 years ago!
Sweet!
One of the Readers of goin' RV Boondocking wrote me a bit ago and told me how he'd Done, pretty much exactly what I've talked about doin' to carry the 2nd Motorcycle we'd like to carry with us, on our Fifth Wheel, once and when we get gone!
Way back yonder... in 1994 he'd ordered a good Dodge (of course!) regular cab truck... while he waited on his special order truck... he built the bed himself... see... I told you it was sweet! ... It's always Sweeter when you done it your-own-self! :-)
I just got his story 'bout it this morning... I'm hopin' to post it later today or tomorrow maybe... just waitin' on his permission!
He was pullin' a fifth wheel, about the size of our Jayco Eagle... and though he didn't have a Motorcycle the size of ours... he did carry a smaller scooter sized bike in there...
But... always the But! He'd built a great big 'Job Box' and set two fifty gallon fuel tanks in that space as well...
Now... add up the weight of 100 gallons of fuel... a smaller scooter... and a great big... Good Looking I might add, Job Box... and He had considerably more weight than the 750 lbs or so of Star Raider I'll likely park there... and!
... AND! he moved the Hitch back 12"! on a 12' bed... hauled all over the place and had no issues to speak of... hmmm... likely comes from some 'driving discretion' too! :-) ... like as in.. if your butt is weighin' in pretty heavy... you juuuuust might want to slow down a mite?
So... when we get to 'that place'... that's the plan! ... Motorcycle Number two shall be cradled in a behind the cab Motorcycle Carrier of Cowboy engineering design! :-) with Slick the V Star bringing up the rear sitting in her Cowboy Built and tested (10,000 miles and counting) Motorcycle carrier on the Tail of the Eagle!
It's nice to see some things making progress... and I guess that's the trick these days... Just keep on keepin' on.
If you don't just up and Quit... you'll end up... somewhere!
Take Good Care
Brian

November 22, 2009 13:38 - The Carved and Braided Leather Wedding Album is Finis!...
Well... Almost! :-)
The intense parts are done... just a lil' bit of finish up stitching on the binding part and such... but for the most part the parts that I stress on are done!
It could be better... but considerin' the shape I'm in these days... I'll take it. :-) If putting a bit of yourself into something makes it a value to someone, and somehow transfers any Good energy and strength to 'em... I'm hopeful this is one of those times. 'cause I wish these kids the best there is...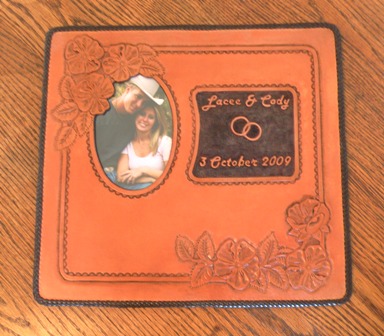 Maybe the toughest part in doing edge Braidwork like this is comin' back 'round to where you started... Joining up the Braid... and having it lay so a person looking at it can't see where that starting and stopping happened.
Took me a couple tries to 'member how I used to do that... It's been something like 5, maybe 6 years since I did any of the Braiding... things just went in a different way for a while...
But what do ya think?... That 'place' is right here in this pic... can you spot it? not my best picture I guess... was kinda wobbly when I pushed the trigger and it's just a trifle off focus I think... the lengthening shadows of this life are a real harassment! (ie. I have juuuust a mite of trouble holding a camera steady sometimes - guess I need to break down and use a tripod more!)

Yesterday afternoon, sitting on the stitching horse, Braiding away, trying to get this piece finished up, I looked up from my work and had this view greet me...
I'm sure you can tell... it's just a 'piece' of the view we have from here... but what a piece. Just one part of the Colorado Front Range... and even with those durn powerlines hangin' across there... it's kind of a calming, shining, thing to be fortunate enough, to be able to enjoy don't you think?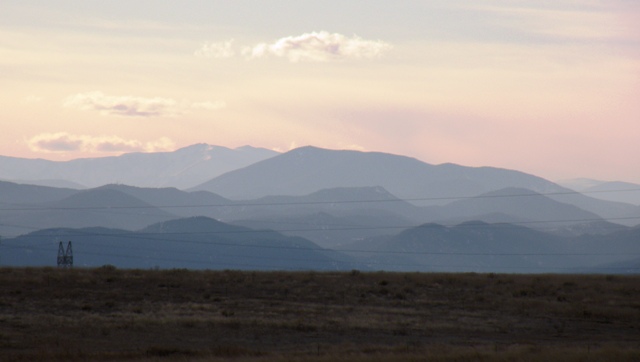 The Colorado Mountains, Respectable Leather Artwork for the Best of Friends, a solid Fiver to carry a good Motorcycle... and a fine wife who wants to split the wind with me...
... By God... it IS Good To Be Alive... ain't it? :-)
Take Good Care
Brian
November 26, 2009 08:13 - Another Thanksgiving...
So... where is your head "At"?
It's been a tough year for a lot of folks...
It's been a difficult year for us here... Lowest times I've known... and all at the same time, the Very Best Times I've known. Kind of a Cowboy Paradox.
Is there much for me to be Thankful for?... Well... If I try and claim there ain't, I should be loudly and properly labeled as a whining, useless waste of space!
Out of this rough patch I've been made to see how lucky Heidi and I are... how very fortunate I am to have so many fine friends keepin' me in line. :-)
These times have made me possibly one of the richest Ol' Busters around.
We've got a house to sell... whenever that happens... NOT one getting foreclosed. We have that gorgeous view out our front windows, as long as we're here, Out back sits our good Jayco Eagle, waiting to serve, as we, eventually, get to chasing our yondering dreams. Up in the shop rests Slick, that fine V Star Motorcycle... and along with her, the very real prospects of adding a two wheeled Buddy for her, to the garage! :-)
We've got our Dreams and our Friends... and for the most part, our health (with a few lumps and bumps!) ...
Maybe we've got to tinker on our plans, to adjust to the loss of a goodly amount of the financing we'd planned on... so what! Maybe, that 'money' was tarnishing the dream in the first place... Just maybe, in my world, worryin' 'bout dinero was changing the 'Dream' into something unrecognizable... and me with it...
Could be, this whole ordeal has only been a "Wake up Call" ...a Lesson of sorts... to put the true values in this life... into their proper perspective for me.
I seemed to be getting more confused months ago. To myself at least, if not everyone else. :-) ... True Values seem much clearer to me today.
Friends, Family... Freedom... Art... so many things that Are Not about 'Things'... but about... Thoughts... What I've come to believe is that those things of the Truest and Greatest Value... Live in Your Heart and in Your Mind... Not your Wallet... or Possessions.
Life is Good... and sometimes Better... When it is Difficult. Hard Times Clear the Mind and Soul. The trivial meaningless 'things' fall away...
Hug your wife... Treasure Your Friends... and... blow a big sloppy kiss at your enemies!
Have a Shining Thanksgiving!
Take Good Care
Brian
November 28, 2009 18:58 - How Do I Keep on Chasin' My RV Boondocking Dreams In Hard Times?
and... Does it even still make any sense?
Aw shucks...
... Like most ever'body... I sink backwards once in a while...
Not too often though... I'm down to only maybe three times a week! :-)
I don't suppose there's any expectation of ever changin' that permanently. It's just how the feeble human brain is wired. A fella gets tired ever' now an' again and just gets to feelin' down about how things just seem to refuse to co-operate.
The thing is, that sort of thing is tee total normal... The only time you need worry on it much, is if you don't break out of the funk... after a day or two...
Best thing I can think of, to help carry yourself along, is to have some 'thing'... some 'object' sittin' around that kind of jiggles your focus back to what you're tryin' to do. Sort of a 'Talisman', a reminder, of where you're headed and how glorious it's gonna be when you get there!
For myself, I keep a notebook on my desk. Inside, the first few pages are collections of pictures of our past camps and photographs of favorite spots from the Wide Circles we treasure from that past.
Then come pages of plans, budgets, goals... wise words from folks a lot smarter than me... All sorts of things to kick my head into gear, thinkin' 'bout those things that are a pleasure... and away from the junk draggin' me back.
You get the drift...
When I get to feeling like we're falling backwards... I sit and leaf through that book, to help restore a sharp focus on what it is we're striving for...
Sometimes... If I'm especially cranky 'bout it all, I might even jump up and start hollerin at Satan his-own-self; "Listen up you red headed, foul smellin' son of a knock-kneed donkey! If you don't get your butt out of my way, and quit blockin' every effort I make to get myself back to where I belong... I'm gonna DO what the man sung about doin', up amongst those high peaks, a long dang time ago!"
"That's right you pig eared polecat! ... I'm gonna rope your carcass, tie knots in that sorry lookin' excuse for a tail you're wearin', notch those dinky lil' ears, brand ya'll up a lot... and then leave your nasty, bony, pansy pickin' butt, necked up to a Black Jack Oak!... I'm runnin' out of patience you pot lickin' punk!... GO AWAY!" :-)
Makes me feel better... How-some-ever... the neighbors 'been lookin' at me kinda queer lately. :-)
So... that's how I'm doin' it... Now, as for that question; "Does chasin' the RV Boondocking Dream right now make any sense at all?"
Why, of course it does! You fall on your head and hurt something? Ain't not one thing happened to change the shine of that Dream... or the rightfulness of it.
I wouldn't give a half a load of moldy road apples for a double dose of shiny "Makin' sense"... not even if they added in a buck an' a half to sweeten the trade.
... Let's face it... What we've been taught to believe is what "makes sense"... is really 'bout "What makes the most money", for the guy tryin' to convince you that his story "makes sense"...
Sounds a lot like the flim flam the carney hollers to the folks strollin' down the midway at the county fair. Plenty of noise, and not much real in it
Right now... considerin' the ever greater loss folks are gettin' hit with in the real estate market... the fact that it's a mathematical equation that we ain't ever gonna make that loss back... combined with the truth that those of us on the shady side of the mountain... can ask the question... "If not now... When?"...
... along with, for me, the equal truth that young folks can ask; "Why would I want to repeat the mistake my Dad made... and lose as much time and money?"
... It makes more sense now than ever!
Life is Precious. Every Sliver of a moment.
The Time to LIVE... is Right Now... and it always has been.
Take Good Care
Brian

Have a hankering to tell your own story?... Great! tell it here!
...Your RV Destinations
... Your Custom RV
... Reader's RVing Tips
... Reader's RV Recreation Activities

November 30, 2009 06:40 - Antelope... working on the Rig... and Working on Workamping...
I suppose it's the fact that they're hunting Antelope on the 'Open' Land east of us... but, for whatever reason, for the last week or so, something like 200 Antelope have decided that our lil' place is a pretty fine location for breakfast.
Right after this view, just a bit after sunrise...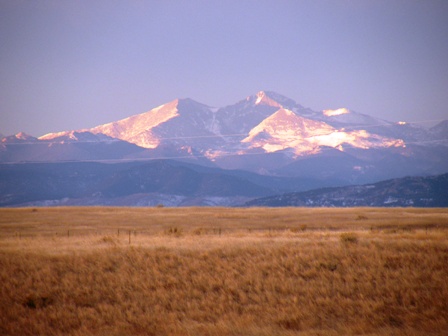 ... Every morning 'tween 6:30 & 7 am... they come streamin' cross the road out front... and occupy our 20 and the 100 acres surrounding that for a half hour or so... before moving on... then, several have been hangin' on, almost all day...
Hard to get a pic of 'em all... backin' off that far makes a lil' pic here look like the usual 'tourist' snapshots.. "See that spec... way off there? ... That's a GRIZZLY BEAR!" :-)
But trust me... there's nigh on to two hundred in this herd...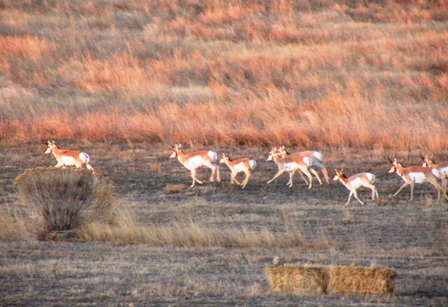 Home Depot called a couple days ago... aaaarrrrgh!...
The flooring we ordered for the start of our planned RV renovation is on 'back order'... They promised it'll be here on or before the 11th of December...
Makes a guy wonder, how much of this recession is real... and how much is just because everyone 'thinks' it's real... and aren't doing anything 'cause they 'think' they need to pull back?...
I mean... if these businesses can't keep up with the business they have now... what are they gonna do when things pick up?
Aw well, it gives me time to do the 'demolition' required. I'm thinkin' I'll start pulling 'stuff' maybe this coming weekend...
To do the floor, I've got to take out the bed storage compartments I built in a couple years ago... no problem there. They'll come out and go back in, easy.
Next will be to remove the couch... which is staying out. We're going to replace it with a pair of chairs and a small table...
Third to be removed for the RV renovation is the desk/workspace I built in... was it two years ago? That is slated to be replaced with the antique oak desk I'm working at right now...
and last, in the current RV renovation 'Demo' work, is the carpet. I'll take out all of it, except what is in the slide and under the forward end of the bed area.
That part of the bed area, there's just no point. That space, under the very forward 18" or so is only a remote compartment I keep 'things', you can't cross international borders with... so I don't get in there very often... and what's on its' floor really don't matter! :-)
The slide has to stay carpeted because of the configuration of it's working mechanism... unless I come up with some sort of a brainstorm... which I'm not truly expecting...
I have several other RV renovation changes planned... but they can get done one at a time and need little demo work. Such things as changing out light fixtures to ones more solar power efficient... redoing window valances and blinds... swapping out a failed window frame... (that one's been waiting too long!)
... adding some frame bracing... to allow carrying the heavier bike on the fifth wheels motorcycle carrier...
I have a whole wish list! ... I'll get to some fairly quick... others might likely live on... on the wish list :-)
After finishing the Wedding Album I used to get my Leather Carving parts working again, I started tinkering with some designs and have several for some RV, Motorcycle and even Hiker travelog - journal - scrapbooks...
I'll be working up some examples over the next few weeks to continue that RV 'Workamping' enterprise...
So now... back to some more 'tinkering' and idea sketching...
Take Good Care
Brian

Have a hankering to tell your own story?... Great! tell it here!
...Your RV Destinations
... Your Custom RV
... Reader's RVing Tips
... Reader's RV Recreation Activities