Dog agility is a Pretty Good Fit as a Recreational Activity for RVers

Virtually every dog breed is represented in the ranks of Dog Agility competitors. From Corgis to Dobermans, you'll see them all on the agility fields around the country.
You compete in the Agility game by giving your dog verbal as well as "body" signals to guide him/her through a set course of obstacles, in proper order. "Faults" are picked up throughout the run whenever the dog knocks down bars, goes off course, misses "contacts" etc.
The winning dog is the pup that runs with the best time and the least accumulated faults. It's great fun and builds a bond with your dog that can sometimes be pretty amazing!

***Buck and Heidi had a fairly successful trial!***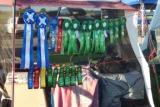 While the rules vary a mite from association to association, generally, the agility classes run from 8" to 20"plus. Those heights refer to the jump heights the dogs jump in competition.
Which class the dog runs in is determined by his/her height. So, even if you have a Chihuahua, there's a class for the two of you to compete in!
Heck they even have specific classes for "veterans" (handlers over 60 and dogs over 7)! In most cases, provisions are also made so that folks with disabilities can compete as well. It tries hard to be an all inclusive sport!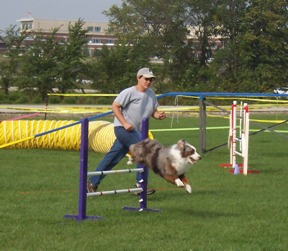 But be careful! Sometimes, people who never thought of themselves as "competitive" get caught up in it and find that deep down inside is a seething, competitive agility monster!
The agility sport is supported by several organizations. The major ones being the American Kennel club (www.akc.org), the Australian Shepherd club of America (www.asca.org), the United states Dog Agility association (www.usdaa.com) and the North American Dog Agility Council (www.nadac.com).
You'll find that Dog training and competitions, are great sources of new friendships and camaraderie, as well as some much needed exercise!.
Just the training, in preparation to compete, will get you up and moving quite a bit! We all could use a little more of that couldn't we?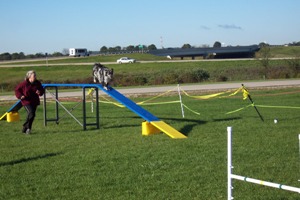 Have no idea how to train your pup to do such a thing? Not to worry, there are trainers providing classes all over the country. I'm sure if you contact one of the above organizations or spend a little while "googling", you can quickly find a good instructor to teach you how to train properly.
With a little bit of time and some pretty good effort, you and your hairy little friend can learn, the right way to go about this growing sport!
What's the cost? ............ there are entry fees, and, if you want to practice a lot there are some jumps and obstacles you'll want to buy or build but it really isn't all that bad.
You can set up just a few small, light obstacles to train and practice on in an RV Boondocking camp!
Once again, if you do some googles you can usually find an Agility Course or field, not too far away, that could be used for practice as well, with a not to awful fee.
That could save buying/building and hauling Dog Agility equipment around! It's an especially good idea until you find out if you really like it!
Later on, once you find that you are really liking the sport you could go about acquiring the various Equipment you need!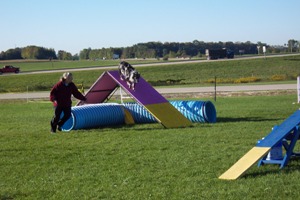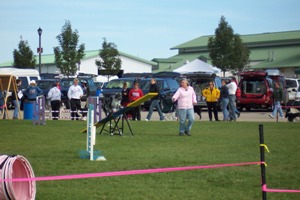 If it sounds interesting look around for an event or a class near you and go check it out. Everyone I've met as Heidi has pursued her passion in this has been as helpful as you could hope for.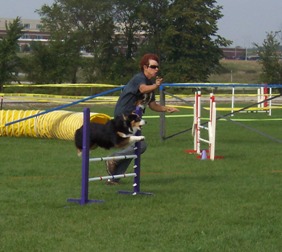 I think, if you really love to play with your Dogs, Dog Agility just may be the ticket for a really good time. Go give it a try!