Put the Whoa! in your Trailer toter with a Jacobs exhaust brake

The Jacobs exhaust brake was a dealer installed "factory" option I decided to have installed on our new '06 Dodge dually 3500.
On our previous rig ('98 Dodge 2500 Cummins) I'd been running the Banks exhaust brake for several years and was very happy with it's performance, as told in the article I posted about the Banks brake.
I'd started out planning to have another Banks exhaust brake installed on the new truck. But with a 100,000 mile warranty hanging in the balance it didn't take a lot of convincing that this was the way to go. As a Factory/Dealer option the Jacobs exhaust brake is fully covered under all warranties.
If you're off warranty either exhaust brake is going to do a fine job for you. If Murphys law seems to find you as much as it does me, you'll probably want to go with the factory option and protect your warranty!
We picked the new rig up on a Thursday and had an appointment to return to the dealer the following Tuesday to have the exhaust brake installed.
Everything went according to plan and I picked "Big Red" back up that afternoon.
Just like the Banks, the Jacobs exhaust brake is SWEET! Does everything it's supposed to do and does it well.
One thing I do like better with the Jacobs brake than the Banks installation is that the control switch is located on the gear shift lever rather than the steering column as with Banks. Makes it much more convenient to turn it on and off.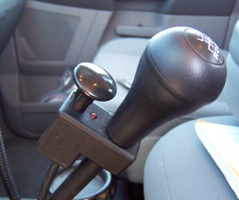 ***The Jake Brake Switch***
Just like in the old truck, I mostly drive with the brake turned on. Even around town, it works so well that it saves a lot of wear and tear on the service brakes. I only turn it off in slippery conditions or if I want to coast for some reason.
I left Nunn, CO. headed for Tucson for a family emergency the morning after the Jake brake was installed. Worked without a burp all the way down and back (2,500 miles +).
Coming back through the High Country (12,000 ft) I had to apply throttle on the down hills to maintain road speed just like with the Banks unit in the old rig.
I'm tellin' you it's a sweet feeling to find youself feedin' that big diesel some throttle on those steep downgrades when all around you, all you see is blinking tail lights! Knowing you have that control is a relaxing thing!
About the only place I needed to use the service brakes was on a couple of switchbacks going into Ouray. I needed to drop a gear to slow down quick enough to make the tight turns. Otherwise the Jacobs exhaust brake did all the work on the downhills!
Seeing as how the brake has been on the truck right from the start I was unable to judge what affect it's had on fuel consumption. Judging by the fuel mileage I'm getting I would say it's not had a negative affect, since I'm getting nearly the same as I was getting with the '98. And this with a truck quite a bit heavier and with a hell of a lot more horsepower!
At $1,500 I wouldn't call it inexpensive, but as well as it works I would call it worth every nickle! Bottom line is that although I've said I'd never be without my Banks brake, this exhaust brake performs every bit as well.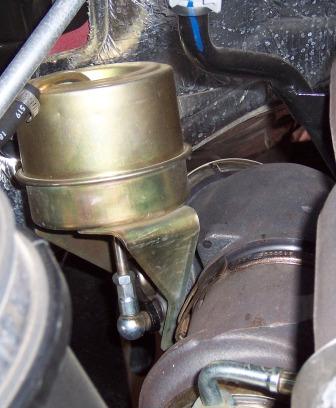 ***The Jake Brake!***
If you're getting, or already have a Dodge Cummins, and pull a heavy trailer don't delay! Call a Dodge dealer and find out if they have a unit that'll fit your rig. The peace of mind it gives you on long grades will have you kicking yourself for not doing it sooner! Towing or bobtail it's the way to go!
So I guess I'll just say that I will always have AN exhaust brake! It'll just be a Jacobs exhaust brake for the next ten years or so!
*****Something I have discovered along the way*****
Unlike the Banks unit, the Jacobs exhaust brake is designed to work with the speed control unit. In the Banks, when the exhaust brake kicks in it kicks the speed control out, and you have to re-engage it yourself. With the Jacobs exhaust brake, in the Dodge truck, it will swap back and forth, if necessary, between the exhaust brake and the speed control. Just a little thing but nice!