We needed a new laptop console so we can use the GPS navigation programs


The laptop console I had built for the old '98 replaced the center seat. It just wasn't going to fit Big Red, our new '06 Dodge 3500.
That and I just couldn't bring myself to start pulling pieces out of a truck that costs as much as these darn things do!
A clever new design was needed ! Me being the Rube Goldberg of the cowboy set I went to work and schemed up a new in cab console design.
Ouch ! ..... I think I sprained my shoulder patting myself on the back !
The new design uses the fold down back of the center seat to clamp the console in place.


With this design the top section of the factory console remains quickly accessible with the new console in place.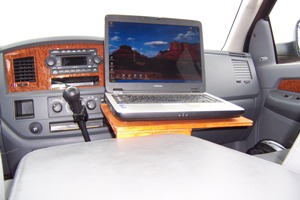 To access anything in the bottom compartment of the factory console (under the bottom of the seat), the laptop console must be removed. That's a quick and easy chore, although I'll only be putting infrequently used "stuff" down there as a consequence.
Being lazy does have it's occassional drawbacks !
Works pretty good. You have to set it over to the passenger side just a touch to give enough clearance for the gear shift but that's no big deal.
The only other thing is on rough pavement the console bounces just a bit too much. Since it's held in place by the cushy seats Dodge provided, I guess that's to be expected !
I'll be adding a support standard that will set in place between the bottom of the laptop console base under the computer and the top of the factory console, down on the floor.
Watch for the update, as soon as I figure out the best way to do that !
So Big Red has got his Copilot GPS navigation system on line, now that he has his new laptop Console.




Return from Laptop Console to Goin' RV Boondocking