One more 5er Continued and Up-Dated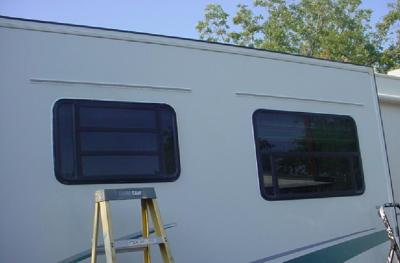 Getting started. Top rails.
It's hot here in Texas and decided that my first add-on to my new find had to be window awnings.

Started looking for window awnings at Camping World, but the cost was way too much. Looked at PPL Motor Home as well as my local dealer and all the same high cost. I decided that if I am going to save money I had to locate someplace to do just that. IDEA! eBay....

Last place to look and I should have looked here first, eBay RV parts. I located 2 awnings for the cost that other places wanted for just one. Same awnings, A&E with all hardware. The other places I would have had to buy the hardware separate.

Got them delivered and all installed. Did it all by my self also. I will have to pass this on, do it your self, they do install easy and the money you save can be spent elsewhere.

You BTW can buy the same here: http://stores.ebay.com/Shade-Pro-Rv-Accessories. Take a look and see.

Next project... Roof Vents and Covers....