Overnight Stabling
is Not a Difficult Find
It might seem intimidating if you've never done it before, but finding Overnight Stabling is not very diffcult. It only requires a little imagination, a map and a smartphone.
On a recent 4000 mile round trip I made to pick up a new LQ in Southeast Alabama, I also unexpectedly picked up a new horse just a few miles north of the dealership.
I'd thought I'd just be making a fast haul with an empty trailer.
Instead, I had to transport a gelding that had never been hauled more than ten miles or so, somewhere around 1350 miles to meet its new trainer. I was to meet her and transfer him to her trailer in Albuquerque, New Mexico.
To keep from souring him on hauling I decided to hold my mileage to four hundred miles a day. That meant three nights of overnight stabling I'd be needing to find, in country I was very unfamiliar with.
I did some quick "equipping" at a Tractor supply near the dealership. Hauling a horse wasn't part of the plan for this trip so halters, buckets, feed etc had to be put in the trailer to pick this guy up.
He got loaded the next morning, hauled to a vet to get the necessary paperwork and I headed west that afternoon. Only made a short haul of a little over two hundred miles.
I stopped at another tractor supply near where I wanted to stop for the night to inquire if they might know of a place I could put that gelding up for the night.
They did!
The folks there gave me a phone number of what turned out to be a county fairgrounds about ten miles south. SCORE!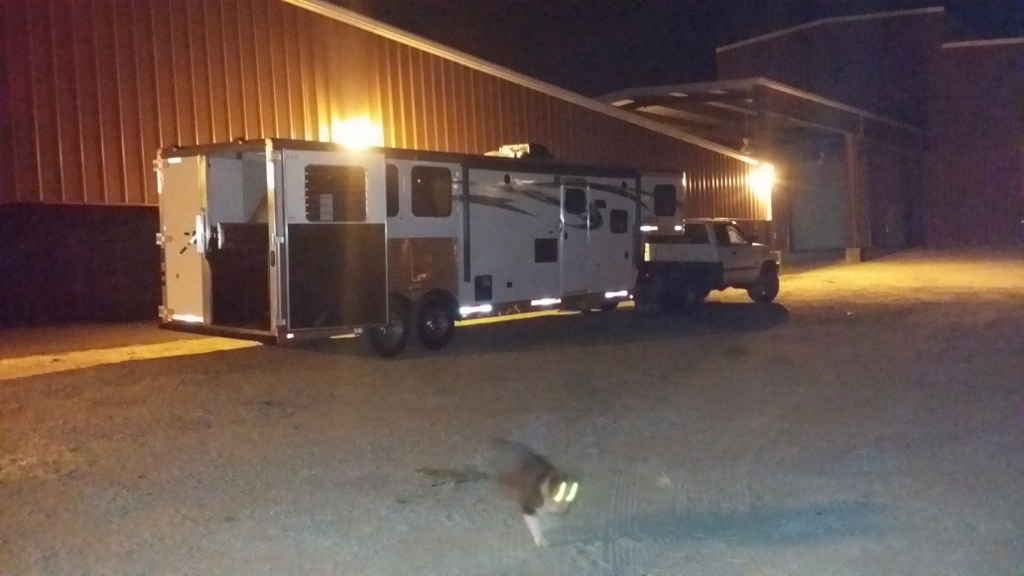 *Lee County Agr-center south of Tupelo*
*Chigger had comfortable lodging for the night*
"Chigger" had himself a box stall to relax in, and I had a place right beside where I could keep an eye on him, plug my band new Lakota in and kick Back!
That cost $25 for the night but I was bone weary from four days of rollin' hard so I didn't complain!
I was up early the next morning and rolling. Well rested and Feeling tall with that fine horse behind me in that fine trailer!
That night found me rolling down I-40 toward Oklahoma City.
I googled "Fairgrounds" on my slick galaxy smartphone and came up with a number I thought was a place along my way.
"We have pens" she said, but they're all outside, and with the rain we've been having they are MUDDY!... Let me have your number and make a few calls. I'll call you right back."
Well, I surely didn't expect her to, but five minutes later she called! She gave me the number of a guy who had a covered arena with covered pens on the end.
I pulled in there knowing I'd hit pay dirt. Another nice big arena. Solid, safe and dry pipe pens under roof and it was making up to storm pretty hard. (Which it did. A Heilatious thunderstorm that night)

"You did real good to stop here for the night" Dennis said as I stepped out of my truck.
"Oh?" I said. "Why's that?"
"Just a hundred miles or so straight ahead the way you're goin', they just got hit by two dozen tornadoes!" he replied.
Sometimes good fortune just smiles on you.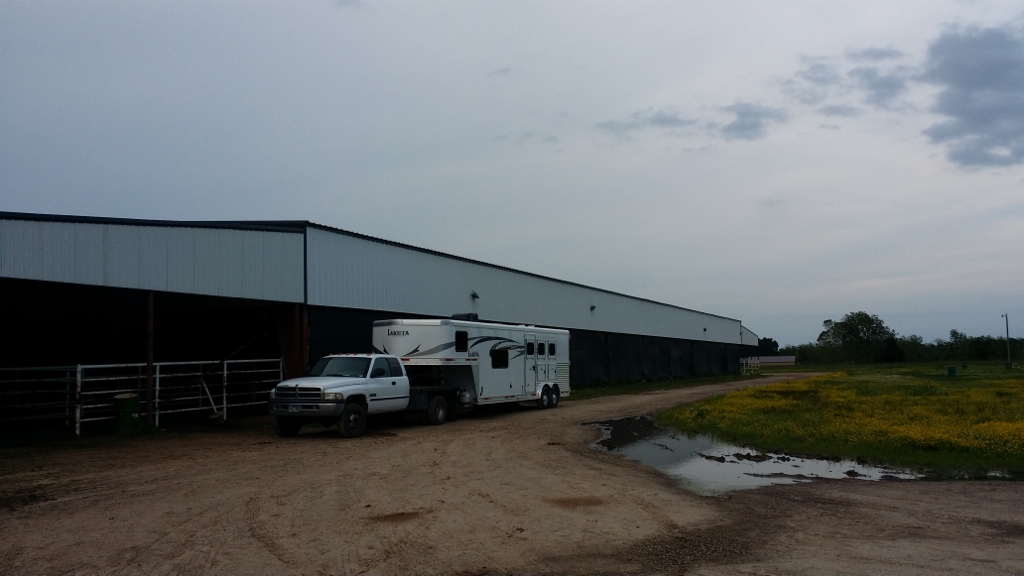 *Parked right next to the pens where I could keep an eye on the gelding*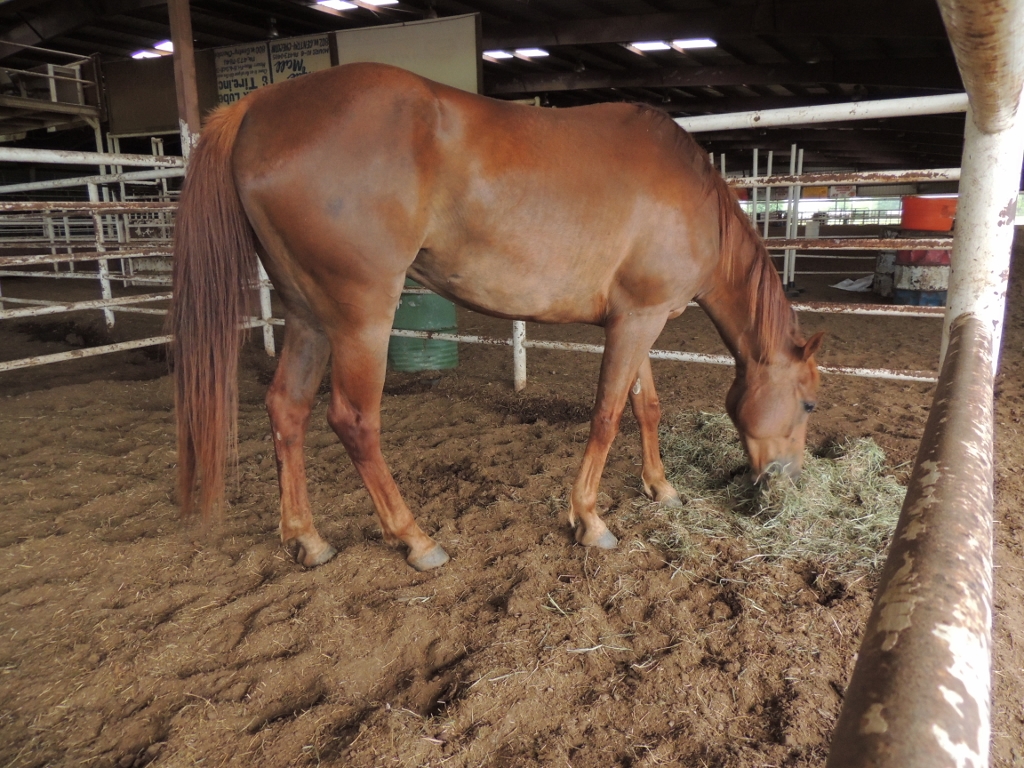 *A bigger pen out of the weather and good timothy, Chigger was happy*
When I asked him what the tariff would be he looked surprised. "I'm not charging you to stay for a night! Now, if you were gonna camp for a week..." he said with a smile.
Hospitality like that is tough to find these days! If you're gonna be in the Checotah area... you might see if they've got a barrel race, or a roping goin' on... They were just about the best for Hospitality I found on the whole trip... and I had the pleasure of meeting some fine folks all along the way!.
Two nights; Stabling/Parking total; $25 No Complaints!
Night Three was in Tucumcari, New Mexico. Again I called a fairgrounds but they had no overnight stabling at all. However, they knew of a place; "But none of us have seen it so we aren't referring you to it, just telling you it's there."
That's fine with me.
I called and went there. Now... this place had seen better days. It was weathered and worn. But, the big pen I would have was spacious and solid enough pipe it didn't give me the jiggly quivers, and there was suitable shelter if it did storm. Cost? $20.
The next day I transferred Ol' chigger, who I'd grown fond of in our few days together, in Albuqurque and finished my run on up to Denver.
The point of all this? There are overnight stabling places all over that aren't advertised. You just have to ask the right people. Feed stores, Farm and Ranch supply stores, County Fairgrounds, Tack shops, anybody who's business ties into the Horse world.
These folks are easy to find starting in the morning as you load up and haul.
The key is to know, have planned, near what town you want to find overnight stabling to put up for the coming night.
Then start making calls when you're just a hundred miles or so up the road and know for sure where you're gonna be.

On this trip I never made more than three phone calls as I sat in the truck rolling along to find a good place to stop for the night. Sweet!
Overnight Stabling Websites

On top of that way of finding a place there are several outfits that work as clearing houses for Overnight Stabling Providers.
Another option, especially out west, is Boondocking.
If you've got your trailer equipped to carry sufficient water and feed for your long legged partners, and also have some variety of lightweight, portable pens to hold them__you can just pull off the road in just about any National Forest or BLM land and set up camp for your overnight stabling!
Some would argue that you could, lacking the pens, simply unload and tie them to the trailer ties for the night.
Now, in the old days, "Tie stalls" were common. In a pinch that'll work today. My personal feeling is, after riding in that lil' stall in the trailer all day, Ol' Chigger deserved better than that.
It's gonna do that good horse a lot more good to be able to move around and work out some of the kinks of road travel and let the "Road Buzz" wear off a bit.
My experience finding boondocking camps over the past hundred thousand miles of RV Boondocking travel for six years or so might give me a sense of confidence; but it also gives me to know that finding overnight stabling for your horses is an easily doable deal__Even in new and unfamiliar country.
All you have to do is prepare yourself with the right tools and some confidence in yourself. Then just get to hauling.
Return from Overnight Stabling to Goin' RV Boondocking