Quartzsite has More
Than Just Dust and Cactus!

Quartzsite is the winter home of Rockhounds and Jewelry Makers!
Sitting out in the dust of SW Arizona is the "Q". Every winter the population swells from a few hundred to, some claim, a couple of hundred thousand.
RV's of every type and description scatter in boondock camps across the desert surrounding "The Q" or settle in for the season in RV "parks" that dot the small town...
... to escape the frozen north... play on their ATV's in the Arizona Desert... attend the RV show at the "Big Tent" and... Make Beads, Knives, fused glass, cabachons and even wire work at the Quarzsite Gem and Mineral Club (www.qrgmc.org).
Their digs aren't something to write home about. Mostly just a non-descript cement block shop...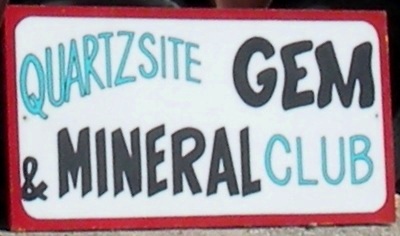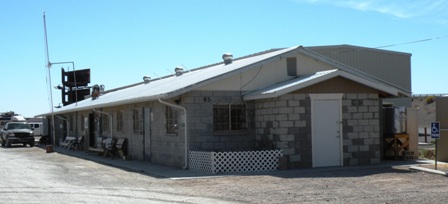 ... But inside they've got a collection of saws, grinders, and polishers, as well as the folks with the knowledge to teach you how to use 'em.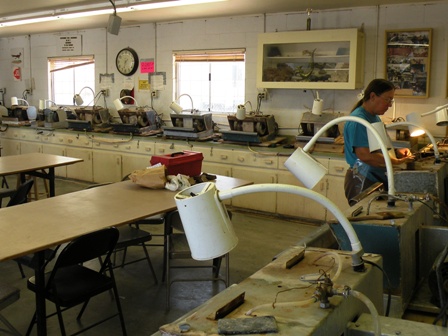 The first step for most folks in the Lapidary shop is taking a slab of stone cut in the "Big Saw" room and sawing it to a rough shape of the hoped for gem...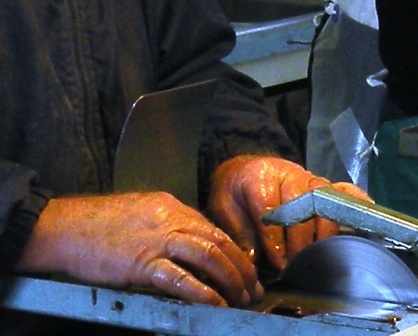 Then you move on to a succession of grinding/polishing wheels to shape and polish your cabochon... Heidi has spent the better part of the past week down there...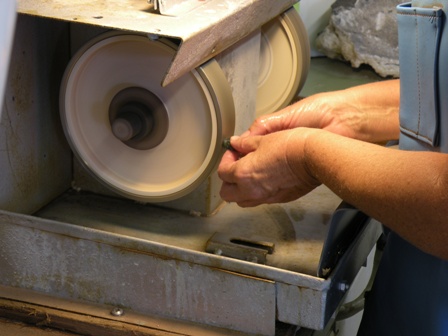 She took the class... and then watching the others work, and listening to their "tips"...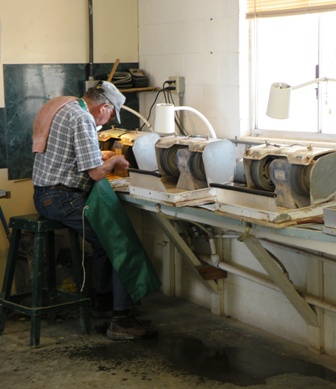 ... She took the first Cabochon she'd made in the Cabochon class here to the wire wrapping class. The piece turned out pretty good for a novice cabochon builder and wire wrapper!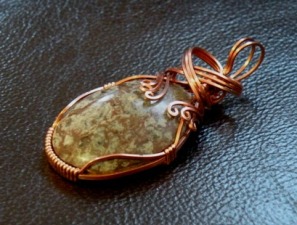 Maybe her years of bead embroidery, bead weaving and all that peyote stitching creates some skills that transfer a mite to other techniques!
They even have knowledgeable old rock hounds lead stone hunting day trips out into the surrounding desert where you can find your own rock to get cut into slabs with their Big Rock saws..
They've got shops set up and instructors to teach you about;
Lapidary
Silversmithing
Casting of metals and glass
Faceting
Opal
Carving and Knapping
If you've got an interest in any of those pursuits, you might want to plan on spending some time in The "Q" this coming winter!
We hadn't been attracted to the area when we first came here last year... Only came to meet some family for a few days.
I mean... who wants to go camp out in a dusty, blighted, desert... right?
Well let me tell you. It really didn't take too long to get our minds changed a bit. If you hide your rig out a ways from town boondocked in a quiet RV camp, you'll soon find that this desert has a special personality all it's own. There's hiking and sights to be seen... Big Horn Sheep even! ... and so many stars above in the darkened desert sky.
While in town you've got Silly Al's and the Grubstake for good food... and the Quartzsite Gem and Mineral Club to exerciseand stimulate your artistic genes! Not to mention that big RV show back in January!
Judging by the way Heidi's imagination has been sparked by the place... we'll be spending a bit of a few winters here in Quartzsite.