Organize your departure with a Road Ready RV Checklist !
This is the Road Ready RV Checklist I use to prevent the grievous impact of Early Old Timers disease.
How often have you overlooked or forgotten something in the rush and confusion to get loaded up and down the road? Checking off items in a regular routine with a Road Ready RV Checklist can help prevent those simple mistakes that can cause so much heartburn.
Exterior items -Road ready RV Checklist
___Awning retracted and secured
___Camp Fire DEAD ( soaked and stirred)
___Groceries/supplies taken out for the camp Stowed
___Firewood Loaded (any that you take with you anyway!)
___Camp Equipment Stowed(awning mats,chairs,tables,BBQ,etc.
___Antenna / Dish Secured (Internet and/or television)
___Shore power and water disconnected. Cord/hose stowed
___Levelers/stabilizers retracted
___Leveling blocks stowed
___All Tires Inspected
___All Tire Pressures and lug nuts Checked
___Access Doors Locked
___Trailer Door Locked
___Truck hitched to trailer
___Marker / Brake Light Check
___Wheel chocks pulled and stowed
Fuels and water system items - Road ready RV Checklist
___Motor Fuel Level Checked** (diesel/gas)
___Propane Level Checked**
___Grey Water Level Checked**
___Black Water Level Checked**
___Fresh Water Level Checked**
___Water Jugs Secured
___Aux. Propane Tank secured (from your barbaque etc.)
___Propane tank valves off (unless the refer. will be on)
___Sewer Hose Stowed (if used)
___Fresh/grey and black water tank valves checked/secured
___Pump Off
___Water Heater Off
**Compile a TO DO list as a reminder if you need to dump or fill water etc. if those facilities are not available at your current campsite.
Interior items - Road ready RV Checklist
___Window Blinds Secured
___Windows Closed
___Vents Closed
___Misc. loose items secured in their transport locations
___Clothing Stowed
___TP and Paper Towels (add to shopping list if required)
___Add any grocery needs to shopping list as they are identified
___Laundry Bags Stowed (convenient for laundromat access)
___Any Cabinet Locks Secured
___Trash Bagged (ready for legal/appropriate dumpster)
___Trash bags (add to shopping list?)
___Furnace/air conditioner thermostat OFF
___Refrigerator OFF(unless used on 12v/gas while traveling)
___Refrigerator door closed and locked
___Bathroom door secured
___Slide(s) retracted and secured
___Secure "living room" chairs
___Shopping List in Cab
___Camera Ready and in the cab
___Laptop in Cab with GPS navigation system!
___Daily CD's in Cab
___Daily Maps in Cab
___Daily RV Log ready for use in the cab
___Cell Phone in Cab plugged in for power
___Verify "papers" are in cab (Insurance, veh.reg, pet health cert. etc.)
Final actions - Road ready RV Checklist (Before we pull out)
___Rearview mirror and seat position checked for current driver ****(Before moving.......not rolling through a campground!)****
___Where did you put your wallet/Purse??
___Final Hitch Security Check
___Final Camp Inspection Walk
___Final Rig "Walkaround".......(looking for any odd, out of place things we might have missed before!)
NEVER BACK YOUR TRAILER WITHOUT FIRST POSTING A LOOKOUT! Using small radios (We do) is a huge help, and eliminates a lot of "debate". Don't get in a hurry. Arrive safely!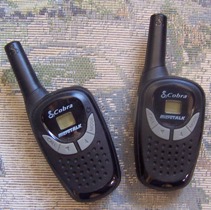 ***IF YOU ARE A LONE TRAVELER***.......GET OUT AND VISUALLY VERIFY IT IS SAFE TO BACK UP. THEN, DO SO CAUTIOUSLY. Enlist the help of a volunteer if at all possible. Proper caution and patience at this point will save you a hellatious amount of grief.
We're ready to go! As always travel safe, and I hope to see you down the road!

Before you can be packed up and Road Ready, you have to have the goods to pack up! How many times have you headed off to the store knowing exactly what you goods you needed .... only to forget several of them as you walked up and down the aisles. Here is an RV packing and shopping checklist in pdf format to help you cut down on the forgetfulness!

You'll find the Road Ready Checklist pdf file right here! Print it out at your convenience.


Return from Road Ready RV Checklist to Goin' RV Boondocking