RV solar system DIY
by Denny
(Richard's Landing, ON P0R 1J0)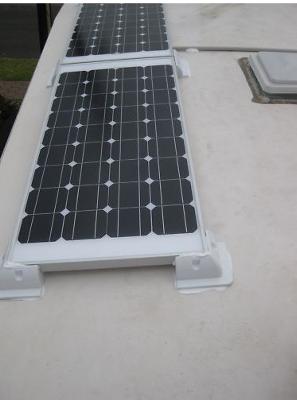 There is no need to ask others help to install panels on your RV, you may try DIY. I have done it for my RV.


I bought a new RV some days ago,and thinking of installing panels on my camper van.
As you know, we generally use the Z-style aluminum bracket to mount a panel on the roof. We need to drill hole in the roof. It is not a good way.
But at last I have found a good solar panel mount for my RV. It has no need to drill hole now, and is very easy to install. It can be used with
any sized aluminium framed solar panel to provide a secure fixing for vehicles, caravans, boats, etc.
It supports the solar panel at the optimum height above the surface to enable aeration from underneath, ensuring the solar panel functions as efficiently as possible.
I just bought 3 sets of the solar panel brackets, and 500ml Sikaflex-252, then the panels on my RV roof.
Attached are some of my install photos. Hope you can discuss with me.
Also I'm glad to share the mount supplier website:
http://brightsolar-power.com/index.php/product/view/138.html