Stop all the hassles
with an  RV detachable power cord!
Installing an RV detachable power cord on your RV eliminates all of the heartburn you have been having with your rigs power cord / umbilical connection.
Eliminates fighting the stiff cord in cold weather
Eliminates the "Vermin Highway" of the umbilical access hole
Stops all the dirt from getting pushed into your rig
Makes your power connection weather proof when in use
I got weary of fighting all the mice trotting right up the power cord, through the hole and into my home! I tried stuffing plastic bags, dryer sheets, even steel wool in around the cord when we were plugged in somewhere. What a hassle!
Just knew there had to be a better way. Finally saw the detachable power conversion kit, I settled on, at Camping World. Pricey at $89 full retail for the kit. But camping worlds power cord conversion kit is priced pretty much the same as a couple of other companies I have seen.
The good quality of the parts included in the kit made the price a bit more palatable.
Especially if you consider that I have already had to remove the entire belly pan of my rig. Remove, clean and reinstall all the tanks. And, remove and replace all the insulation in the floor. All due to the invasion of an army of mice!
Trapped 32 of the filthy little vermin in two weeks! Don't want to have to do that again!
That was the summer of the "Rat Wars" !
Of course, being a Presidents club member I got a good discount on the price I would not have recieved at the other companies.
I won't bore you with all the installation instruction details. They are clear and easy to follow in the kit. Here are a few pics though of the installation on my own rig. A clean, very well designed, in my opinion, easy to install, piece of upgrade equipment.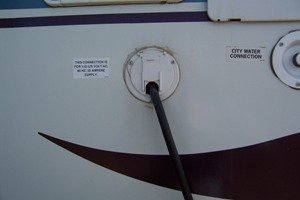 *The picture above is the Factory RV Power Umbilical.
*The picture Below, is the Marinco power umbilical installation.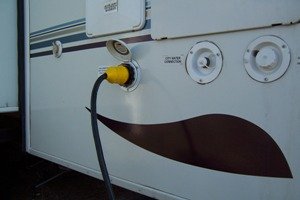 **The package and parts of the RV detachable power conversion kit**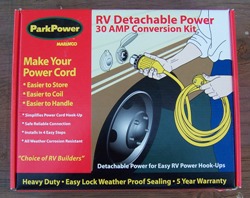 **RV detachable power cord installation work in progress**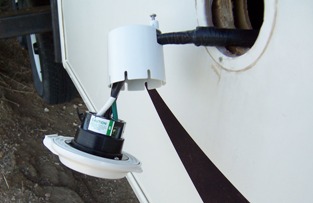 **No hole for the mice here!**
**A nice neat power cord to stow**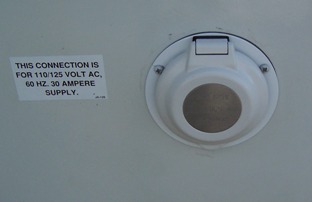 **Weather tight and Vermin proof!**
I would have preferred a little softer price for the power conversion kit, but it is a good quality, easy to install setup that has eliminated a variety of hassles for me.