The RV Guides... from Other Authors!
This section will be filled, over time, with all of the RV guides, in ebook format, that I can find...
From dump station listings and maintenance how-to offerings, to Regional Travelogues and RV Boondocking books... If I can find 'em, I'll put 'em right here.
Keep checkin' in on occasion, to see what I found that I thought you might find useful.
Many Thanks!
---
Sanidumps:
You'll be able to acquire an eBook with complete listings and directions to all the RV Dumps you'll need, all over the U.S. and Canada by Clicking Here!

RV Education 101:
Rv Expert Mark Polk Is The Producer & Host Of Americas Most Highly Regarded Series Of DVDs,Videos, Books, And E-books. Polk Provides RVers With Qualified Rv Information, Tips And Safety Advice.Click Here!

Rv Travel Guides: The Frugal Shunpikers Guides To America: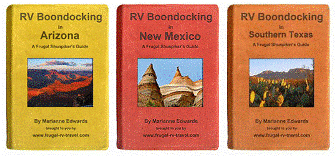 A Series Of E-book Guides For Rv Travel On A Budget. After 8 Years Of Driving The Back Roads Of America The Author Reveals Countless Free Camping Locations And Other Advice For Budget Rv Travel.Click Here!or click the Books!

Rv Packing Tips, EBook:
How To Pack Your Rv- Not What To Pack.Click Here!



Rv Freedom Now: 10 Easy Steps To Full-Time Rv Freedom.: New EBook Packed With Solid How-to Information, Resources And Real Stories From Other Full-timers... Click on the Bookcover
Return from RV Guides to Goin' RV Boondocking