SW Utah Campsites for RV Boondocking
These are the SW Utah Campsites we've occupied in our RV Boondocking Travels. The Arbitrary lines I've drawn to mark off the SW Quarter of the state is a line through Nephi, on the North and Hwy 12/Boulder on the East.
---
Escalante, Utah
Grand Staircase-Escalante National Monument
Hole-in-the-Rock Road 5 miles east of Escalante, Utah

Bureau of Land Management Escalante Interagency Visitor Center 755 West Main, Escalante, Utah Ph: 435-826-5499

Type of Camp: dispersed Fee: A No Fee Permit is Required
Rig Size Limitations: None... You could park a large Motorhome/Bus
Road Surface: Hole-in-the-Rock Rd. is gravel. Camp area is Dirt.
Cell Signal: 1X 1-4 bars w/Verizon(slow but reliable service with my Wilson Cellular Amplifier)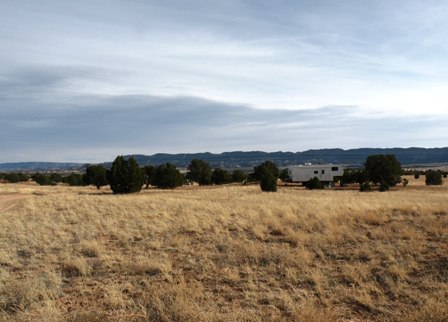 Directions: Go east on Utah State Hwy 12, just over 5 miles from Escalante, Utah, passing Sawmill Rd. Turn right/South on Hole-in-the-rock Road. Go only a few hundred feet watching on the right/south for a dirt road angling SE... go a couple hundred feet farther on the gravel road and there is a second access at a green dumpster. The first dirt road is the easier access. Turn in at either and find a spot... there are several loops in the area with spots to pick from.
How We found this Camp: We stopped in at the BLM Visitor Center in Escalante. Got plenty of Maps and good info.
Season/Month I Observed:
April 2011
Weather I experienced:
All across the board. 50-75 highs. 30-50+ lows. Windy at times.
Available Services Noted:
Fresh Water
potable water in Escalante at Rest Area / Lions Club Park **unverified**
Dump Station
'reported by SaniDumps.com' = Escalante Petrified Forest State Park **unverified**
• 710 North Reservoir Road Escalante UT
• 1 mile West of the town of Escalante on Utah 12 "Dump is FREE but $6 entry to the park...
Fuel/Propane
Escalante, 5 miles
Medical
Banking
Wells Fargo Bank in Escalante
Repair Shops
A couple of Auto Shops in Escalante
Grocery
A small Grocery in Escalante
Hardware
WiFi
Veterinarian
Comments
1. You can acquire the required permit at the visitor center in Escalante.
2. The visitor center has excellent maps and area information
3. Hole-in-the-rock Road runs clear to Lake Powell for 4X4 Addicts.
---
---
Return from SW Utah Campsites to Goin' Rv Boondocking