July 1, 2009 07:42 - In Pursuit of Dreams

Missed it by That Much! Aw shucks! ... Came close, but no cigar... yet... thought maybe I'd hit the 10,000 unique visitors to the website this month... made it to 9917... close! Next month it's pretty likely though!

And, the success of this lil' enterprise is pushing me to make one of those 'Big' decisions...

I've told ya'll I was contemplating steppin' off to run after a long held dream... and a lot of you, and people close around me, have said, time and time again... that 'Bad Times' are often just Opportunities in disguise... all you have to do is be able to recognize 'em.

So... I've been a lookin' and a watchin'...

It's also a pure fact that the folks that have flown the highest had to reach for that... They had to risk the most. Well... it's time a did my 'thing' or get off the pot...

I do believe, and it's kind of scary... even for 'Billy Bad Ass' as one of my 'Angels' calls me... but I do believe I see one of those hidden 'Opportunities'...

The events of the past few months... have served to create a situation where... just after the start of August... I'll have the opportunity for enough time... and enough assets... (razor thin... but if I only eat every third day, it should work out) ... :-) ... to take off on a 'Cowboy Sabatical' of sorts.

It puts my long held dream of making a Long, Wide, Yondering, Circle into action... as well as opens up the ability to focus, with few distractions... and I'm expecting a whole slew of inspirations... on my writing... Two dreams and joys in one... Yondering and story telling... Sounds like a pretty good deal to me...

Now... for years that dream was to do that Yondering, Horseback... these days... the transport in the dream has morphed into an Iron Horse! Yes Sir! A rumbling, wind splitting, motorcycle....

Hmmm... RV Boondocking is still RV Boondocking... even if your RV is an Iron Horse... ain't it? :-)

OK, I know... parts of that Iron Horse are aluminum... and maybe even bits of plastic and some rubber... but you get the picture! :-)

Now... Can a man make a living writing? If you read what a lot of other folks say about it... not very likely for most... but some have done it. They figured out the niche they can fit in to... and most of them require eating more than every third day! :-)

Can I? Don't know yet... Maybe not... I just may crash and burn... Hell, it may even be likely that I crash and burn...

It's kind of like when I was rodeoin'... Never made no dinero... the other boys always managed more points then me... but... they didn't have the crowd pleasin' wrecks I did either! :-) ... I was the one they were talkin' 'bout :-) ... "Did you see that guy hit the ground? CRUNCH! Oh... that must have hurt!"... :-) Yes sir... I did the entertainin'! all they did was sit on a horse and make some money. :-)

Bottom line? I figure to have several months to a year... to chase the dream... chase LIFE... on my own terms... Only thing I do know is if I don't make the run at it... if I don't step out of my 'Comfort Zone' and make the try... I'm gonna regret it the rest of whatever life I have left... and curse myself for cowardice.

What's the worst that can happen? ... OH... gettin' splattered on the front end of a Freightliner on I-80 would be a pretty bad day... but mostly... if it don't work out... and I have to stop rollin'?... I just go back to the 'life of quiet desperation' we've all been livin' anyway....

... OK... so ... I ... haven't been very quiet about it... I admit it... taking 'stuff' silently just ain't my way... I fight and squall. Goin' along quietly is just not how you should expect this Ol' Buster to behave... No sir...

I may get tired and wore down on occasion... feel sorry for myself for a bit... but... eventually I'll pick up a hammer again... and go down fightin' and kickin'.

Lots of work to do... just a short while to get my outfit squared up... Things are tight and hard choices to make... but then... It's the joy and Healing Power of Spitting the Wind on Freedom Road for this Ol' Geezer!

Take Good Care
Brian

July 2, 2009 07:56 - A Fine Day Yesterday... and Today Threatens to be a Repeat!

Got up yesterday... and decided it was time to 'force things'... just a mite...

As you might expect... the budget is juuuuuust a mite tight... but you know... I've took off in the truck with enough dinero to last me 10 days for gas and groceries... lookin' to change neighborhoods... and then... camped up on the Gros Ventre river in Wyoming... found a job a day before that cash ran out...

... so I've been 'broke' before...

You know what? The money ain't that important... You're not in trouble... unless you run out of guts... and... to be honest, that's one of my...many, many, many... 'issues'... if you're lookin' for a guy without baggage... keep on lookin'! ... 'cause that aint' me... this feller is haulin' a whole dang train load of it! :-)

... anyhoo... you've never been totally 'alive'... until you've teetered right there on the edge of REALLY crashing and burning...

When you do that... and get through it... Oh Lordy!... the gigglin' just don't quit! When you do something that everyone else is quaking too much to even try... even if you do it poorly... you stepped off and Did It... while everybody else was just standin' there with their hands in their pockets watchin' and wishin'! ... You Are Alive! Yes Sir... Shining Times!

So... the issue? ... I've been livin' 'careful' for too long... I've missed the gigglin' I used to know from doin' things others thought 'Nuts'.

Want to know a secret?... there, a couple weeks ago... when I jumped those 'Managers', in defense of my 'Angels', for their deceitful, disloyal, cowardice?... The action that got my kiester fired? ... well, I discovered, doin' that... I hadn't felt that good for years! :-)

Yes Sir... findin' out I still had a little ability to 'step up' and damn the cost, when it's called for, was a fine feeling... a little arrogant and egotistical maybe... but a fine feeling just the same! :-)

So.... Long winded today... back to 'Forcing things' a bit...

I decided that, if I was to be ready to make a 'Wide Circle' once the 'Financial Stuff' gets settled here in a few weeks... I better have my outfit mostly ready to go.. and it's gotten pretty weak the last few years...

So... I took my pretty self to REI and spent dinero that might could buy groceries and refreshed a lot of my 'outfit'... tuning it for a Motorcycle Camping Tour of 'Cowboy Dimensions'. :-)

Yes Sir. RV Boondocking... Motorcycle Style!

Picked up the Tent I'll be needing, a footprint for it, a second duffle to pack the camp in, a rain cover for the two duffles and one of those fold up chairs the hippies use for backpacking... a heck of a good start on squaring up my outfit...

Can't you just see me... sittin' in a tent up on the Olympic Penninsula... rain just a hummin'... me settin' in my tent... in my lil' hippy chair... with my laptop... actually on my lap! :-) ... tap tap tappin' away? ... and that poor ol' motorcycle... standin' out in the rain? :-)

Oh Lordy! SHINING TIMES!

... and the result? ... later, when I went to pick up Slick from her repairs at Yamaha... the bill was the better part of the money I'd spent at REI... LESS... than what their estimate had been! Sweet! :-)

... and then, I talked to Heidi... and the repair on her car... that broke when... I ... was driving it... was a hundred bucks less than the estimate... Sweet again!

Then this morning a phone call.... three days ago... the pup of one of my 'Angels' daughters, had jumped out of her truck at road speed... and, surviving that initially, run off. We searched for several hours... and 'poof' he'd just vanished in the farm land...

You could just see that lil' gals heart breaking right there... I can not stand to see a woman cry... and there I had two of 'em! Brianne for her lost pup... Terry for her Daughter... Damn!

Ever'body figured he'd been hurt so bad from hitting the road at speed... that he'd just crawled into some bushes somewhere to die... I managed to find some tracks, back at the start, where I figured he'd HAD to go... tracks of a 'caninine' of the right size... Movin' out... and sure looking UNHURT... and I said So... But, they got lost going into a hay field...

I kind of told 'em... those aussie/heeler dogs have an amazing will to survive... don't give up quite yet... but it's a difficult thing to maintain hope sometimes... and to tell the truth...

Well... this morning, that phone call about 6am...

Jokers Back! He turned up at the house, several miles away where they used to live... :-) SWEETEST! Yes Sir! I could hear the giggles in Terrys' voice... she felt so bad for her Kid... and now they were all three, Terry, Brianne and Joker... aces and eights!

I have to keep telling myself... and those around me keep my feet to the fire when my will gets weak... but if you don't lose heart, if you can hang on to your dreams and your courage... you can fight your way through the darkest times... and it's often in those darkest times... that you find your most precious friends... and break out into the brightest sunshine.

Yes Sir! It threatens to be a fine day! :-)

Take Good Care
Brian




July 4, 2009 07:46 - Just a Day of Chores...

... borrowed a truck and hauled the Eagle over to the Co-op to dump the black tank, fill propane and top off the fresh water... Pretty surprising ain't it? ... that I only have to dump the black 'bout once a month... so there! ... all you that thought this ol' geezer is full of $%*& !

Picked up some more odds and ends in preparation for the run I want to make... and a few shorter that I'm hopin' to start gettin' to shortly... one foot in front of the other... just keep on bangin' away...

Took a spin out through the Poudre again late yesterday... the rafts and kayakers are gonna need stop lights... or River Traffic Cops pretty quick... there's sure no shortage of 'em on that river! and the river is runnin' strong... the snows are meltin' fast up in the high country... that and the near constant rains this past month have it runnin' bank full...

Was nice to have the bike back... and with good tires... so I could run without wondering if I was gonna hear 'bad noises' and find myself slidin' into glory! :-)

Down to not much more than a month with the old place... and no Da Da Da DAAAAAAAA! Music yet! :-) ...

and, ramblin' 'bout other things... Ya know... I find it curious... so many folks will tell you to; "Follow your heart and your dreams"... but once you do... once you step off and start after that... all they can do is tell you how wrong you are... and "You need to do this" or "You need to do that"... "Listen to Me! I know what's best for you!"

So many folks get caught up in - How smart THEY are - ... and forget that only the person wearing the boots has the right to choose where those boots are gonna take 'em...

Worse, it hurts my feelings... when I catch myself exersizing that same, exact, poor, behavior... When I KNOW Better!... arrrrgggghhh!

It gets wearisome don't it?

Truth is... We've all got to take a step back... Let those we value the most, live their lives, dancin' to their own music... without all the heartburn of all our; "I'm smarter than you so listen to me!", interferences, and just try to give 'em the support, the leg up, the courage to do just that... and then be there to pick up the pieces, without any 'judgements' should they fall...

... I think it may be one of those... "People who live in glass houses shouldn't throw stones" sort of a deal...

... just a thought...

Well...it's a beautiful sunny day... time to go chase a few errands, and take an easy roll through some High Country...

Take Good Care
Brian

July 7, 2009 08:32 - North Park...

Took off Sunday... just couldn't spend any more time settin' 'round here... waiting for 'things' to happen...

That's the part I have great difficulty dealing with... I can make a decision fairly quickly... but then... the waiting for the decided events to happen... turns my brain to mush... way too much time for second guessing... self imposed doubts... and all the other difficulties that arise when events have 'time' to blow things up...

... so... getting out on the open road, fills my head with the views of far country that soothes a weary soul...

Headed straight out Poudre Canyon... the best access to North Park... and always a beautiful canyon... especially nice Sunday... The air was clear, the river high and full of rafts and Kayakers...

The lower canyon was fairly slow, with lots of traffic... much of it two-up two wheelers...

I guess I was operating on a different frequency than they were... or I had a greater need to burn off some nervous energy... 'cause I was feeling kind of blocked by all of 'em...

... till I got about mid canyon... the thing starts to open up and a fella can get to rollin'... at that point, I got clear of the 'crowd' and could get to pushin' the twisties a bit more...

Followed a couple of Harley boys up over Cameron Pass headin' for Walden...

... and wouldn't you know it... Rain! :-)

I swear, lately I'm thinkin' they've moved Colorado to Seattle! I've never seen it rain, this much, this late... It's July! and it's STILL RAINING!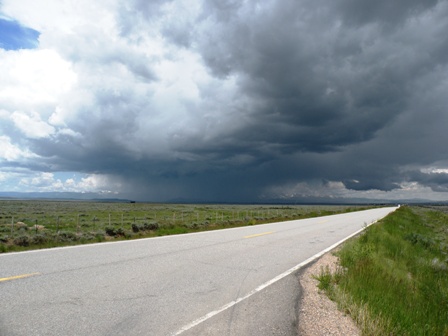 See that storm?... if you look down the road... way off there in the distance... just there at the end of that road... that's where Walden sits...
... wanna guess where that storm was headed?
Yup... rain... hail... got fueled and got rollin'... just nicked the edge of it... Had planned on turning south for Rocky Mtn Park... but it looked like a bunch of storms that way as well... so I cut north and ran hard... it spit on me around Cowdrey... but I broke back out into the sun just short of Wycolo...
... stopped there for some lunch... and stopped too long. :-)
A storm caught up with me just as I pulled back onto the pavement and whacked me with some more rain and hail.... :-) but once again managed to run out of it... and had clear road for the most part... on back to Fort Collins...
... and more waitin' for to see what'll happen next....
Take Good Care
Brian
July 11, 2009 08:13 - The Rain is gone... Now It's Just Too Dang Hot! :-)
OK... When a fella is good at whinin'... he's just gotta go with his strengths! :-) Don't he?
Whooooeee!... all that rain we've been havin' is bakin' back out of the ground... and it now appears they've moved Colorado from Seattle... to Missouri! :-) ... Hot an' Humid... aw well... the only people takin' shots at me lately... ain't been hittin' anything... so I'll Take it! :-)
Plannin' on playin' with Motorcycle Touring Gear today... gonna set up that new REI Hoodoo 3 tent... and see just how 'easy' it is... sort out stuff and fiddle with how it will all pack onto a bike...
I've got to have things Ready to Roll, in the accelerating, near future! Freedom Road beckons... and I'm looking forward to rollin' many miles, for a while... just soaking in the Healing Power of the Open Road... :-)
Yes sir... RV Motorcycle Boondocking Touring on Freedom Road! ... now that... is a mouthful ain't it? ... and I'm not even sure it makes any sense... to anyone other than my bald headed self. :-) ...
In amongst all that... out there in the background, are many 'things' just kind of settling in... and gettin' themselves slowly sorted out... as time has a way of doin'... if you let it...
Many, many folks have been pushing for 'Decisions'... "You gotta do this... and You gotta do that"... and you know what? Them poor devils had better get used to frustration! 'cause it just ain't no time for decision making! ... and WE just aren't gonna get pushed into such things right now... Making decisions... when you're still kind of 'Inside out' ... is kind of like turning on the faucet to drain the tub...
It just don't make no dang sense! ... Nope... I'm... We're... takin' our time... takin' things one day at a time... one lil' step at a time...
... Life is starting to calm down... and take on a bit of quiet that is much appreciated.
Now that we're finally getting some of that 'quiet'... a fella... or fellerette... can have some opportunity to do some serious, inside the skull comtemplations... without all that clangin' and bangin' that keeps a person from bein' able to even think.
So... we move ever closer to that property closing... to some weeks splittin' the wind on Freedom Road... and with a light at the end of a long dark tunnel... startin' to grow a bit brighter...
Hmmm... that seems a lot like the restoration of some Hope... don't it? :-)
Take Good Care
Brian
July 12, 2009 10:13 - Adding the 'House' to my Motorcycle Touring Outfit...
Took one of the hottest days... maybe the Hottest day... we've had around here all summer so far... to 'Test Setup' that new tent...
... good thing it was a simple thing... by the time I put it up... took some pictures... and then dropped it and repacked... to photo clamped onto the motorcycle... I looked pretty much like I'd been swimmin'! Whoooeee! ... I'll be dreamin' of that day next winter... when it's 10 below. :-)
But, the good thing is it was actually all there... there was no faulty, manufacturing defects... and it sets up and breaks down easy enough for ... easily confused people :-) ... to get along with.
So... now... in addition to a 30 foot 5er - without a truck :-) ... and a Yamaha Motorcycle... I've added a 'Nylon RV' to my RV Boondocking outfit... :-) ... spelled REI Hoodoo 3 Tent... I did an article on MTFR... if you're interested in a Motorcycle Campng Tent
Ya know... I'm kind of looking forward to the times ahead... there's all sorts of things happening... there's all sorts of opportunities... for RV Boondocking... with all sorts of variations floatin' around an already cluttered mind... Motorcycle Touring, Solo - and - Two Up!... for Laughing... and for just, plain Ol' LIVING!
I guess the old saying still holds true; "It ain't over... till it's over!"
... I need to load up for a few days, maybe two or three nights, and try to roll through a little bit of Colorado, Motorcycle Camping... kind of a 'warm up'... to knock the rust off and hunt for 'kinks' in my outfit... or, should I say - Want to? :-)
gonna have to pencil it in there... real quick!
The whole outfit ain't assembled yet... odds and ends to roll in... but the majority of the 'Bigger' stuff is there... ready an' waitin'...
One big thing... is Slick... She's a good bike... but... She was bought 'cause the petite lil' thing fits well on the tail of the 5er... and though her weight is pushin' the envelope for haulin' back there... I'm sure the 'engineers' would whine... that Yamaha hauled well on that Motorcycle Carrier... But...
She's not really built for the long roads I'm contemplatin' now... Truth is... I've already put more miles on her odometer than the mechanics that keep her in shape say they've seen on any others of her 'sort'. :-)
So... the scoutin' for a Bigger Road Bike started some time ago... to know what's what these days... and right after the deal is done in early August... the plan is to upgrade the scooter under my kiester to make those miles I've got planned roll by a mite easier...
As always... lots of things simmerin'... hopes and plans workin'... one foot in front of the other... and one day, I'll wake up and find out where I got to!
Take Good Care
Brian
July 16, 2009 08:25 - I Do Believe We've Been Down This Road Once Already
... and I'm thinkin' that trip was plenty... We really had no desire to revisit the place!
... Guess the Boss had a different opinion...
So... Let us review :-)
1. Summer 2007... the Sale of the House collapsed from banker's greed and misconduct compounded by my own ignorance... putting our plans into suspended animation...
3. The following year and a half or so were spent workin'... figurin'... waitin'... and watching the house market fall off a cliff.
Come this Spring... We stepped off into a pretty rough season...
3. Lil' Laurie passed... Opening up the first big cracks in my world...
4. A couple weeks later... Our Marriage imploded...
5. Followed shortly by the passing of My Father...
6. Then... back in June... just to show how well I was adjusting to the world around me... I detonated at the degrading, demeaning, disgusting, parasitic and un-tolerable behaviour of the... 'gentleman'... I worked for... resulting in the request that I park my kiester somewhere's else! Fancy talk for describin' as how my inability to accept betrayal and less than honorable behaviour got my butt fired! :-)
...and now... lo and behold... that path already traveled once...
The Big #7!
The sale of the house has collapsed yet one more time... with the failure of the buyers to lock up the financing we'd been assured... by all the 'professionals' involved... as short a time as a couple weeks ago... WAS locked up... WAS 'pre-approved'... ready to go... 'In the Bank'...
Yeah... So much for 'Professional'... they are that... professional... but I won't tell you they're some of the 'oldest pros'... I'll only testify that what they done kinda hurt... and I didn't even get a kiss!
I do believe that I'll slap the next individual that tells me a house is an 'asset'... there's asses involved... and some settin'... but not in the way they mean... The reality is... that dang house has left my ass settin' alright.
... Out in the Cold!
So where does it leave us? ... Not one silly clue!
I admit... I've gotten pretty low in the past few months... low as I've ever been... I'm bone tired and weary of seemingly running against a wind, generated by a bunch of sleazeballs I've got no ability to control... or apparently defend myself against...
Each time we get knocked back a lil' farther... with fewer resources to use for recovery... It's gettin' downright ugly.
So... what's there Good to talk about?... Actually... I believe there might be...
Out of all this... In the end... I've been given a chance to "Put my money where my mouth is"... So let's see if I'm up to the task! :-)
How many times have you heard me "say/write"... that "Things"... don't count for nothin'? Easy thing to say when those things don't seem to be at risk ain't it?... It gets harder when they're all on fire... and you can either throw the lil' bit of water you have on the fire... or hand the glass to a friend who is thirsty... and walk away...
Well... I'm at the point of passin' that glass off to a thirsty friend... 'cause worryin', frettin', and strugglin' to preserve a bunch of boards and junk is eating my Soul... and our lives.
This Ol' Buster is disinclined to keep feeding the malicious, parasitic, obscenely dishonest and corrupt, 'System' we're caught up in.
Yup... the time is nigh for this bald headed, grumpy, Ol' puss gut, cowboy biker, to Cowboy Up! and put up or shut up! :-) onliest problem is... I ain't in this alone... so... we'll see how it all shakes out...
'course... I been sayin' that for some time now... and the 'shakin' out' just don't seem to ever end! Maybe I should write this up into a daytime soap opera... "As the Cowboy Churns!"... the next big thing for folks to waste their time watchin' on the boob tube! :-)
The Good that has come out of all this tribulation is;
1. The Realization... that I've been surrounded by Glorious Friends... that in my foolishiness... I'd held away.
2. Heidi and I... though not Reconciled... have started down a road that, though we've no true idea of where it leads... has already taken us back to a level of friendship that's not been there in a long while... A GOOD Thing.
3.The Truth of what I've written has been driven home... solidly... and given me confidence that though the trail I've described is difficult... and often emotionally painful... it IS the right one... for me anyhoo.
It ain't over till it's over...
Take Good Care
Brian
July 17, 2009 07:30 - In Amongst the Rain...
A couple days 'afore the 'Realtor Rain'... Heidi and I thought it would be good to take the dogs, get together and go for a hike up in the High Country...
... That's always been a good thing for my thinkin'...
So, we'd headed up into the Snowies...Northwest of Laramie...
I picked a trail, the Tipple Trail... Clean up on top... hard by Lake Marie. Figured at maybe 4 1/2 miles round trip it would make for an easy day...
Well... don't know why it took so long... but we apparently only walked at maybe 1 mile an hour... seemed a lot more athletic at the time... The dogs loved it... We got to talk and work on 'things' some... and it WAS a good day...
Kind of RV Boondocking... without the RV.... Ya take what ya can get... right?
Not too awful far in... we had to cross a creek... just a lil' creek... but the crossing was a mite iffy... brought back memories of 'someone' tryin' to cross some rocks up on Yellowstone Lake a couple years ago...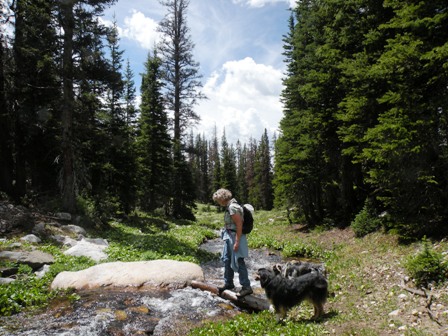 The whole trail is up above 10,000 feet... and you climb to I think something around 10,700... so... you're high... and High Country is the Church I attend... Up there... the air is clear... and most often... so is my head.
The Beetle epidemic hasn't got there yet... so it's all still green and gorgeous... This year... the snow still remains... many spots the drifts still lay across the trail two and even three feet deep... 'Someone' took a slider off one... won't say her name though to protect her identity...
You get up there... and the views go on forever... Looking back North you see the high peaks of the Snowy Range...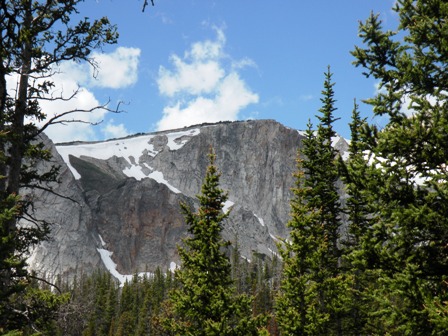 I can see such mountains a thousand times a day... every day of a year... and never get tired or weary of the view... They never seem to lose their healing power neither...
You think... "How great would it be to live here?!" ... then you come around a bend in the trail and find the spot where a bunch of miners... tougher than I am... did just that...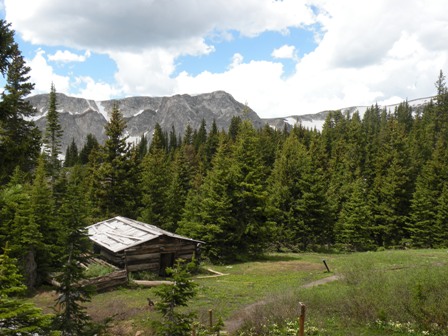 Wouldn't it be sweet to still have the Freedom to go out in some of the Boss's Mountains... and just set up Livin'? Shining Times, for sure and for certain...
Another short hike above the cabin we found a meadow that made a pretty nice spot to take lunch. Not sure how far below it is... but this meadow is hard on timberline... I expect it's chin deep and deeper in cold white stuff most of the winter... but now... today... it was only green... with a patch or two of snow hangin' on... and glorious!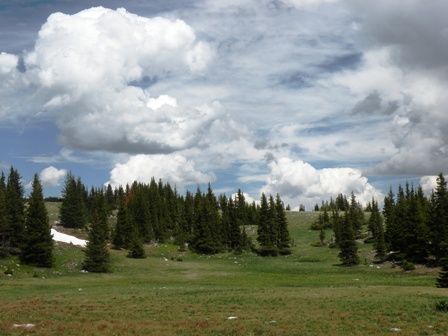 The Thunder started rolling while we sat and ate our sandwiches... and the dogs played. Now I'm not one to be scared by a lil' lightning and thunder... fact is... I love it!... but... common sense says you don't sit around, up high... with a storm brewing... so we shouldered our rucks and headed back down...
... and that darn storm never did make its' appearance... sucker was just teasin'...
That's OK... Gorgeous day... Shining Mountains and Thunder in the High Country... a day of quiet times and talk... a good day.
I'll Take it.
Take Good Care
Brian
July 19, 2009 15:58 - When Your RV Refrigerator Quits Working... the First Thing to Do...
... is get a bigger hammer! :-)
Several years back... we'd just started out on a wide circle from Colorado up the coast to the Olympic Penninsula and points east in Montana...
... We were still in southern Wyoming... somewhere 'round Rawlins I believe... still fairly early on the first day... and the Norcold Refrigerator quit...
Fine way to start a trip!
We'd pulled in a widespot to make some lunch, and the dang thing was beepin' when we opened the door to climb in our Jayco Eagle fifth wheel... I figured out, using the generator I had then, that it would still run on 110V... so we raced on in to the Salt Lake City area, and set up in an RV park that was part of an RV Shop, where we could plug in, planning to get repaired the next morning.
... as it turned out... all that was wrong was a 'sleeve' of built up crud had slid down the flue of the refrigerator burner vent and capped off that lil' 'pilot' light that works the thing...
... a bit of air hose magic and it was good to go...
So... a few days ago... I come back to the rig... climbed in and the fridge was beep beep beepin'... Damn! I ran around, swappin' propane bottles, fiddlin' here and there... and lookin' at that lil' message that just kept flashin' on the Refrigerator read out... "No Flo"
No matter what I did... it wouldn't work...
Finally... one of those lil' memory bells went off in my head... DING!... I picked up the nearest Whacker and gave that flue pipe several good thumps... and wa la! All Better! Been workin' just fine ever since... So... I guess... If your fridge quits on ya... 'fore you call a repair guy... give it a thump or two! :-)
Hmmm... I wonder... could such a thing work on bankers? :-) ...
Take Good Care
Brian
July 23, 2009 09:59 - Bits and Pieces...
Heidi called me yesterday... a friend of hers is at an 'Agility Camp' up in Laramie... She complained that ther fridge in her fifth wheel wouldn't stay lit... just like mine the other day... and I'd mentioned that to her a couple days ago...
... she told her friend to whack the flue pipe on it :-) ... yup... it lit up! :-) ... but lasted only two days and quit again... so ... apparently a 'whuppin' ain't a permanent cure :-)
It seems we've taken to a weekly hike up somewhere. We returned to the Snowies Monday... for what was supposed to be a 3 1/2 mile walk around the Libby Creek Loop...
You start out from this parking area at the Green Rock pic nic ground...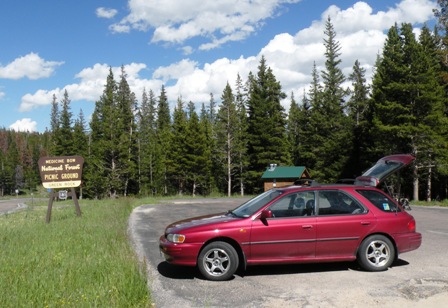 now... a lil' sidebar here... I got in trouble a bit ago... 'cause I referred to that lil' red car... as Heidi's 'new' jalopy... oops... so... from now on... that Lil' Red Conveyance shall be ever more known as 'Lil' Red'...
Anyway... you start out from there... and shortly after crossing a small foot bridge away from the parking area you pass through this meadow along Nash Creek...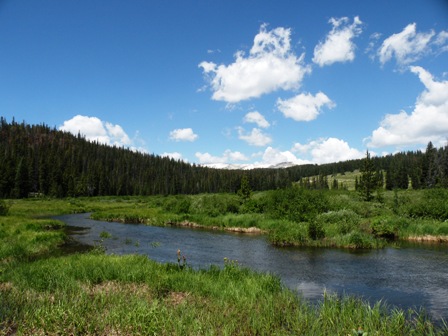 This trail mostly winds through fairly heavy timber... with few 'Far' Views... but the quiet and closer feeling solitude is pretty nice too... The only problem with it is... I've never figured out how to put it in a photograph very well... I suspect I try to get it 'all' in... and what's needed is to focus on some of the smaller bits and pieces...
Something like these two little shots... The dogs had stopped at a little stream, coming off the mountain and heading down to Libby Creek, to get a drink. It was along a heavy shaded section of trail... I looked up the creek a bit and there was a spot where the sun found a hole in the trees to light up this little spot....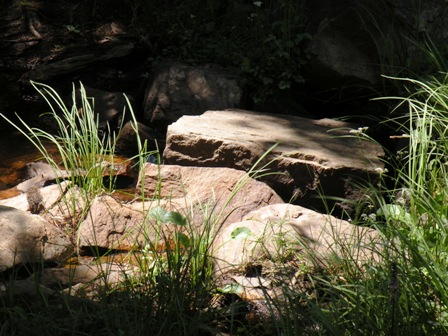 It was an awful pretty lil' place... Cool on a warm day, secluded with the heavy shade... and quiet except for the soft gurgling of that little creek... I'll take it...
farther along... I just happened to look back and there stood this tree...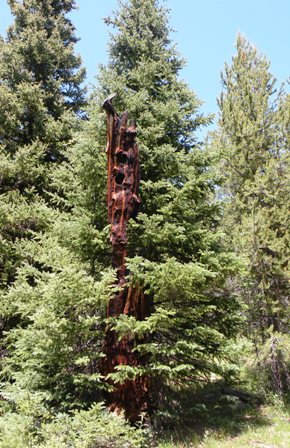 It might sound pretty foo foo... but the first thing that jumped into my head was how my 'Guardian Angels' have wrapped me up the past few months... kind of like that fir seems to be holding that Ol' Burnt snag...
... yeah I know... I'm in severe danger of turning to some mushy brained Ol' fool... :-) ... Oh well...
But up close...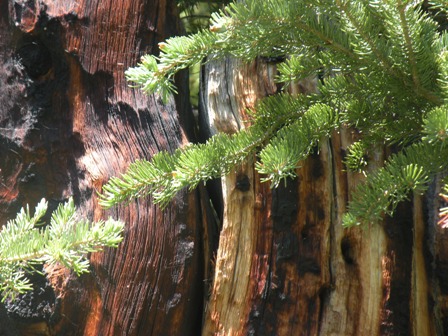 somehow, to me, it seems to be a piece of art... orrrrrr.... maybe you're right... and I'm just goin' soft! :-)
Anyhoo... though this trail is a harder one to photograph.... maybe that's a good thing... it makes you slow down and look closer... focus on what's right up close, rather than what's so far off... hmmmm... sounds kinda like life don't it?
There are a few long views, though not many... 'bout the only one I took was this, looking back east, toward Centennial and on past toward Laramie...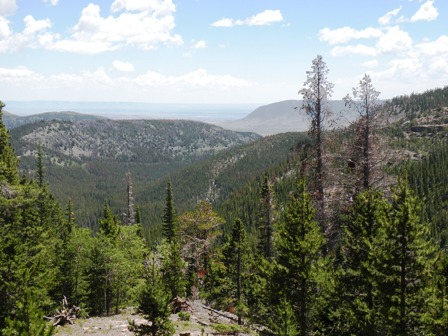 Now... remember I said the trail is 'supposed' to be 3 1/2 miles?... well... that's only if you don't misremember where the dang thing goes...
We hooked around and came to a trail intersection with two arrows... pointing in opposite directions.... Now... -IF- the map you have in your ruck don't have this particular trail marked... and you remember the parking area as being 'below' the loop... and you turn right... and the loop is actually below the 'parking' area... so you should have taken the trail to the left... you end up adding something in the vicinity of two miles to your lil' hike!...
...oops
So... she says... "Are We Lost?" ...
"Naw... we're in Wyoming!"... :-) "We're not lost... just don't know where were at!" :-)
Pretty hard to get 'lost' in the west... If you don't know where you're at... just head down hill... till you hit a creek... follow it down hill till it hits a bigger creek... eventually one of 'em is gonna cross a road... and all roads lead to Wal Mart! :-)
'Bout the time we got back to the car... 'we' had a good idea... Heidi claims it was her idea... :-) ... If you don't want to use a map... or the map you have doesn't have all the detail you need... everbody these days carries a digital camera... almost as common as a cell phone... fact is you could use one of those as well!
Take a picture, at the trail head of the trail your gonna take... most of the trail heads have one of those info boards... something like this...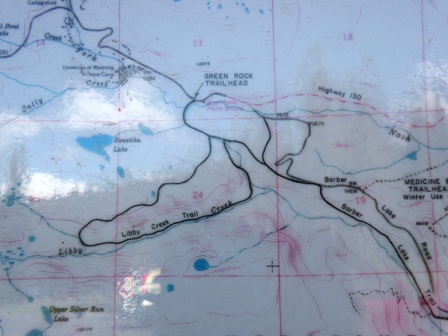 Thing is... if we'd done that... my dyslexic brain wouldn't have 'mis-remembered' the loop being somewhere else!... can you have trail head dyslexyia? You could pull up that pic on your camera and check where the turns are at! :-) not a bad idea... even if I can't claim ownership.
But... I got us back to the car in time to stop at Snowy Mountain Lodge for some Mountain Berry Pie Alamode... if you go to the Snowies... you have to stop in there for a meal in their cafe... really nice folks and a nice lodge...
Well... I should go spend some time looking for 'other' employment... and tryin' to carve some road time out of this situation...
Take Good Care
Brian
July 28, 2009 19:39 - Red Feather Lakes...
... in the rain...
Hmmm... I ain't never, ever seen this part of Colorado... this green... this late into July! I think there's been maybe seven minutes this whole summer when it hasn't rained! :)
We decided to do our 'Monday Hike'... up behind Red Feather Lakes this week...
... only we didn't do much of a hike... the Ol' geezer went to feelin' wobbly after ony a mile or so... either a comin' migraine got him wobbly... or gettin' wobbly from probably missin' breakfast got him to runnin' up on a migraine... either way... we decided that gruntin' up the mountain probably wasn't gonna be the best choice...
... so we set down early and had our crackers 'N cheese lunch... along with grapes and a fine three musketeers bar!... while we swatted skeeters the size of small birds...
This wet summer has raised a bumper crop of skeeters for sure...
... but you got to tolerate 'em to get to purty sights like this...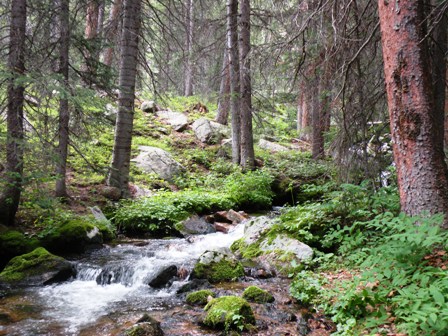 It's hard to keep feelin' poorly when you're eatin' your lunch in the company of a place as pretty as this. We decided that even if I wasn't feelin' like mountain climbin'... my sickly butt could occupy the seat of a car without much effort... especially if I ain't the one has to do the drivin'! :-)
So, we just converted our hike to a walk... and did the rest of the day in a mountain drive... nice time to talk too...
But... ain't there ALWAYS a but?
But... the road was not so much a road... and Heidi don't much care for four wheelin'... and some would say... Lil' Red... AWD or not... ain't the right rig to go do any real 'Back Roading'...
HA! what do 'Some' know? :)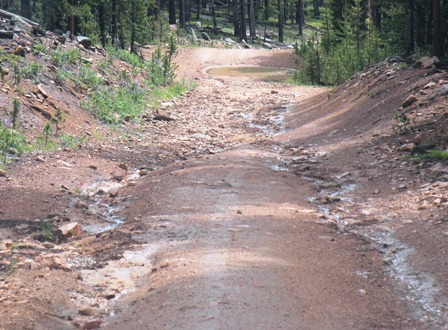 This pic don't do the thing justice... some of the rocks juuuuuust made it under the lil' car... and it had to climb over some it couldn't straddle...
She had to roll Lil' Red through rocks... axle bustin' ruts... and water a foot deep... No big deal for a truck, or a Jeep... but we were makin' a genuine Subaru commercial! :) ... tell the truth... I was impressed with the lil' car.
It nearly met its match though... some county clown runnin' one of those big road rollers thought he'd just throw the sucker in reverse... just as she pulled up to pass him on that narrow back road... whew!... got my attention when I saw that five foot tire come rollin' at - MY - window! :-O ... I think the stain will come out of the seat though...
... that bugger missed the rear fender of the car by maaaaaybe a foot... as she dodged it into the ditch out of the way... tryin' to miss a tree on the other side... at the same time... ahhhh ... life in the west! :-)
It was pretty sweet though... just up the road from that lil' di doe... we came around a bend... in a driving rain/hail storm and I squalled to stop!
... off in a big meadow... collecting his lunch was the biggest Moose Bull I've ever seen... and I'm thinkin' this guy was just about the biggest most ANYBODY has ever seen... this sucker is LARGE!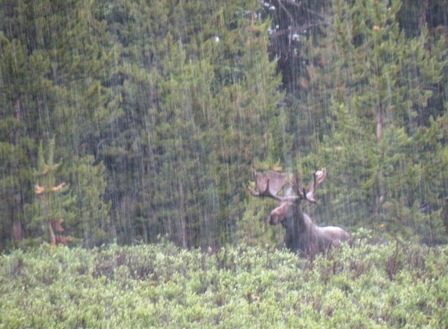 He was off at the far end of the meadow... and I was gettin' soaked from the rain and hail coming in the window... while tryin' to capture his portrait... so we went on after watchin' him a while... and hopin' he'd come closer to the road... so I wouldn't have to zoom that lil' Nikon P80 out so far...
We went on up the road... and happened upon this RV Boondocking camp... not one of my better pics... but it's maybe one of the better boondocking camps we've seen... the view is pretty darn sweet!

You're gonna find plenty of these on the Roosevelt National Forest, west of Red Feather Lakes... but... considering the road... you likely aren't gonna want to run your Prevost up in there. :-)
The road kept getting rougher and tougher looking... and I finally decided... maaaaybe we should call it 'good enough'... and exercise some discretion... 'fore I had to exercise my butt... workin' us out of a hole... so we did, and headed on back the way we came...
... and when we got back to the fork in the road... near where we'd nearly got compacted by that road equipment... the Forest Road sign that we'd followed up that branch... was gone!... Hmmm... wonder what those 'road menders' were doin'... I can smell a prank in there somewhere...
But... when we got back to where that big bruiser of a Moose had been... he was still there... and with the rain done for a bit I captured a couple more pics of him...
Now this first one is with that Lil' Nikon P80 at zero zoom...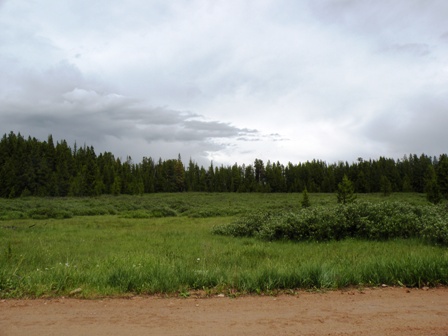 See the Bull?... he's right there in the middle... :-)
Now... taken a second later... from the same spot... at absolute full Zoom...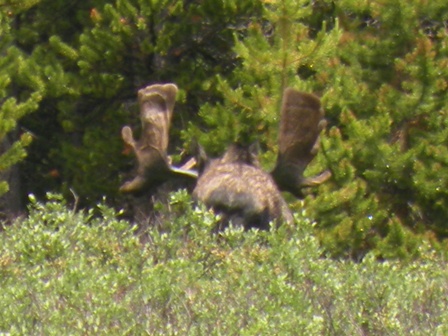 Wow! Look at the Antlers on that sucker!... they must be better than five feet wide!... kinda glad he was like 400 yards away... generally speakin'... guys that big and old... are sore tempered Ol' grumps... and too damn big to argue with!
That Nikon P80 is one pretty cool lil' camera! ... It would be better if I used a tripod more... but I think all things considered... for the kind of pictures I need and take... I've never owned better!
... and here is one, where the bull is standing in almost the same place... just before he turned for the Moose Butt Portrait!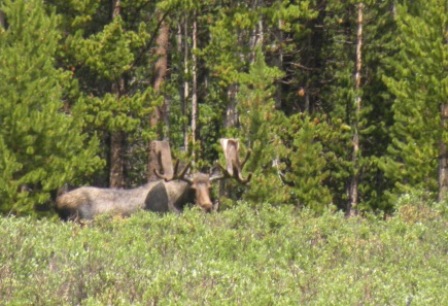 Lil' Red Hauled us back out of the mountains... and down the 'Boy Scout road' to Glen Echo Resort on the Poudre... for some apple pie ala mode...
Pretty decent day any way you look at it... Lil' Red may not be Big Red... but she makes a pretty good lil' RV just the same. :-) and she'll do for now...
Take Good Care
Brian
July 30, 2009 08:08 - Sometimes the Wrong Road...
Turns out to be the best way!
After lookin' at some maps once we got back...
We figured out that the spot where we took the right fork... 'cause the sign to Sand Creek pointed that way... was the wrong way... somebody had moved the dang sign... and it SHOULD have been pointin' up the other fork! :-) ... but ... if we hadn't gone that-a-way... we'd never have seen that humongous Moose Bull... (and that guy isn't as big as he's gonna be either - he's still in velvet!)
... and Heidi might never have got 'manuvered' into doin' that 'back roading'... and semi sorta kinda like four wheelin'... :-) ...
So... as it turns out, what seems wrong ain't always that way...
But... how in the hell can a fella get any good at knowing up front, which 'Wrong' way is the 'Right' way? I mean... make enough wrong turns that actually, for sure and for certain ARE the WRONG way... and a buster could end up in pretty poor condition! :-)
Don't believe that?... Uhhhh ... take a look at me! :-) ... a few more wrong turns and they're gonna be dumpin' my backside on the junk heap for sure... and MY used parts aren't gonna be much good to anybody.. 'cept maybe fertilizin' wild flowers.
I gotta tell you... this LIVIN' is gettin' to be a pretty athletic enterprise. Keeps things interesting though I suppose...
... Fred kinda hit a nerve with his comment yesterday... 'bout how he prefers the stories and pictures like yesterdays post... the unspoken part bein'; 'Better than the downer stuff that's kinda dominated things the past few months'... yeah... well... uhhhh....
Guess what? ... Me too! :-) lesson learned... That don't mean I can 'DO IT' ... but I know what he's talkin' about...
Wouldn't it be sweet if a fella could figure a way to keep life just that way? ... part of it is just workin' at it... and the rest is finding the 'stuff' Inside to ride out the 'Bad Weather'... while learnin' to use the 'Bad Weather' to appreciate all that much more... When the Sun is makin' for Shining Times!
Easy to say... difficult to do... but I am workin' at it... so ... use me as an example... 'cause I'm knowin' that we ain't the only ones riding a tough trail these days... some have it better... a lot have it a lot worse... the point is... to keep tryin'.
Little that I've tried to do the past year or three has worked out real well... Soo-prise! ... how-some-ever... I keep re-drawing things.. adjusting... and goin' back at it... and we're doin' that still... I expect we always will... until they push me in a hole and throw dirt in my face!
My overall ambitions haven't changed... just keep gettin' modificated... and simplified...
Though...if they get any simpler... I'll be runnin' around the woods naked... eatin' bugs and berries... :-) ... and you all thought those Grizzlies were a scary picture...
... hmmm... guess I'll go re-draw again... and complicate things back up just a touch... let's see... clothes, a refrigerator for fresh groceries... and maybe a lil' RV! :-) ... and for darn sure, a Fine, Big, Motorcycle!... simple enough, huh?
Take Good Care
Brian