NE Washington Campsites for RV Boondocking
These are the NE Washington Campsites we've occupied in our RV Boondocking Travels. The Arbitrary lines I've drawn to mark off the NE Quarter of the state is an East/West line through Wenatchee and Hoodsport for the southern boundary and a North/South Line drawn through Mazama and Yakima as the Western Boundary.
---
Twisp, Washington

Loup Loup Campground

Elevation: approximately 4200'

Okanogan-Wenatchee National Forest
Methow Valley Ranger District
24 West Chewuch Road, Winthrop, WA 98862

509-996-4000

Type of Camp: Developed Campground Fee: $12 single site Golden access and other interagency passes are accepted.

Number of Sites: 25 first come/first served

Rig Size Limitations: They list max length as 36'... our rig is 50' on the road... and we had zero issues

Road Surface: Paved to the campground, dirt roads in the camp

Cell Signal: No signal in camp. Just a mile or so up the road, at a pullout On the Pass I had good signal to meake calls and post to the blog.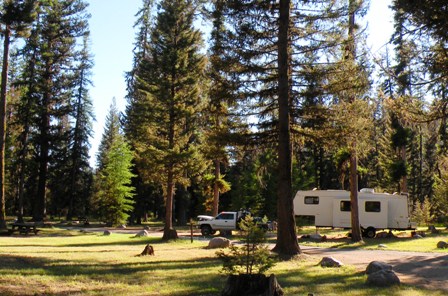 Directions: Located at the crest of Loup Loup Summit, off the North side of Hwy 20, 12.5 miles east of Twisp, Washington.

How I found This Camp: Actually just spotted the Forest Service Sign Board on the Highway and pulled in.

Season/Month I Observed: September Weather I experienced: Warm and Dry

Available Services Noted:
Fresh Water:
Fresh water available in the camp
Dump Station:
Fuel:
12.5 miles to Twisp
Medical:
Banking:
Repair Shops:
Grocery:
Grocery in Twisp
Hardware:
WiFi:
Veterinarian:
Comments:
The campground is a mostly quiet place with a nice open central area that's kept mowed. Nice place to play with the dogs. The campgroundsits next to a ski area that provides many mountain biking trails and hiking opportunities of varying "difficulty". Was a very nice spot tolay up for a couple weeks. With my "Access Card" the price was so cheap, that along with the very light use we experienced, I just didn't have any motivation to go find a Free camp! :) Forest Service link to Loup Loup Campground
RV Boondocking Campsites

If your confidence is lacking to find your own genuine, full, RV Boondocking campsite, Do this.
Stay in one of the developed campgrounds. You're still boondocking. From there, make daytrips checking on Campsites using This campsite search method.
When your confidence has grown sufficient, you can start going straight there rather than the short stay in a paid, developed camp.

State Listings

Alaska!!!
NW
NE
SW
SE
Arizona
NE
SE
California
NW
NE
SW
SE
Colorado
NW
NE
SW
SE
Idaho
N
CT
SW
SE
Montana
NE
SW
SE
Nevada
NW
NE
SW
SE
New Mexico
NW
NE
SW
SE
Oregon
NE
SW
SE
Utah
NW
Washington
NW
SW
SE
Wyoming
NW
NE
SW
SE
Canadian Provincial Listings
Alberta
NW
NE
SW
SE
British Columbia
NW
NE
SW
SE
Yukon
NW
NE
SW
SE


?????
?????
?????