SW Montana Campsites for RV Boondocking
These are the SW Montana Campsites we've occupied in our RV Boondocking Travels. The Arbitrary lines I've drawn to mark off the Northern border of the SW Quarter of the state is an East/West line through Missoula and Lewistown. The eastern boundaryis a line from Big Timber through Box Elder
---
Sula

Indian Trees Campground

Elevation: approximately 5128'

Bitterroot National Forest
1801 North 1st
Hamilton, MT 59840

406-363-7100

Type of Camp: Developed Campground Fee: $10 Golden access and other interagency passes are accepted.

Number of Sites: 16

Rig Size Limitations: 50' +-Paved sites

Road Surface: paved road and sites

Cell Signal: sufficient signal without amplfication for air card to function on verizon in the Higher sites.Voice signal would not carry a call without amplifier.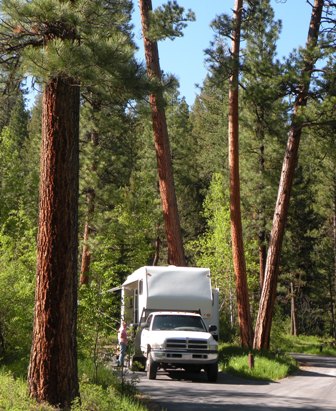 Directions: 5.6 miles south of Sula on Highway 93. Turn west on to forest road #729 (Right at the bottom of Lost Trail Pass) and follow for approximately 1 mile

How I found This Camp: The Bitterroot National Forest Website

Season/Month I Observed: Mid June Weather I experienced From cold and windy to warm and sunny over 4 days

Available Services Noted:
Fresh Water:
Fresh water in the campground
Dump Station:
Fuel:
Sula, Montana (Cheaper in Darby or Hamilton)
Medical:
Banking:
Darby or Hamilton, Montana
Repair Shops:
Grocery:
Darby Montana
Hardware:
WiFi:
Veterinarian:
Comments:
Several old logging roads take off from the vicinity of the campground either for four wheel drive, ATV or hiking.
There are Bears and Wolves in the area. A clean camp and keeping close tabs on yourdogs and/or cats is a necessity.


Return from SW Montana Campsites to Goin' RV Boondocking
RV Boondocking Campsites

If your confidence is lacking to find your own genuine, full, RV Boondocking campsite, Do this.
Stay in one of the developed campgrounds. You're still boondocking. From there, make daytrips checking on Campsites using This campsite search method.
When your confidence has grown sufficient, you can start going straight there rather than the short stay in a paid, developed camp.

State Listings

Alaska!!!
NW
NE
SW
SE
Arizona
NE
SE
California
NW
NE
SW
SE
Colorado
NW
NE
SW
SE
Idaho
N
CT
SW
SE
Montana
NE
SW
SE
Nevada
NW
NE
SW
SE
New Mexico
NW
NE
SW
SE
Oregon
NE
SW
SE
Utah
NW
Washington
NW
SW
SE
Wyoming
NW
NE
SW
SE
Canadian Provincial Listings
Alberta
NW
NE
SW
SE
British Columbia
NW
NE
SW
SE
Yukon
NW
NE
SW
SE


?????
?????
?????