SE Utah Campsites for RV Boondocking
These are the SE Utah Campsites we've occupied in our RV Boondocking Travels. The Arbitrary lines I've drawn to mark off the SE Quarter of the state is an East/West line through Nephi, on I-15 on the North and Hwy 12/Boulder on the West.
---
Moab

Horsethief Campground

Bureau of Land Management
Moab Field Office
82 East Dogwood
Moab, Utah 84532
Phone: (435) 259-2100

Type of Camp: Improved Fee 14 Day limit at $12/day.

Number of Sites 60 sites.
Rig Size Limitations Many sites adequate to accommodate large RVs. Saw a couple good sized motorhomes with toads, along with our 30' fiver. I'd expect you to be able to find a spot for at least a 36 foot and likely a 40 footer.

Road Surface Hwy 191 two lane paved. Hwy 313 Paved two lane. Graveled in campground. Graveled pads.

Cell Signal Flipping between Verizon 1X and 3G much of the time. Did lot's of website work without any problem using my Cellular Amplifier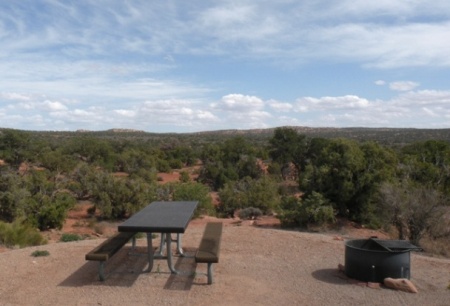 Directions:Turn west from Hwy 191 onto Hwy 313 approximately 10 miles north of Moab. Go west 12 miles to the Campground turnoff. Watch for the sign on your right. Hwy 313 bends to the south just before you get to the camp turn so you'll turn right/west and Go 1/2 mile to the campground entrance.

How We Found this Camp on our AAA "Indian Country Guide Map" and also Located it on The BLM website.

Season/Month I Observed mid April 2011

Weather I experienced It was cool days and cooler evenings... and windy! Though it was nice down in Moab.

Available Services Noted:
Fresh Water
Not available in camp - there is a commercial Dump Station in Moab
Dump Station
Quality RV• 850 South Highway 191 Moab UT• South side of town - $5.00
Dead Horse Point State Park• 34 miles West of Moab off US 163 on Hwy. 313 - Free. (South of Horsethief)Water is available but you should arrive with full water tank.
Fuel
Moab
Medical
Banking
Moab
Repair Shops
Moab
Grocery
A couple of nice groceries in Moab
Laundromats:
"Country Clean Laundromat" in Moab... is our WORST LAUNDROMAT ever... so far! :) It Would Be Best Avoided. High % of Machines out of service. One failed on us. There are a couple others in town.We saw a second that "Looked" good just to the south on the same side of the street next to the Village Market Grocery Store.
Hardware
Moab
WiFi
Veterinarian
Comments:
1. Very nice spacious sites. lots of room between for privacy. This is a DRY area. The camp has outhouses, but NO Water. You'll need to be tanked up on water when you arrive. The Long view from these SE Utah Campsites is awful pleasing with your morning coffee. There's a nice hiking trail that leaves right out of camp, and if your a four wheel drive sort, you are close to several routes here.
2. Dead Horse Point State Park and the Island in the Sky District of Canyonlands National Park are just to the south and west. There are also more SE Utah Campsites in the state park
---
---
Return from SE Utah Campsites to Goin' RV Boondocking
RV Boondocking Campsites

If your confidence is lacking to find your own genuine, full, RV Boondocking campsite, Do this.
Stay in one of the developed campgrounds. You're still boondocking. From there, make daytrips checking on Campsites using This campsite search method.
When your confidence has grown sufficient, you can start going straight there rather than the short stay in a paid, developed camp.

State Listings

Alaska!!!
NW
NE
SW
SE
Arizona
NE
SE
California
NW
NE
SW
SE
Colorado
NW
NE
SW
SE
Idaho
N
CT
SW
SE
Montana
NE
SW
SE
Nevada
NW
NE
SW
SE
New Mexico
NW
NE
SW
SE
Oregon
NE
SW
SE
Utah
NW
Washington
NW
SW
SE
Wyoming
NW
NE
SW
SE
Canadian Provincial Listings
Alberta
NW
NE
SW
SE
British Columbia
NW
NE
SW
SE
Yukon
NW
NE
SW
SE


?????
?????
?????