NW Oregon Campsites for RV Boondocking
These are the NW Oregon Campsites we've occupied in our RV Boondocking Travels.
The Arbitrary lines I've drawn to mark off the Southern border of the NW Quarter of the state is an East/West line through Florence on the coast and Ontario.
The eastern boundary is a line from Biggs on the Columbia through Prineville.
---
Pacific City/Tillamook

Sand Lake Recreation Area
Sand Beach Campground

Elevation:15' Sea Level/Pacific Ocean Coast

Siuslaw National Forest
3200 SW Jefferson Way
Corvallis, Oregon 97331

541-750-7000

Fax: 541-750-7234

Type of Camp: National Forest Organized Campground

Fee: $20/Night for single unit, $8/Night for extra vehicle

Number of Sites: 99+ numbered sites (61-80 are closed due to beach erosion)

Rig Size Limitations: This is an OHV area so plenty of sites are sized to accept most Toy Haulers

Road Surface: Paved

Cell Signal: we had weak/intermittent cell signal when we visited Oct '10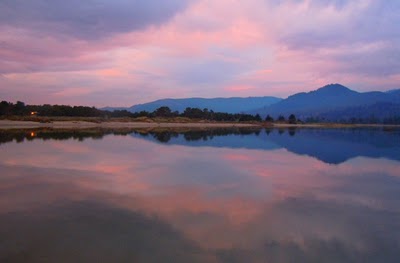 Directions: Take Hwy 101/Pacific Coast Hwy. south out of Tillamook. Approximately 10.5 miles turn right/West onto Sandlake Rd. You should see signs for Pacific City.

Pass the Cape Lookout turn off and continue on Sandlake Rd. to Galloway road. Turn right/west on Galloway road just south of the Sandlake Grocery.

Follow that for a little over two miles. The turn off will be on your left.

If you miss it you will quickly come to a parking lot for the dunes area on your right. Go back approximately 1/4 mile to the campground turnoff. When you're on the correct road the campground entrance will be on your right.

How I found This Camp: using Rand McNally Road atlas and Siuslaw National Forest Website

Season/Month I Observed: Late October

Weather I experienced: Sun/Rain (passing storms)

Available Services Noted: Tillamook is approximately 15+ miles NE with all services. Pacific City is 10 miles South. There is little in the immediate area
Fresh Water:
Fresh water in campground
Dump Station:
Fuel:
Medical:
Banking:
Repair Shops:
Grocery:
There was a small store at the Galloway Road turnoff
Hardware:
WiFi:
Veterinarian:
Comments:
This is a Popular NW Oregon Campsites OHV area with campground, dune and beach access. Adjacent to large sand dune area. It was perfect for our stay in late October. OHV use was light then and we had a huge amount of Beach to walk, virtually alone. The area gets Heavy use from OHV's riding the dunes during the summer, weekends and holidays.
Return from NW Oregon Campsites to Goin' RV Boondocking
RV Boondocking Campsites

If your confidence is lacking to find your own genuine, full, RV Boondocking campsite, Do this.
Stay in one of the developed campgrounds. You're still boondocking. From there, make daytrips checking on Campsites using This campsite search method.
When your confidence has grown sufficient, you can start going straight there rather than the short stay in a paid, developed camp.

State Listings

Alaska!!!
NW
NE
SW
SE
Arizona
NE
SE
California
NW
NE
SW
SE
Colorado
NW
NE
SW
SE
Idaho
N
CT
SW
SE
Montana
NE
SW
SE
Nevada
NW
NE
SW
SE
New Mexico
NW
NE
SW
SE
Oregon
NE
SW
SE
Utah
NW
Washington
NW
SW
SE
Wyoming
NW
NE
SW
SE
Canadian Provincial Listings
Alberta
NW
NE
SW
SE
British Columbia
NW
NE
SW
SE
Yukon
NW
NE
SW
SE


?????
?????
?????